Last Updated on
Fatcow is one of the best web hosting services out there. One of the reasons it has become a leader in the web hosting market is because it's been around for a long time. It's one of the oldest web hosting companies in the industry. That means that it has not only witnessed the changing demands of this market, but it has also been able to stay ahead and stay competitive through that change.
For you as a consumer, that means that when you choose fatcow, you're choosing a reliable company that will be there with you through the years. After all, it did manage to survive and thrive after the dot com bubble burst!
Disclosure
As an independent review site, we get compensated if you purchase through the referral links or coupon codes on this page – at no additional cost to you.
In order to give you a comprehensive overview of the company, I've gathered information from multiple fatcow reviews and then added my own opinions of its products and services so that you can get an expert look at just what Fatcow has to offer.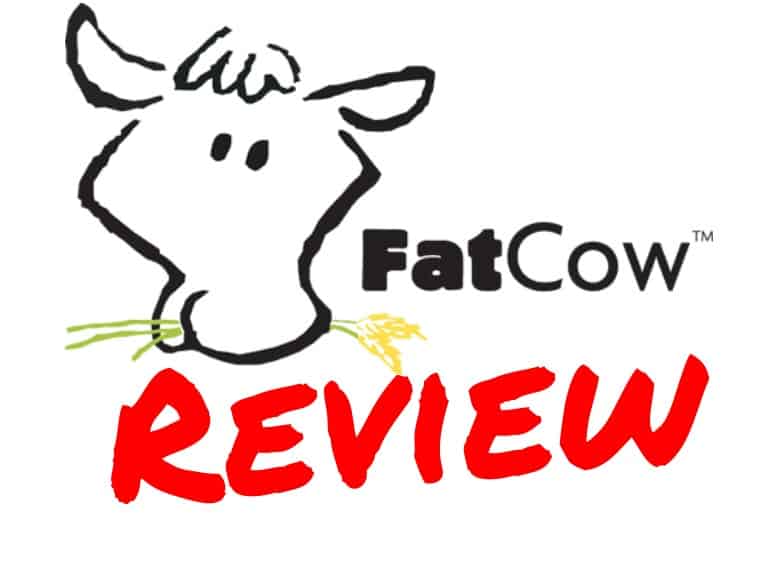 FatCow is one of the most customer friendly services out there so I wanted to write a quick FatCow hosting review to talk about some of their best features and services so you can see just what this company has to offer.
Review of FatCow: pros & cons


Our #1 Choice For Hosting Blogs
62% Off Exclusive Offer Applied at Checkout
Their target customers are small and medium sized businesses and they've put together a bundle of products and services that perfectly serve the needs of those customers.
Great tools for beginners
Included the price of their service, you get a few tools that are essential for a startup or smaller business. That includes site builder tools, helpful tutorials, and other resources to help make sure your website starts off on the right hoof—I mean, foot.
In addition, their plans come with web analytic tools that help you understand who your visitors are and how you can better optimize your website to drive more traffic and keep visitors on your site with custom tailored content.
The fact that their control panel is customizable is yet another great perk!
As for the basic parts of the plan itself, the sky is the limit. You get unlimited storage, unlimited bandwidth, unlimited domains, and even unlimited email addresses! If you're looking for room to grow, this is where you want to be.
The two key drawbacks are the lack of scalability and the fact that the promise of "unlimited" space and bandwidth is not as great as it sounds.
One of the biggest drawbacks is the limited variety. While its competitors offer multiple different plan sizes that allow you to scale your website to your business, Fatcow has just the one webhosting plan. So whether you need all the features it offers or not, you're going to be paying for them.
If you're starting out and you do need everything, that's not going to be a problem. But if, for example, you already have the knowledge and tools you need to build a great site, you might find it annoying to be paying for a plan that includes a bunch of site building resources you'll never use.
It's not literally "unlimited"
And you should also understand that "unlimited" is not literally unlimited. It means there are no caps on your storage or bandwidth but it doesn't mean their servers can literally handle unlimited data and site traffic across every account they support. In high volume times, you might see your site slow down or even shut down temporarily. Although they do boast an impressive uptime between 99.85% and 99.9%.
As mentioned in the fatcow web hosting review above, there is only the one web hosting plan. So it's a bit of a take it or leave it situation. But that plan comes with a huge amount of features and services. Below, you'll get a quick overview of exactly what their plan includes.
The regular price is $179.40 for a year although you get discounted rates when you sign up for a multi-year contract. And they are almost always having sign up specials so you can enjoy some steep discounts for at least the first few months to a year.
As mentioned, you get unlimited storage, unlimited bandwidth, unlimited domains, and unlimited emails. Then on top of that, you get the site builder tools, the tutorials, and access to blogs and forums for additional building support. You also get:
an E-store builder
web analytics
Free advertising on Google and Yahoo!
PCI compliance so that you can accept credit card payments
24/7 customer support from the moo crew via phone or live chat
There's still dozens of other features as well but there just isn't enough time to go over all of them!
Our FatCow reviews verdict
Overall, I think FatCow is one of the best choices you could go with, especially for small business needs. You not only get a fantastic web hosting service, you also get to work with a company that has spent the last 18 years perfecting the art of cow-related puns. Who can resist the excellent customer support provided by the moo crew?
But before you make your final decision, you should be sure to check out other fatcow reviews from customers and experts alike to see what other people are saying about Fatcow's services.
Are you a high end user requiring more flexibility and control over your servers? Then I've got a deal for you…