Last Updated on
On its website, WebHostingPad claims to offer hassle-free hosting. The company works with shared hosting, WordPress, and VPS hosting, putting customer service first. Founded in 2005 and based in Illinois, WebHostingPad is a bit newer to the web host scene. But being in business for 11 years is no mean feat.
WebHostingPad primarily bills itself as a low-cost shared hosting option. The company caters to individuals and small businesses with tight budgets. WebHostingPad is primarily based in the US but it may establish business in China, as well. The demand for low-cost web hosting looks to be as strong as ever.
Disclosure
As an independent review site, we get compensated if you purchase through the referral links or coupon codes on this page – at no additional cost to you.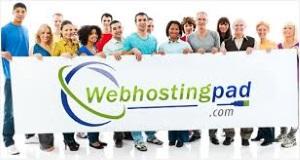 It's tough to beat WebHostingPad's introductory offer of $1.99 a month. But with a low cost comes a few drawbacks and hidden fees. In the case of web hosting, you do get what you pay for.
Webhostingpad reviews: pros & cons
Unbeatable introductory price
One thing that Web Hosting Pad has going for it is price. Its lowest-cost plan starts at $1.99 a month – with a three-year commitment, that is. This plan includes unlimited storage space, transfers, websites, and a free domain name.
Its next-level plan, Power Plan Plus, offers all that and free SSL at just $4.99 a month. That's a price that many competitors start at. With so many features at such a low price, it's practically a steal.
WebHostingPad also offers WordPress hosting at more reasonable prices than the competition. The cheapest plan has nearly no frills, but is only $2.99 a month. Their most expensive plan, which includes backups, WordPress support, and free SSL, is only $5.99. Try finding another WordPress host offering those prices.
Both WordPress plans include automated malware scanner and malware quarantine, keeping your site secure. Again, practically a steal compared to other WordPress services. Here's a video about installing WordPress on WebHostingPad. You'll get an idea of how their control panel is set up, as well.
WebHostingPad may not have a lot of features or frills, but it's got the basics covered. If you sign up, you get cPanel and Softaculous, a script installer for WordPress, Joomla, and forum hosting. You also get secure POP 3 and IMAP email included with either plan.
If you sign up for shared hosting, you get some free extras thrown in with your account. In addition to a domain name, you get various ad credits as well as Access Guardian site protection software. Web Hosting Pad offers a 30-day money back guarantee – which is fairly generous compared to some competitors.
WebHostingPad also handles customer service well, considering their rather low prices. They announce service disruptions, both planned and unplanned, on their Twitter account. They also respond to some users via social media. Their staff seems to know plenty about the ins and outs of web hosting.
A lot of web hosting companies have been bought by the conglomerate EIG in recent years, but not WebHostingPad. Many users feel that EIG has decreased the quality of the services that it had bought out. Some may even be looking to change platforms. WebHostingPad could be that new platform. But it, too, is not immune from issues.
WebHostingPad is one of the cheapest hosting providers out there, and as the saying goes, you get what you pay for. WebHostingPad offers 24/7 customer service via phone, live chat, and email. But the quality of that customer service is another story.
WebHostingPad reviews tend to be lukewarm at best. Thirty-seven complaints have been filed with the Better Business Bureau over the past three years. Many users reported a lack of response on the part of customer support, submitting multiple tickets and emails before their issue is even addressed.
WebHostingPad claims to maintain 99% uptime, but it turns out that's not always true. In one study, WebHostingPad only maintained 98.53% uptime – well below the industry standard of 99.94%. Their page load times are also twice as slow as the industry average of 700ms. Not very impressive performance.
The offer of a free domain name registration is also misleading. To get the free domain name, you have to sign up with a "FREEDOMAIN" coupon, and no other coupon. Once you've signed up, you'll have to pay $14.95 to annually renew your domain name. Most other sites offer domain names for purchase at less than $10.
Free backups is another misleading claim. In WebHostingPad's fine print, they state that only 1GB of website files are eligible for free backups. This 1GB of data does not include emails or databases, or anything other than website files.
The company may also charge a backup restoration fee of $39.95. That's pretty hefty. And manual backup via cPanel is extra. Now WebHostingPad's offerings don't look so good after all.
A third misleading free option is unlimited data storage. According to WebHostingPad.com, users should not exceed 150,000 total files. For more, you'll have to pay $10 a month extra. They'll do it automatically if you don't respond.
Other restrictions also apply. You're not allowed to use more than 10% CPU and memory, and your sessions may not exceed ten minutes. Nor can you send more than 300 emails per hour.
Customers with large or multiple websites may want to skip out on WebHostingPad. They offer free transfers, but only if the site is less than 2 GB. Nor will the transfer include email addresses, FTP accounts, sub domains or add-on domains. Those would have to be recreated from scratch.


Our #1 Choice For Hosting Blogs
62% Off Exclusive Offer Applied at Checkout
Our WebHostingPad reviews conclusion
WebHostingPad is a cheap option for the small business or startup – but only if you don't mind no frills and stay small. Large businesses and websites will be able to find better options for their capacity. And even some small businesses may find all the hidden fees too much to make it worth it.
For customers who want more options, a provider such as HostGator may be a better choice. While they cost a bit more WebHostingPad, they offer more services at all price levels. HostGator also has fewer upsells and hidden fees, and is a generally more reliable site overall. But it's up to the individual customer to do their research and decide.