Last Updated on
A Small Orange is a great web hosting service with a cute name – cute like it's competitor's name.
It's dedicated to providing very affordable web hosting plans that can still provide you with excellent tools and services so that your website looks as professional as possible.
Disclosure
As an independent review site, we get compensated if you purchase through the referral links or coupon codes on this page – at no additional cost to you.
And as your business grows, so can your website! With the wide range of different plans, you can easily upgrade to handle your increasing visitor traffic and amount of content! Check out the A Small Orange review below to learn more!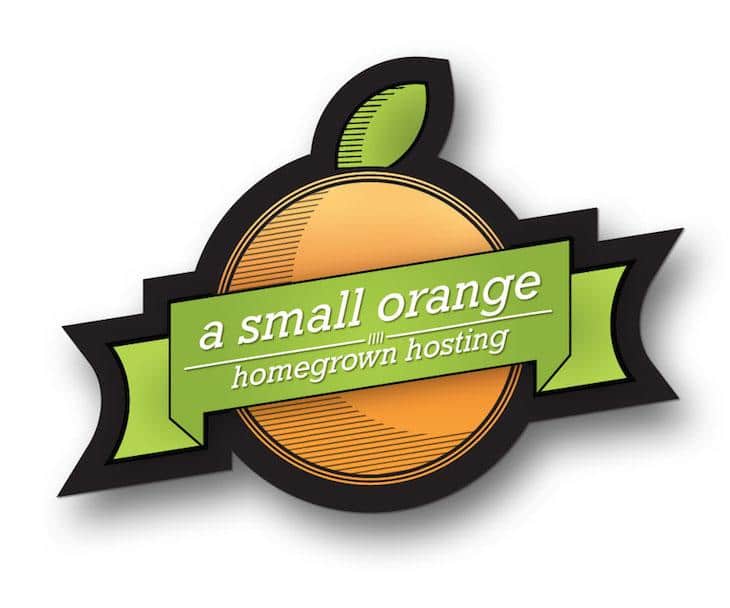 In this A Small Orange review, you'll learn about some of the key advantages that make a small orange a unique and attractive option for businesses of all sizes.
While it has plans to fit a business of just about any size, its main goal is to provide hosting for small businesses and startups. That's why they offer such affordable plans that are packed with features that smaller businesses need to grow.
Review of A Small Orange product lineup
This is the most popular plan and it's easy to see why. At just $5 per month, it's one of the cheapest plans available. It offers a modest 5GB of storage and 50GB of bandwidth. But it also allows you to have unlimited domains which is a nice perk.
$5/month is pretty good but we have an even better deal…
This is a really great plan to start with if you're not yet sure about how much storage or bandwidth you're going to need and just want to test the waters and get yourself out there. It's also great for people who want a personal website and don't want to pay the higher prices for a business level plan.
For $20 per month you can get a small business plan that includes 40GB of storage, 600GB of bandwidth and free SSL certificate. An SSL certificate is what establishes a secure connection between the web server and the browser. When you visit a site and see "https" in the URL, that means it has an SSL certificate, making it a more secure and reliable website.
Basically, this is a great starter package that will suit the needs of any startup. You can get more bandwidth and storage but when you're just starting up and haven't yet built up a lot of visitor traffic, there's no real reason to pay extra when you're probably not even going to go over these current limits yet.
And if you do start to need more storage or bandwidth, it's easy enough to upgrade to a bigger plan.
This is the next level up from the startup business plan. For $40 per month, you get 50GB of storage and 800GB of bandwidth. That's a nice increase over the 40Gb and 600GB respectively that you get in the startup plan.
And in addition to keeping your free SSL certificate, you also get a website that is PCI compliant. That means that you'll be able to accept online payments using credit cards. If you don't have this PCI compliance, you can't offer credit card payment as an option.
PayPal and other online payment services can help you work around that but the ability to pay with a credit card on your website definitely helps you to build your reputation as an established, reliable business.
As mentioned earlier, what really makes A Small Orange stand out is how affordable their plans are. With their most basic plan starting at less than $3 per month, this is as cheap as you can go unless you count free web hosting services. But free web hosting is loaded with problems like poor security, frequent site crashes, and a lack of site building tools.
So A Small Orange gives you the high level of service that you expect from a paid web hosting company without charging you high monthly fees that your small business can't afford to take on.
​But how about paying just a couple dollars for top-notch hosting?
But A Small Orange is much more than just a cheap web hosting service. It's also very reliable. They offer a 99.9% uptime guarantee which means that your website is guaranteed to be up and running 99.9% of the time. And getting that kind of a guarantee when all your paying is a few dollars a month is fantastic.
If you're not an expert web designer, don't worry. You can build a beautiful, intuitive website with the Weebly site-building tools offered through the site. Weebly is one of my favorite suites of site-building tools because they are geared toward beginners with minimal site-building experience.
It's very easy to figure out and learn Weebly (see our Weebly review), just spend a couple hours fiddling around with the different features and you'll soon find yourself feeling like you've had a hidden talent for site design all this time.
In addition to offering plans that are affordable for even the tightest of budgets, a small orange stands out for the sheer number of different plans that you can choose from. Whether you want a dedicated server, shared web hosting, or a cloud virtual private server, they've got multiple plans in each category and in every price range.
This variety is good for being able to service a wider range of customers. But it's also great for each individual customer. Your startup might have minimal web hosting needs now. But as your business grows, your needs are going to grow right along with it.
So when you find that your storage limit is starting to feel too restricting and your increased traffic is straining your bandwidth, you can upgrade to a bigger plan. That makes their offerings extremely scalable and it means that A Small Orange can grow into a bigger orange when you need it to!
On top of all these great options and features, A Small Orange includes free 24/7 customer support on all of its plans. Whether you're paying $3 per month or $60 per month, A Small Orange will show you the same level of dedicated customer service.
While there are just so many wonderful things to praise about A Small Orange, there are some drawbacks that come with such an affordably priced service. For example, if you're already hoping to get a huge amount of storage and a lot of bandwidth, you'll have to go for one of their higher-priced plans.
Higher-end options not very unique
And at those higher priced ranges, there prices start to be pretty similar to their competitors. So if that's the range your shopping for, you'll want to do some closer comparisons before you just sign up with A Small Orange. It's a great service but there might be another company that is more suited to your particular needs – like our most favorite web hosting of all…
Site building tools are sold separately
Another drawback which is just more of a minor inconvenience is the fact that the Weebly site-building tools are not included in the price of their plans. If you want those tools for building your site, you'll need to pay an extra fee to get them.
This is actually good and bad. For those who don't need the tools, you're not being forced to pay extra for something you're not going to use. For those who do need them, it's reasonably priced enough that your plan is still affordable even if it's not quite as cheap as you were hoping.


Our #1 Choice For Hosting Blogs
62% Off Exclusive Offer Applied at Checkout
A Small Orange review: our conclusion
If any of their web hosting plans interest you, you should definitely check out their website. A Small Orange web hosting is often doing special offers and giving away coupons to help you save even more money on their already low prices. It's a great option for those who are in need of a very budget-friendly and the flexibility to upgrade your plan as you go.
However, if you're not experienced at building websites already, you'll definitely want to get the Weebly site-building tools to help you make a site that is attractive, functional, and intuitive to use for your visitors. And since that is sold as an extra service, you're monthly savings might not be quite as great as you were hoping for. But A Small Orange is still very competitively priced even if you do have to tack on a couple extra fees.
Our A Small Orangereview overall rating
A Small Orange do a lot of different deals, and the prices are pretty low compared to some hosting companies. They are flexible when you want to grow too, but needing the separate Weebly addon at an extra cost sort of lets them down just a little bit. We give A Small Orange 4 stars out of 5.