Last Updated on
Network Solutions is a solid company in the web hosting and domain market. While the web hosting plans are not necessarily jawdropping in any way, this company stands out for the fact that it offers such a wide scope of services.
As you'll see in our Network Solutions review, they will design your website, register and protect your domain name, host your website, and provide a whole host of other services and products as well.
Disclosure
As an independent review site, we get compensated if you purchase through the referral links or coupon codes on this page – at no additional cost to you.
It's basically your one stop shop for all things website or e-commerce related. Check out this network solutions hosting review to learn more about how the hosting services compare to competitors and find out about the many other services that this company offers.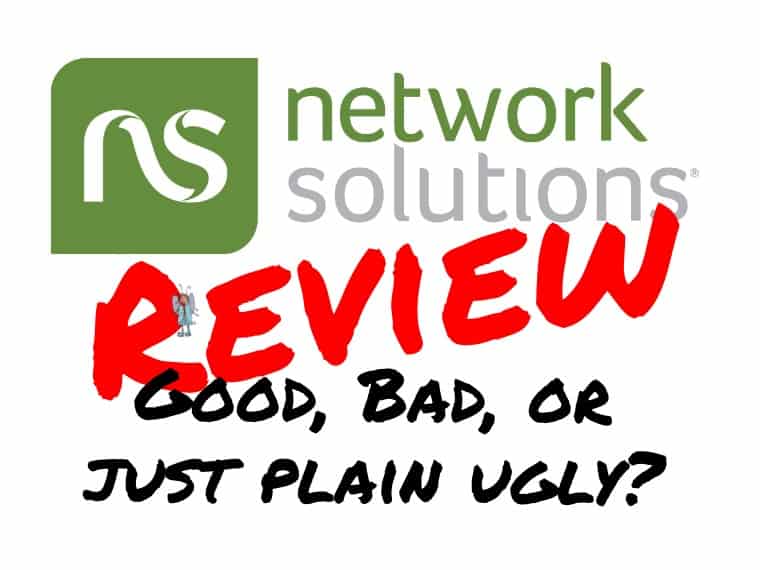 This network solutions review focuses mostly on the web hosting services that Network Solutions provides. But it will also give an overview of a few of the other services this company provides. Because it is that wide range of additional services that help it stand out from the pack.
In this section, you can check out some of the most popular plans and services that Network Solutions offers:
Professional hosting plan
Network Solutions offers 3 different plans ranging from about $10 per month to $20 per month.
Professional Hosting is the mid-level plan which is priced at $15.78 per month. It seems to be the best balance of price and features of the three plans. It includes:
Unlimited storage
Unlimited emails
Faster load times
Automatic malware removal
Hack prevention
You also get a dedicated technical advisor to support you which will definitely come in handy for the newbies out there!
Network Solutions will build you a custom website for free. So if you don't have the time to learn how to become an expert website designer, you can just get the site created for you to your exact specifications. Then they can host it for you with one of their hosting plans!
Premium marketing services
As mentioned above, they offer a wide range of marketing services. The premium service basically puts their entire marketing team at your service. So you can get the benefit of marketing experts without having to pay salaries for a whole team. That's a pretty good deal for a startup or small business!
Network solutions reviews: pros & cons
As far as web hosting goes, the plans are pretty standard. But they aren't bad by any means. One of the most unique things you'll notice about their hosting plans is that no matter which level you go with, Network Solutions is dedicated to providing a high level of security.
Where this company truly shines, though, is in all the other services they provide. For example, when it comes to building your website, you can choose to use their suite of easy-to-use site building tools or just have them build an expertly crafted website custom designed to suit your needs.
If you need a domain name, you can search for an available one through their search database. They also provide domain transferring, website forwarding, and a range of domain protection services. Searching for a great domain can be addicting…
Online marketing services
And all you startups and small business owners will be excited to see the marketing services they provide. They can basically help you with every aspect of online marketing from social media and email to online advertising and search engine optimization!

Our passion is Blogging, and we take pride in educating thousands of you fantastic people on this subject matter. 
However, there is a global crisis happening TODAY, right under our noses. Climate Change is real, and we have the power to make an actionable difference. 
We've partnered with GreenGeeks – the only Eco-Friendly Web Hosting company (powered 100% by wind energy) that runs a 300% Green Hosting platform. 
By signing up through us, you can benefit from a FREE domain name and tons of freebies. 
Get your Eco-Friendly site up and running now starting from as little as $2.95/mo

Network Solutions review conclusion
Although the network solutions review you just read says that the plans offered are nothing to write home about, there is still a good reason to go with one of their plans anyway. Namely, if you're planning to use their other services as well, getting a hosting plan so that you are handling all of your business through this single company will make your life much easier and ensure that you never experience any compatibility issues.
It is definitely worth your time to browse through the whole range of services provided to see what could be helpful for you. This company is an especially good choice for someone who is totally new to website design, hosting, online marketing, and other ecommerce essentials. They can help you get your business off the ground and provide support in every area.
Not interested in all the extra services that Network Solutions offers? Find out what hosting company we always recommend first…