Last Updated on
Web.com is a powerful web hosting company that also provides a lot of other value to its customers. It's definitely one of the best choices for someone who is just starting out and has no idea how to build or manage website.
Web.com provides a lot of support for its customers. To learn more about what this company offers, you should check out as many Web.com reviews as you find, starting with the one you'll find below:
Disclosure
As an independent review site, we get compensated if you purchase through the referral links or coupon codes on this page – at no additional cost to you.
There are so many great things to say about this company but I have to start somewhere so I'll start with customer service. This is one of the best things about Web.com. A lot of companies promise to provide you with a dedicated customer service team but Web.com really delivers.
That great customer service includes minimal wait times and friendly representatives. You can see how that devotion to their customers pays off in the many positive Web.com customer reviews.
Beyond that, your web hosting plan will also come with an advanced suite of site building tools that make it as easy as possible to build your website. The Neo website builder is included at no extra cost! It's easy to change the design or color schemes as well as add and edit content.
But if you're not comfortable learning a new set of tools, you can also use their WordPress content management system or even just pay an additional fee to have a completely custom website built for you. And it does not get any easier than just paying someone else to do it for you!
So for those who want as much support as possible, Web.com is an excellent choice. They also have their own YouTube channel full of helpful, informative, and inspiring videos like this one:
The videos are pretty well made and in addition to talking about important web hosting issues, they also provide helpful and fun to watch videos that provide tips for developing your online strategy.
And then there's also the inspiring series called "Small Business Breakthrough" which features small business owners who have managed to grow their business substantially. So you can learn from other business owners and, who knows, maybe you'll be featured in one of their breakthrough videos one day!
At this point, you might be asking yourself how their actual hosting plans stand up to the competition. They provide 3 levels of plans that are very well balanced between affordable price and helpful features.
You can find the specifics about each of these 3 plans in the product line section below. But, basically, the prices range from about $6 per month to $10 per month so even if you want to "splurge" on the premium plan, you are still paying an extremely low price.
Another important area where Web.com flexes its muscle is in uptime. Uptime refers to the percentage of time that your website is going to actually be up and running. All servers can experience a variety of troubles that cause a site to crash.
But if your site is being hosted on a server that crashes often, what's the point of even having a site up at all? Web.com has a 99.99% uptime which is the highest you can get in the market. That means that you can rest assured your website is up and running whenever and whatever your visitors want to check out.
For all that Web.com has to offer, there are some significant contenders that might knock it a few pegs down for some customers. It's these drawbacks that have held it back from getting the 5 star review its otherwise great features deserve.
One issue that they do need to work on is the live chat feature on their website. If you really want to experience the great customer service that they can offer, you are definitely better off calling them up on the phone.
The issues with live chat have nothing to do with the representatives, it's the feature itself that has a bad habit of experiencing glitches.
A potentially more serious drawback is the lack of dedicated servers and virtual private servers (VPS). All of their plans run on shared servers which works perfectly fine for a website with only limited needs. But if you expect your website to grow beyond those limits, you're going to need a more powerful server to host it so that you can ensure it's working at maximum capacity all the time.
Because Web.com does not have these more powerful services, you might be left in the lurch once your site gets too big. You can transfer your website over to another hosting service that has the powerful servers you need. But transferring a website is not an easy thing to do. So you will need to keep that potential future headache in mind when you make your choice.
Even if you aren't ready to think that far into the future yet, you might find yourself a little disappointed with the user interface which can be a little confusing for some. And while it does offer a WordPress content management system, it is only a limited version of the full WordPress toolset.
So if you are hoping to use WordPress, you might feel like you're getting cheated out of some important tools and customization options.


Our #1 Choice For Hosting Blogs
62% Off Exclusive Offer Applied at Checkout
Web.com offers 3 levels of hosting plans. And then they offer a full range of other helpful services as well. So below you can check out each of the 3 plans and then learn more about some of its other services as well.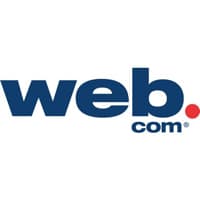 For just $5.95 per month, the essential hosting plan provides the absolute basics. You'll get:​
300gb of storage space
Unlimited data transfer
1 free domain name
100 email accounts with a total of 5gb of email storage shared between them all.
1 auto responder per email account
Spam and virus protection
AWStats web analytics
25 FTP accounts
And more
As with every plan, it also comes with the site building tools you need to build your website. If you want a custom website built for you, you'll usually need to add an extra couple bucks to your monthly fee but sometimes that do special offers where they will build it for free! Although you don't get to actually own the rights to it unless you pay to get the rights.
The most popular plan is this professional hosting plan. It costs $7.95 per month and, just like the others, you can sign up for a no commitment month to month plan. At this level, your plan will include:
500gb of storage space
Unlimited data transfer
1 free domain name
500 email accounts with a total of 25gb of email storage shared between them all.
1 auto responder per email account
Spam and virus protection
AWStats web analytics
50 FTP accounts
And more
While this middle range option is the most popular and even Web.com labels it as the best value, we think the premium hosting plan is the best option if you're going to go with Web.com.
Since all 3 plans are so cheap, this premium hosting plan is still easy to manage with even a tight budget. And the difference between professional and premium is pretty huge on some of the specs. For just $9.95 per month you can get:
Unlimited storage space
Unlimited data transfer
1 free domain name
1000 email accounts with a total of 50gb of email storage shared between them all
1 auto responder per email account
Spam and virus protection
AWStats web analytics
Unlimited FTP accounts
And more
Basically, if you're on a tight budget, this is still under $10 so it's not going to break the bank. Of course, if you're looking at ultra cheap hosting plans, there are some other competitors you'll want to check out first to make sure you are getting exactly what you need the most.
Online marketing tools and services
In addition to hosting, Web.com will help you develop and perfect your online marketing strategy so that once you've got your site online, you can get it out there and make sure people know you're here.
Their online marketing tools include:
Ignite online marketing: With this service, Web.com will promote you in all of the major search engines and directories online. That includes Google, Google+, Yahoo!, Bing, Facebook, Twitter, and Yellow Pages among hundreds of others. They can even get you listed on maps so that you show up in GPS devices!
Facebook boost: This lets you increase your visibility by helping you target the right audience and engage your potential customers. And if that sounds like something you have no idea about, don't worry. Because their team of social media experts do it all for you!
Search engine optimization: If you're struggling to come up with compelling and attractive content that will draw more traffic to your website, you can make use of Web.com's team of expert SEO developers. They'll meet with you once a month to work on creating a strategy, optimizing your site, reviewing results, and more. They edit your content for you to make it more search engine friendly and submit monthly reports to show you the results of your SEO strategy.
And more!
So you can get your marketing efforts off to a pretty strong start by taking advantage of the support Web.com has to offer.
Web.com offers a 30 day money back guarantee. So if you're on the fence, you can try it out. Sign up, build a website (or get one built for you), and explore the features and functions more in depth. And then if you decide in the end that the drawbacks are more than you're willing to live with, you can get a full refund—no harm done!
And if you do decide you like what you see, then you've already got a great site up and running!
To put you even more at ease, they don't make you sign up for yearly contracts. You can sign up on a month to month basis which means you can cancel at any time without paying outlandish early termination fees. So if you like it for the first couple of months but then change your mind later, you're not locked into a full year contract.
As an established company with a strong suite of products and services, you will have no trouble finding more Web.com reviews to help you with your research. You can even find some reviews on web.com itself. Although, as a general rule, you don't want to get all your information about a company from the company itself. They might have a little bit of a bias!
But with that in mind, you have no shortage of reliable expert and customer reviews for Web.com so do some extra research, check out their product and service line in more detail, and compare their offer to their top competitors. That way, when you are finally ready to buy, you know you are making the best choice for you!
Are you a high end user requiring more flexibility and control over your servers? Then I've got a deal for you…
Our Web.com review overall rating
Web.com has a lot to offer so you'll find plenty to love about this hosting service. But as with any successful company, you can find both positive Web.com reviews and complaints about their shortcomings.
In the end, whatever company you choose will have its own advantages and disadvantages. So rather than trying to find the perfect company, you should be looking for the one that offers the features you need and has drawbacks that you can live with.
Overall, it gets the most points for its high level of support and range of services. But where it can fall short is in the actual functionality of their features and services.
For our Web.com review, we award 3 out of 5 stars.