Last Updated on
Have you ever heard of MidPhase? Me neither. When I first came across these guys, however, I was intrigued by their slick site and attractive offerings, though. Domain registration, shared hosting, VPS, dedicated servers, and plans starting at $3.48? Sounds a little too good to be true!
It was enough of a hook to prompt further investigation, though, so I decided to see what else I could find. It turns out they've been around since 1998; that's given them plenty of time to brush up on their web hosting plans and hardware setups. They boast a strong team and an even stronger infrastructure, but are they reliable enough to use as your main web host?
Disclosure
As an independent review site, we get compensated if you purchase through the referral links or coupon codes on this page – at no additional cost to you.
That's exactly what we're delving into today with our MidPhase review. We're going to see if MidPhase.com is a star service, deserving of your business, or a second-rate host that you should keep as a backup option.
We should start by saying that MidPhase hosting is very good. Not the absolute best, but an excellent value for what they charge. For prices like these, you'd expect a smattering of low-tier shared hosting options and not much else.
MidPhase, on the other hand, puts in some definite effort to provide a great experience. Well played. A solid 4.5/5.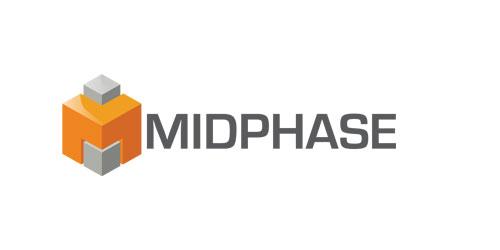 These guys have a lot going for them. Reliable servers, good customer support, and fair pricing, and much more.
There are a few hiccups here and there that knock them down a bit, but they by no means destroy the entire experience. MidPhase is doing way better than most other hosts out there.
Review of MidPhase: pros & cons
It's always nice to see a host that provides multiple options. MidPhase has this aspect of the game covered like nobody's business. From simply buying a domain name to going all-in with a dedicated server, they have a plan that should come close to your specific needs. Let's start with the basics and build up.
Their shared hosting is what's going to attract a large bulk of users. There are three levels that fit different resource needs, each with "unlimited" storage and bandwidth.
Starts at $3.48/month. Gets you one free domain, one website, one database, and one subdomain. You also get unlimited emails.
Starts at $4.48/month. Gets you one free domain, three websites, three databases, and five subdomains. You get unlimited emails and access to some extra features too. These include a dedicated IP address, SSL, and web analytics (powered by Stats2).
Starts at $5.48/month. You get everything that the Professional plan offers, but now everything is at the "unlimited" level.
MidPhase does a great job explaining their shared plans in detail, something that other hosts neglect to do. They cover the plan's security features, management options, and what you'll get regarding resources and power. Not a bad perk at all.
Shared hosting is just the tip of the iceberg. They also have a scale of VPS plans, complete with SSD storage and all the resources you'll need to power a growing site. These plans come in five tier options, organized by available RAM.
VPS1GB: $8.00/month; 25GB Storage; 3TB Bandwidth; 4 Cores
VPS2GB: $16.00/month; 50GB Storage; 4TB Bandwidth; 4 Cores
VPS4GB: $32.00/month; 100GB Storage; 5TB Bandwidth; 4 Cores
VPS8GB: $62.00/month; 200GB Storage; 6TB Bandwidth; 4 Cores
VPS16GB: $128.00/month; 400GB Storage; 7TB Bandwidth; 4 Cores
An impressive array of choice. The SSD drives make for enhanced speed (mostly), and you get the option of fine tuning your OS to suit your needs. Speaking of which, MidPhase web hosting is largely Linux-based. They've spent years perfecting their Linux setups to cater to open-source customers with the greatest of ease.
VPS options come with plenty of extra features, and you can get a good look at the specific offerings, along with the tech specs, just as you would with their shared hosting plans.
Of course, not even VPS can match the raw power and freedom of a truly dedicated server, which is why they supply this option to customers as well. They have a nice spiel explaining why you should consider their dedicated hosting, which boils down to the technical setup of their impressive data center. In terms of the plans and numbers, MidPhase gives you room to choose the server that's right for you.
Again, extras, add-ons, and tech specs are all laid bare for you to see If there's something you feel is lacking, MidPhase gives you the option of customizing your server until it meets your exact specifications (for a fee, naturally).
MidPhase also offers more specialized hosting plans for different functions. If you need Cloud Hosting, Reseller Hosting, or WordPress Hosting, they've got the gear to get you set up the right way and remove the stress from trying to fine-tune things yourself.
To hear them tell it, they're WordPress experts, and they certainly talk the talk. They'll hook you up with the themes, plugins, and dedicated WordPress environment you'll need to make sure that your site is running smooth no matter what.
Great plan offerings mean nothing if your site is down half the time. MidPhase also has this part of the equation figured out. Their uptime is in the big leagues, well over 99.95% for months on end. There's the occasional service outage, but when problems do arise, their tech team springs into action to get everything corrected as soon as possible.
Their customer service team is very knowledgeable. If you're having any technical issues of any kind, just drop them a line, and they'll be able to get back to you with an informed answer.
In most cases they can walk you through the individual steps, you'll need to take to get your problem fixed and get your site back on track.
Site migration, thankfully, is a free service that MidPhase provides. They seem to understand that people who change hosts are already dissatisfied, and probably aren't in the mood for forking over too much extra cash just to get away from the host that burned them.
Additional considerations
MidPhase talks a lot about their experience, and it shows in their service. Everything about what they do has the ring of professionalism and polish.
If you do decide to go with MidPhase, you'll have the comfort of knowing this is no fly-by-night service. This is a veteran web host that has perfected the craft.
Of course, it can't all be great, no matter which host you choose. The uptime with MidPhase is phenomenal, but the page load speeds are somewhat slower than average. As you well know, the few extra seconds has the potential to translate into pronounced negative effects for your business. You could stand to loose customers, especially when speed is their primary focus.
Again, they aren't the worst when it comes to speed, and for some applications, speed is a secondary concern to uptime and other additional features. Still, it's something to be aware of before you pull the trigger.
Ah, the fine print. You've got to read it carefully because there is quite a bit. That 30-day money back guarantee only applies to their WordPress hosting options. As for their other pricing structures, there are some interesting terms included.
To get those awesome discounts, you have to sign up to a lengthy term. They give you a choice of how long the term will be, at least, a period of 1-3 years. The longer you sign on, the more of a discount they'll offer you. Not exactly the greatest, but since this is a quality host, there's little reason you'll have to want to wash your hands of them before your contract expires.
They also extend the courtesy of offering true month-to-month options, as well as three-month options if you prefer. These are more expensive, but they offer greater flexibility as well. If you're a big fan of being able to jump ship when you need to, this is the way to go.
There are a few other details. The "unlimited emails" only applies to your main domain, for instance. Make sure you review the minutiae of your plan before you get locked in (though the same could be said of any other hosting service).
Additional considerations
MidPhase offers a site builder for those looking to start something in a hurry, but, to be honest, it's nothing special. Take a look:
You're much better off designing your site on your own (or paying a skilled web developer) and then uploading it to their servers.


Our #1 Choice For Hosting Blogs
62% Off Exclusive Offer Applied at Checkout
As our MidPhase hosting review has no doubt enlightened you, this is a great web host. A range of host options, reliable servers, and affordable pricing make for a perfect combination. There are some issues with MidPhase's page speeds, but other than that, there's no reason not to check these guys out no matter your hosting needs.
They can accommodate large sites, small sites, advanced sites, and simple three-page deals. You'll more than likely find what you're looking for somewhere in MidPhase's robust platform.
Are you a high end user requiring more flexibility and control over your servers? Then I've got a deal for you…