Last Updated on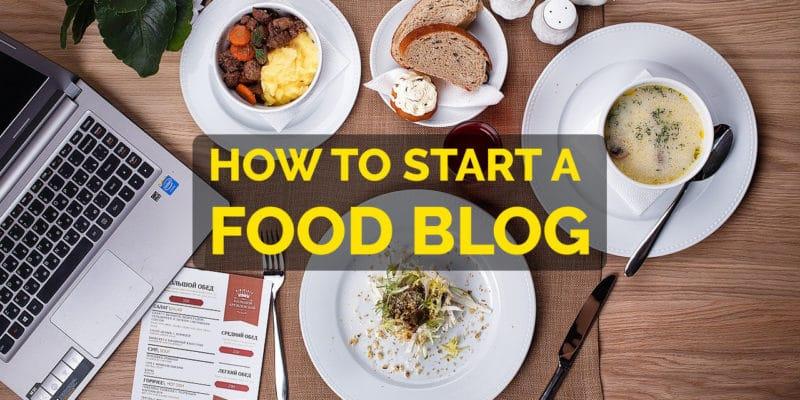 Are your friends always asking you for your recipes and meal ideas? Or do you love experimenting with new recipes and flavor combinations? If you enjoy cooking and want to share your wisdom with the world, then you should definitely starting a blog about food to give your passion a platform.
Disclosure
As an independent review site, we get compensated if you purchase through the referral links or coupon codes on this page – at no additional cost to you.
If you don't know where to start, there is no need to fret. And I've got great news! You don't  need to know coding or pay anything to get started. I've put together my top tips on how to become a food blogger to get you on your way.
Here's how to start a food blog in 6 steps
Choose an exact niche for your blog
Find and buy a domain name for your blog
Find a good web host
Organize your recipes with WordPress
Install a WordPress theme
Start blogging and making money!
1. Start with an exact niche for your food blog

Are you going to choose a certain type of food or theme for your blog? Perhaps your specialty is budget baking or gluten-free.
Writing about anything and everything is great but finding cool website ideas will enable you to set your site apart from the rest and establish a more devoted reader following.
If you're thinking of how to start a food blog to cover all cuisines, then perhaps consider what else you can do differently to help you stand out from the other food bloggers.
A great way to know if you need to refine your offering is to try and describe your blog in one sentence. If you can't explain your content clearly to yourself, then you won't be able to explain it to your readers either.
2. Find and purchase a domain name for your blog
In the process of finding a domain name for your website, you'll want to remember to choose something that is memorable and unique. Your domain name (and by extension, your website) should have a brand identity so your readers can see who you are and what you are about. Your chosen theme will help with this. Your name also needs to be easy to spell with a memorable URL.
If it isn't easy for people to find your page, then they will miss out on all the great stuff you have to offer. You might also want to set up social media accounts to promote your blog, so consider a name that's easy to use across different platforms.
Hopefully, your blog will be around for a long time, so it's best to plan ahead. If you want to blog all year round then 'Cassie's Christmas Cookbook' won't be the best option. It's ok for your blog to evolve, but changing names too often will confuse your readers.
In addition to that, ensure that the name you come up with is descriptive of what you intend to publish. It would not make much sense to your readers if you named your food blog checkmeout.com or helloworld.com; however, a domain name as pronounced as smarteating.com or kitchengirl.com would instantly strike anyone as a food-related blog.
Also, if you're going to set up a professional website, you might want to avoid going for the free version that normally contains the name of the content management system. For instance, if you used the free version of WordPress, your blog domain would read something like www.itsme.wordpress.com. That might rub your readers the wrong way; they may simply conclude that you're not that serious about what you're doing.
A blog is an investment just like any other. If you are in a position to, by all means, go for a paid version.
3. Find a good web host
At this stage, you already have a domain name of your choice and have checked its availability.
Now, the next thing is to get the domain host.
A domain host is a provider that offers to host your domain name, and this is used in the website address for your blog – or the URL. For example, if your website is startbloggingonline.com, then the domain name is "startbloggingonline." 
If you check out a web hosting and domain provider, you'll find great discount that are applicable for the first year of hosting your website. 
We recommend HostGator for this, and with our special deal with HostGator, you can get your hosting for way less than $3 a month. Take a look at the offer by clicking here.
4. Organize your recipes with WordPress
If you have a tight deadline and want to set up your food blog in one day, it is best to use a great – and popular – content management system. I recommend WordPress as it is really easy to get set up, you don't need to know any coding, and you can choose your layout and theme in a few easy steps. Here is our choice of a few of the best WordPress themes.
Basically, a content management system is an application that allows users to create, edit, organize, and publish content such as articles, videos, images, infographics, and much more.
A CMS ensures that non-tech savvy users can easily manage their websites with minimal effort.
As a blog owner, you'll have a ton of options to choose from when it comes to a content management system. Some of the popular CMS options include Drupal, WordPress, and Joomla, among others.
Nonetheless, only a few may be worth your money.
In this guide, we'll use WordPress for four good reasons:
WordPress is the most popular CMS today, powering 33% of websites around the world by January 2019 (the second CMS player comes in with a distant 3%).
As you will find out, it is highly customizable.
WordPress boasts of some of the best website themes.
It is low maintenance and free to use.
Of course, there are numerous other reasons why more than one billion websites are powered by WordPress today, essentially making it the most recommended tool for starting a food blog or any other website.
5. Install a WordPress theme
You should ensure that the theme you choose is responsive to different devices. Most website views come from mobiles or tablets, particularly if you're reaching out to your reader base through social media platforms such as Instagram. Therefore your page needs to be easy to read and navigate on a smaller screen; a responsive design will adjust to any size.
WordPress offers a wide variety of themes; some of these are free; if you are looking for a specialized or tailored theme for your site, there are paid-for options available too. 
You want your website visitors to be able to find the recipe they're after or browse for inspiration with ease. Choose a few main headings to feature at the top of your page such as 'Veggie', 'Light Lunches' and 'Desserts'. Under this, you can have sub-categories to help your readers narrow it down but don't overload them with too many choices.
As your recipe catalog builds up you can organize your posts in categories and with different tags. These may include the type of meal, cuisine, ingredients, and festive meals. Adding a search bar to your website is ideal if your visitors want to search using ingredients or keywords. 
Make your recipes Look great
Make your recipes easy to read and looking great so your readers can easily follow them! Ensure that a clear list of ingredients is displayed either at the start of the post or is easy to find somewhere else. You might also want to give other helpful information such as preparation and cooking time, difficulty level, spiciness and number of servings.
To tempt your readers to try and make the recipes you offer on your food blog, add great images. This will not only show off your skills but it can also be an excellent visual reference. Add a picture of the finished dish, as well as of the recipe process. 
Try to keep your images consistent; find a spot which is clutter-free, has good lighting and you can use each time you create a new dish. Here are some more tips for taking great food photos.
6. Start blogging and making money!
See info below for more on this, but we also have a great post about how bloggers make money and another on how to monetize a blog that you might find helpful once you are set up.
How to Start a food Blog and Make Money
I know, your biggest question lies in how to start a food blog AND make money. well, first and foremost you will want to build up a large and loyal following. Here are a few tips to help with this.
Tips on how to become a successful food blogger
To remain competitive, consider applying the following tips:
Stay consistent: It is one thing to start a blog and another to keep it running. Once you've built your blog, the heavier work of keeping it running begins. Understand that keeping your blog running doesn't mean you publish content every now and then. You must regularly publish valuable content. You'll need to understand what exactly your readers wish to read and not just what feels good to publish. We've explained this further in this post.
Carve a name for yourself: By this, you should be original, as well as authentic while giving your readers what they want. Instead of trying so hard to be that brilliant vegan food blogger you're not, why not make something unique using your expertise in Italian dishes? Ensure that you bring fresh ideas to your readers if you're looking to boost your traffic and ultimately make some money off your art.
Go the extra mile that others won't: Believe it when I tell you, readers will be grateful for your extra efforts. Avoid copy-pasting images of dishes or even recipes. Why not experiment with your own recipes and see how it turns out? And while you are at it, rather than look for free images for websites, take photos yourself or record your own videos. This demonstrates to your readers your level of commitment to what you do, and they'll not disappoint when you need them to reciprocate. And when you commit to this line of blogging, you'll realize that it is much easier to maintain high productivity.
Have fun: That's right! Have you ever realized that you tend to craft the best pieces of writing whenever you're not doing it for the money? Well, I have. As a food blogger, you'll interact with a wide range of people including experienced chefs or individuals looking to learn something in your niche. The moment they read your content and realize how not-so-great it is, you can almost guess when they'll come back to your blog – never, right? My point is, strive to write like a foodie and not a professor of Atomic Physics; sometimes it doesn't have to be that serious!
Promoting your blog through social media: An Instagram account is great for posting pictures of your latest creations and encouraging people to visit your blog for the full recipe. It can also alert your followers to new recipes and ensure they keep up to date with your latest news.
Once you're quite well established, food brands might sponsor you to create great recipes with their products. Hosting adverts on your site is a common method used amongst food bloggers and if you work hard to grow your following then you might get the chance to publish your own cookbook.
Now you know how to start a food blog and become a great food blogger, the rest is up to you! I hope you found this guide on how to start a food blog helpful, here's a reminder of the most important tips:
Be unique: find your niche or specialty.
Choose a great theme
Come up with a memorable name
Make your website user-friendly
Clear recipes and great pictures are a winning combo
Grow a loyal reader base to help earn money
Above all else, have fun with it and enjoy your new creative outlet!
Ready to start? Check out our special deal with Hostgator to get started cheaply hereI.tail


Our #1 Choice For Hosting Blogs
62% Off Exclusive Offer Applied at Checkout