Last Updated on
Images are a vital part of a website and blog for two reasons. Firstly, they add a visual element to your site or blog to go along with the content. Which makes the page more appealing to the eyes and ensures that the content doesn't seem boring, with just words. Secondly, images, when optimized correctly, can contribute to your SEO.
But not everyone has time or the skills to take beautiful pics for use on their site. Thankfully, you don't have to. There are platforms online that provide free images for websites and blogs in the form of stock photography for virtually any subject you want.
Did I mention that the best part is that they are completely free pics? 😉
Anyway, below are the free sites I have used for quite some time, but I have recently found RelayThat which is pretty much a game-changer!
It lets me create one image for a website and I get the same style images to fit all of my different social media channels. A massive time saver! Well, that's actually not quite true…
I just didn't do it before because it was so much work. But if you have any plugins that let you add an image with specific dimensions for each social channel then this might be your dream come true, check out what it can do in just the first minute of this video:
Like what you see?
Have a look at what else it can do HERE.
Where to get free images for websites and blogs
Get Stencil
Design Wizard
Unsplash
Pixabay
Morguefile
Flickr
Pexels
Stocksnap.io
Burst
Reshot
Freestocks.org
FoodiesFeed
Gratisography
Picography
Kaboom Pics
Life of Pix
ISO Republic
StyledStock
Picjumbo
Skitterphoto
ImageFinder.co
Pikwizard
Rawpixel
Negative Space
Barnimages
24 great sites with free images for blogs and websites
1. Get Stencil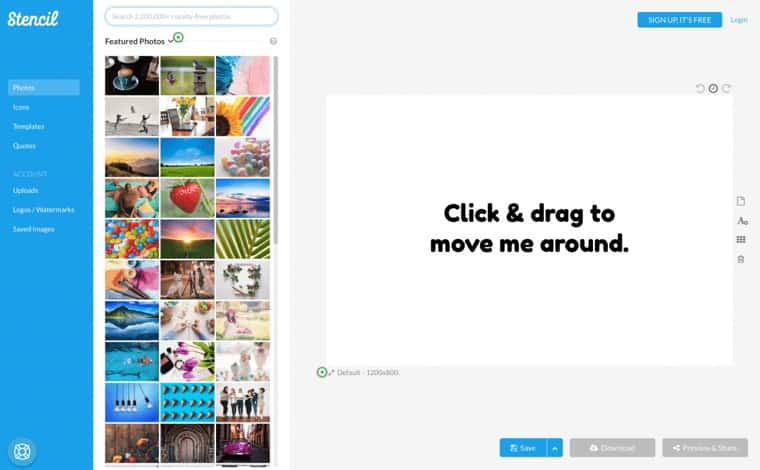 Get Stencil makes it easier for you to not just use but create free images for websites and blogs. The platform has two types of use. Free and paid subscription.
Under free Stencil, you have the option to search from hundreds of images that fall under the creative commons (CC) license. You even have the option of using multiple pictures together with a template so you can organize them as you please. On top of that, you can even add text to the image. Making this platform more than just a free stock image source.
With the free option, you get a limit to save up to 10 images in a month with limited photos and icons to search from. The Pro option which costs $9 per month lets you create and save up to 50 images in a month, from a library of over 2 million images and icons. The final option, Unlimited, costs $12 per month and gives you unlimited access to the platform.
Free
Pro ($9.00/month)
Unlimited ($12.00/month)
2. Design Wizard
With over 1.2 million images and 15 thousand templates to choose from Design Wizard is a comprehensive platform for you to browse through and select high-resolution images for your site. You can even resize and optimize the image to ensure it doesn't bulk up the size of the page. You can find pictures for every industry on this platform which makes it great for any type of business to use.
Like Get Stencil, Design Wizard also has three packages for users to choose from (although more expensive):
Apprentice (Free)
Pro ($9.99/month)
Expert ($16.95/month)
The main difference between the different packages is the number of images you can store and use.
3. Unsplash
With a library with over 550,000 high-resolution pictures, for free, Unsplash makes it easy for businesses to find the exact picture they need. It has the pictures sorted in categories, so you can even browse categories if you aren't sure of the exact picture you want. From nature, architecture, to current events, you can find free images for websites that make it look more captivating for your audience.
4. Pixabay
The unique aspect of Pixabay is that not only does it have free stock photos but also videos, vectors, and illustrations. The library of the platform consists of over 1.6 million pictures and videos for you to choose from. All you need to do is join their community which of course is free. All content on the site is CC0 license which means you can use it without the written consent or permission of the photographer.
5. Morguefile
Morguefile has a gallery of 350,000 free stock images for you to choose from. You also have the option to browse through images from other sites such as iStock, Getty, and Shutterstock. The platform also offers a Pro option which comes with a $25 annual fee. The upgrade lets you edit the pictures with access to filters and enhancement options. It also ensures that you can use the platform ad-free.
6. Flickr
The community on Flickr has over a whopping 10 billion photos. The platform allows users to come and share their photos with others. In order to get pictures that are free for commercial use, you will need to make sure you filter the search to only include those that fall under the CC license and don't worry, the platform has thousands of those. You can find any type of picture on Flickr so it should be one of the top platforms on your list for free images for websites.
7. Pexels
A crowdsourced platform, Pexels, allows for the photos on its platform to be used for both commercial and non-commercial use. Users can submit their photos to Pexels which are then tagged and sorted into the category they fall under. From pictures of landscapes to portraits, the website has it all. You can even modify the pictures if needed. While you don't have to credit the owner of the picture, the platform does encourage you to give credit where it is due.
8. Stocksnap.io
Stocksnap.io is another modern-looking website that allows users to browse through hundreds of categories for free high-resolution stock photos. You can find pictures suited from business to landscapes here so it works well for blogs and websites. All images on the platform fall under the CC0 license so you can use them as you please.
9. Burst
Burst is a website for free stock photos owned by the e-commerce platform, Shopify. It is fairly easy to use and has images sorted by categories. If you aren't sure of the exact image you need, you can just go through the category of which your site or blog falls under. With thousands of pictures in each category, you will surely find a perfect it on Burst. Under the term of use, Burst clearly states that photos uploaded to the platform can be downloaded and used with attribution for commercial use.
10. Reshot
Reshot prides itself as a website that provides free images to users that don't actually have a stock photo appeal. These are pictures that are taken and worked on by users of the Reshot community so while they appear to be stock images, they actually aren't. The platform also clearly mentions that the thousands of pictures available are free for you to use as you please.
11. Freestocks.org
Freestocks.org is the only .org website on the list but like the others has tons of free images to choose from. You will notice the categories as soon as you access the site which ranges from animals, fashion, nature, to people. While you will find pictures for specific websites here, the images on this site are better suited for blogs. The categories aren't as extensive as other sites we have mentioned. But all images on the site are completely free to use as you please.
12. FoodiesFeed
FoodiesFeed is the first website on our list that is specifically made for a single category, which is food. But the images they have of food are thought to be better than food images you would find in any of the other platforms. These images are taken by the FoodiesFeed community, members take photos and post them for anyone to use as they please. But tread carefully, the appealing images are sure to make you crave food.
13. Gratisography
Gratisography isn't like other websites on our list because it features quirky images, some of which are just bizarre or odd. But these images which are more likely to be used for blogs rather than a business website can truly make your content stand out. All images are completely free to be used as you please. With categories ranging from business to whimsical, you can find yourself spending hours browsing through the odd yet captivating images.
14. Picography
Picography is another great option for virtually any type of picture you want. From a free image of Apple Watch to the Aurora Borealis, the site has tons of different categories of pictures you can search from. All pictures are high-resolution and you are allowed to use them as you please.
15. Kaboom Pics
While the images on Kaboom Pics are free for use, the website is different from the others on the list since the site owner takes and edits all the pics that are found on the site. There are over 10,000 images on the sites for you to browse through and while that may not seem as extensive as some other platforms mentioned, it is impressive.
16. Life of Pix
Life of Pix is another community-based website where photographers can come and share their photographs. Once the photographs are shared, they are free for use. The platform even has Life of Vids where you can find free videos and clips which you can use for your blog or website.
17. ISO Republic
ISO Republic houses thousands of free images for both commercial and non-commercial use. You can browse through categories or popular tags to find the right picture for your blog or website. All pictures are high-resolution and easily editable so you can use them as you please.
18. StyledStock
StyledStock is the second website on our list that is catered to a specific audience. The platform hosts pictures that are geared towards women entrepreneurs. The images have a more feminine touch to them, which is fairly subtle for the most part. So for any women entrepreneur looking for images for their site or blog, this site should be your first stop.
19. Picjumbo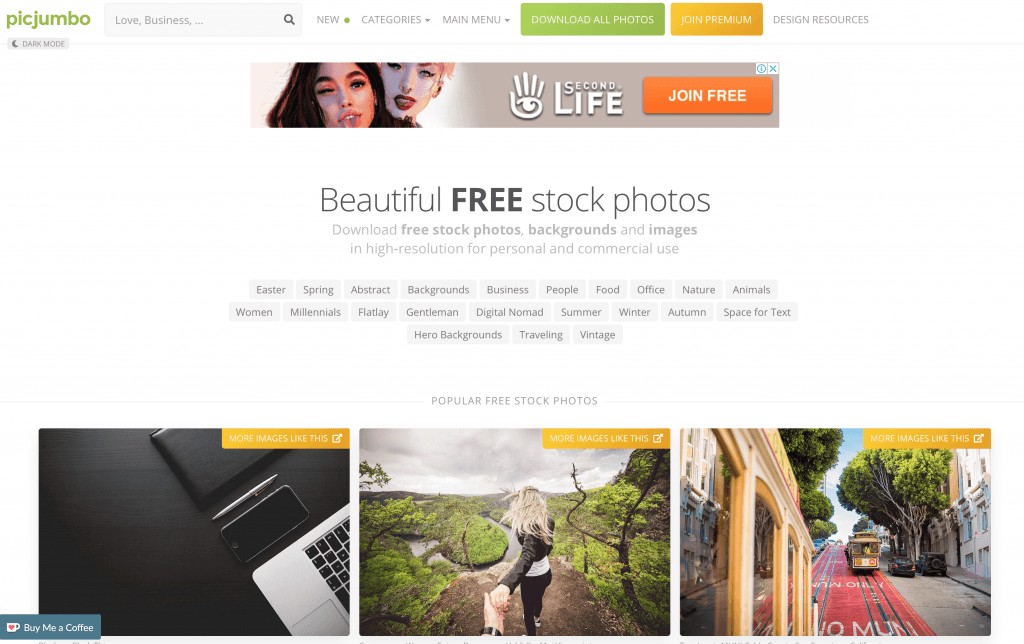 Picjumbo offers thousands of free images to users to be used for both commercial and non-commercial use. It also has a premium membership which gives users access to 5,000 more pictures and over 100 collections. With three different premium plans ranging from $6.58 to $24.08 per month, you not only get more pictures to choose from but also unlimited downloads and access to premium categories.
20. Skitterphoto
Skitterphoto is a public domain where users can come and share their photographs for any type of use. All photographers need to do is join the community and share their photos. You as a business can download the pictures shared and use them for your blog or site. The images are high-resolution so they appear crystal-clear when used.
21. ImageFinder.co
ImageFinder.co is home to over 150,000 high-quality images which are all royalty free. It actually started as a search engine that hosts pictures from Flickr that are specifically marked under the Creative Commons license. However, as the website expanded, it now hosts stock images from various different platforms and not just Flickr.
22. Pikwizard
Pikwizard is a site that is a site that is linked with Design Wizard, the images you select can be edited using Design Wizard. The site lets you search specific categories with the help of the search bar or you can filter the images based on popularity, date, and so on. With thousands of pictures to choose from and the option for editing them directly on the site, PIkWizard makes it easy for you to select and optimize pictures for blogs and websites.
23. Rawpixel
Rawpixel has a library of hundreds of pictures to choose from. The images have a more artistic touch to them that gives them more than just your average stock photo feel. This is why the platform is great for anyone that needs shots that are more creative, which tends to appeal more to the audience.
Negative Space
Negative Space is another creative space where photographers can come and share their photographs. The photographs you find on the site like Rawpixel are more artistic and allow photographers to showcase their creativity. The website even has a unique filter that lets you search photographs for a dominant color.
24. Barnimages
Barnimages is a site set up by two photographers that wanted to redefine stock imagery. The pictures found on the platform are taken by them and are all high-quality. All images are completely free to use.
Licenses for free photos for blogs and websites
Before, you go out hand-picking images from any of the above platforms, it is important that you read the terms of licensing for each. You will find that most of the stock images on the platform have no copyright restrictions and are licensed to be used under the creative commons public domain. Meaning you can use the image as you please without seeking permission.
However, that may not be the case of every image and therefore, it is better the read the licensing agreement on the site before proceeding.
Free pictures for websites & blogs: our conclusion
That concludes our list. Most of the sites we have mentioned have a similar interface and an extensive library of images to choose from. All you have to do is search or browse through their categories.
When using stock photos, there is a concern that most of the free images for websites will not appear as a snippet in the Google SERPs, but the images you find, edit, and use from Get Stencil aren't considered to be stock photos since the platform gives you the option to edit and practically make the picture your own.
The images you use from GetStencil's platform have a better chance of appearing in Google snippets and help with search engine optimization, as well as being perfect for making specialized social media or even newsletter images.
So to tie things up, there is no better place to start your quest for free images for blogs and websites than the sites mentioned above. We are certain that these will have all your images needs covered, but if you want to really stand out from the crowd, check out Get Stencil here.