Last Updated on
There's a little known fact about 99% of bloggers out there, and only you and I know it.
They don't have blogging goals, so they never get started.
Either these people have a great idea combined with doubts or don't have the tech know-how to start a blog.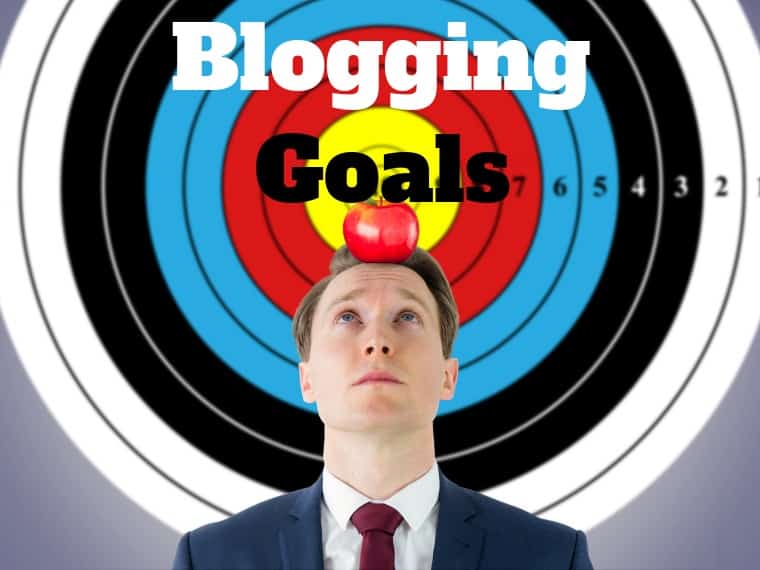 Starting a blog is one of the best feelings for any person on the planet. We all love it.
We are all writers, and blogging lets us actually take credit for our work, monetize it, and build an audience.
In this post, I'll explain the relatively easy steps you should take to avoid being the 99% and to meet your blogging goals today.
Step 1. Decide What to Blog About
The first step to any great blog is a topic.
The problem is most bloggers try to pick a broad topic. Think about it, your life has some serious variety, so why wouldn't you blog about "the best lifestyle blog in your city" or something along those lines?
I'll tell you why. Because people don't care.
If you think you can start a lifestyle blog or something equally as general then you should look yourself in the mirror and ask "am I one of the Kardashians?" If not, then blog about something else.
It is obviously really fun to have a lifestyle blog because we all want to think our lifestyle of going to fancy places in the day then eating popcorn while watching Netflix at night can be viewed as glamorous, but it's no. You're not helping anyone by creating this type of blog.
So what should you do instead?
You should blog about what you think the Internet needs.
Pick a topic which intersects on the point of your greatest passions and the world's greatest needs.
This sort of topic ensures you will have a lot to write about (because you're passionate about it) and that the world will want to read it (because they already need it).
It could be your childhood passion or just something that you picked up in the past couple of months. It does not matter. As long as you can write a lot about it, and the world needs it!
Now that we know what to blog about, let's pick a platform to blog on.
Step 2. Choose a Blog Platform
There was once upon a time when you could make free blog sites on Blogger, Tumblr, Weebly, or maybe go for WordPress if you were serious about blogging.
Those days are long gone.
I don't mean to sound extreme, but there are simple facts in the blogosphere you should know about if you want to create a blog.
For one, if you want to be taken seriously among other bloggers, it's vital you use WordPress.
Now, I know what you're thinking – wouldn't it be cool to make a blog with a new type of technology all custom and creatively that no one has seen and stand out? I thought the same thing when I wanted to build a blog all originally. The answer to that question my friends is No.
People don't want to navigate thru some new sort of blog platform. They want it to be simple, easy, clean and mobile friendly. That's WordPress.
Where you will really win with originality is with your content.
Plus, when you network with other bloggers, aka ask them to recommend you and link to you, they don't want to link to some weird questionably looking site.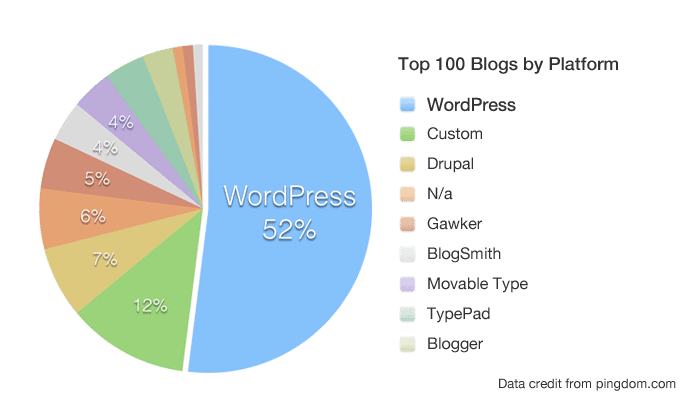 As seen above, over half of all blogs use WordPress.org or WordPress.com. The N/A part would basically be blogs that are so custom made that we couldn't tell the software, or perhaps blog networks like Medium (which we do love actually).
Add this to the fact that over 30% of the top 10,000,000 websites in terms of popularity use WordPress, like Forbes, Mashable, NYTimes, Walt Disney and more, and you start to realize that you probably want to be in the company of WordPress when you start a blog.
Step 3. Install WordPress and Get Going
So the last question to ask yourself is really which WordPress is best? WordPress.org or WordPress.com?
When I talked about the difference between WordPress.com and WordPress.org in Greece (see video below) the issue really boiled down to one thing: Control.
https://www.youtube.com/watch?v=-hbP3WOdNkA
WordPress.org gives you more control to write whatever you want, use any plugin/theme, post ads and ultimately own your whole blog.
Also, WordPress.org is, on the whole, a lot cheaper than WordPress.com, because WordPress.org is free! You simply must buy a domain and hosting to use it.
With WordPress.com, you start with a basic free blog, then they ask you to pay for crazy upgrades every step of the way and you end up paying way more.
So do yourself a favor and make a WordPress.org blog from Day 1. Karen has plenty of step-by-step guides here to get your first blog launched. If you prefer a deluxe video feel where we pick the theme for you and do all the work (you owe me) then try this:
Conclusion: The Last Step to Meet Your Blogging Goals in 2019
So you know understand the following:
1. What topics to blog about
2. Why it's important to use WordPress
3. Which WordPress to go with (.org all the way!)
And, you have all the guides you need to get started on WordPress.
The final step is just to make that tiny commitment to yourself to get started.
Your blog won't make itself.
And every day you don't create a blog, others in the blogosphere are, they are building their brands and probably even annoying the crap out of you when they constantly post their stuff.
So go out there and do you. The final step is just that commitment, that spark, that urge to just sit down at the computer for an hour and do it. You go this!
Did you have any questions about blogging goals after browsing this article? Let us know in the comments!
Greg Narayan blogs at DearBlogger when he shares down to earth WordPress advice and quick solutions to common issues each morning. He has recently shifted his efforts to helping Indian bloggers find the best tools, services, themes, and web hosting in India.
If that sort of stuff would interest you, check it out!