Last Updated on
Register.com, as the name implies specializes in domain name registration. Over the past decade, the company has registered 2.5 million domain names. But as you'll see in out register.com reviews, they offer more than just domain names. Register.com also provides web hosting and other internet services. In 2010, the company was acquired by Web.com, but it's still going strong.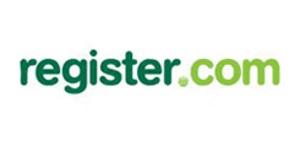 According to its web page, Register.com hosts over three million small businesses. That's a lot of customers. Register.com reviews, just like for many other web hosting providers, tend to be a mixed bag. Unhappy customers are more likely to be vocal than happy or indifferent customers.
Disclosure
As an independent review site, we get compensated if you purchase through the referral links or coupon codes on this page – at no additional cost to you.
But like other middle of the road web hosts, Register.com seems to have found a large enough customer base that stays satisfied. After all, Register.com has been around since 1994, and it's still going strong.
Register pricing, while not the cheapest, remains on the reasonable end of the spectrum for new users. Their Essential plan is the cheapest at $5.95 per month. This bare-bones plan comes with dedicated IP, MySQL, and cPanel. And 300 GB of disk space isn't too bad, either.
If you sign up for Register.com, you'll find a lot of features included. In addition to the aforementioned features, you also get a free .com domain, a 99.9% uptime guarantee, and a money back guarantee.
With the essential plan, you get 28 open source applications included, such as WordPress, Drupal and Joomla. The professional plan offers a lot more for just $2 more per month, with 500GB of disk space, up to five websites, and 50 300MB MySQL databases.
For premium ecommerce hosting, their most expensive plan, it still remains at the low end of the pricing spectrum at $19.95 per month. This plan includes unlimited disk space, FTP accounts, and MySQL databases.
Register hosting tends to be reliable. They have consistently rated high on reliability tests, and page load times tend to be much lower than the industry standard of 700 ms. If you choose, you can also have your website run on Windows servers. Few competitors even have this option.
Register.com also provides do it yourself or do it for you website building – so if you're a newbie, you have options to get yourself started. They also offer online marketing services and free logo design, through Logoyes, another web.com company.
Through web.com, Register.com also has a learning center for general small business topics. These topics include financing, trends, and marketing.
For existing customers, Register.com has product guides and tutorials to help guide them through the website building and maintenance process. This video shows you how to create a private nameserver at Register.com.
Customer support is available 24/7 with US and Canadian toll-free numbers to contact them directly. According to the website, 70% of their calls are answered in under 50 seconds. Their support team also maintains active Facebook and Twitter accounts to interact with and respond to customers.
Register guarantees 99.9% uptime, and holds true to this promise. If a monthly uptime falls below the guarantee, the company will give customers credit hours, depending on the amount of downtime experienced. Of course, customer scripting errors, planned downtime, and third party app crashes aren't covered by this guarantee.


Our #1 Choice For Hosting Blogs
62% Off Exclusive Offer Applied at Checkout
Like many other web hosting providers, Register.com has a limited set of services. Register does not offer VPS hosting or dedicated servers. So if you want these services, you'll need to look elsewhere. Nor does Register offer unlimited disk space for any plans. Even the most expensive plan offers only 5GB of disk space.
Register web hosting doesn't always come up to snuff, either. Their interface is not easy to use for internet newbies. Nor do they assist users with initial website setup.
Their introductory email does not include information you need to set up a website on their servers. You'll have to figure it out on your own. Acceptable if you know what you're doing – not so much if you're a newbie.
Like other internet hosting providers, Register is not always up front with their pricing. But in this case, they charge every four weeks, not monthly. So in some cases, you may be paying 13 times in a year.
Pricing in the fine print
Register's pricing is obscured in other ways. For starters, the company does not offer a money back guarantee. Then, the four-week pricing period is mentioned in fine print at the bottom of the page, and the listed prices are promotional pricing only. Renewal pricing is not mentioned anywhere on the site – not even the services agreement.
You can find renewal pricing in the applicable promotion terms link within the fine print. According to this fine print, after the first month, customers will be charged $14.95 per month for Essential Web Hosting. Suddenly it looks a lot more expensive than before.
Unfortunately, as of late, it looks like register.com's customer service has not maintained consistent quality. Numerous customers reported numerous outages and delayed responses to support tickets. Other customers were not notified of billing and other changes in services within a timely manner.
Register.com has made a name for itself as a middle of the road web hosting provider. It's not the worst hosting provider out there, but it's not the best either. Customer support, reliability, and pricing are average, at best.
But the best don't come cheap, and the worst tend to come cheap. The plethora of register.com reviews out there reflect its middling qualities. Few people love it or loathe it; it's only okay.
If you want more than middle of the road service, a web host like HostGator may be the one for you. They are rated consistently high as a web hosting provider and offer plans at reasonable prices. Regardless of whatever hosting provider you go with, you should probably do a bit more shopping around before going with Register.com.