Last Updated on
When trying to get off the starting blocks with a website, sometimes price and price alone will be your primary concern. In these situations, you'll want to start shopping around for cheap domains to keep your costs low.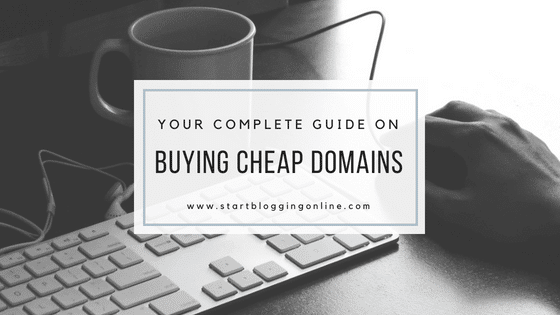 If you're just learning
how to make a website
for the first time, finding affordable domain names isn't a walk in the park. There are a virtually unlimited number of services promising the cheapest domains.
This guide will present you with some of the best options, along with tips for what to evaluate when seeking out cheap domain names.
Before you purchase any domain, you should educate yourself on the rudiments. First and foremost, what is a domain name? Many people use the term interchangeably with a website, but that's not entirely accurate.
Cheap domain names: the basics
A domain name is a representation of an IP (Internet Protocol) Address. Every domain has a suffix that separates it into one of the internet's "top-level" domains. Examples are the ".gov," ".com," or ".edu" you find at the end of a website's name.
ICANN, the International Corporation For Assigned Names And Numbers, has a comprehensive list of all the Top Level Domains out there if you're interested.
When you type a domain name into your browser, the browser tracks down the associated IP Address. You are then taken to the corresponding website. Because domains are easier to remember than long strings of numbers, they provide convenience in navigating the web.
GoDaddy has a pretty good breakdown on the topic in this video:
How is a domain different to hosting?
As mentioned earlier, a domain is like an address that gives you the location of where you want to go on the web. The website is the actual content that you're looking to access. The hosting service, or server, is the place where the content resides.
In many cases, hosting services will also allow you to choose a domain and then purchase through them, but you don't always have to. You may opt to buy a cheap domain from one service, build your site on your own, then have another service host the site for you. It will all depend on what will fit your individual goals best
Cheap domains: what qualifies as cheap?
Type "Cheap Domain Names" into a search engine, and you'll see a range of prices without much context. Which of these is real, and what qualifies as cheap? To know that, you have to consider what goes into the price of a domain name.
There's the initial registration, which is the price you pay upfront. This price usually covers the first year of your domain and can range from $0.99 to $13.00, on average.
The less expensive ones usually come by way of a coupon code or some behind the scenes trickery so you may need to read carefully before selecting one.
Once that year period is up, you will need to pay a renewal fee to hold on to your domain name. This annual fee will range from $10.00 to $15.00 in most cases. You should expect to pay $9.00-$20.00 a year as the low end for your domain.
Bear in mind that this is just the price for the name. It doesn't cover hosting fees or additional overhead that comes with running a website.
When evaluating the services that offer cheap domains, you will need to ascertain if you are getting the value that you need. Here's what to look for at the onset:
ICANN maintains a list of accredited domain name registrars in an attempt to keep things on the up-and-up. Any service accredited by ICANN "meets all the technical, operational and financial criteria necessary to qualify as a registrar business," supposedly.
You can view the Registrar Accreditation Agreements to learn more about what ICANN requires of registrars. Check out this link to see the current responsibilities charged to each registrar. You can also see the list of currently accredited registrars here.
ICANN helps to maintain a standard of accountability, but some less-than-reputable services can still slip through the cracks. To make sure that you're not getting fleeced when you buy a domain cheap, you should do some background checking.
You want to find a service that has established themselves. See how long they've been in business. Check reviews from past clients. Look up their reputation with the Better Business Bureau. Everything that you can do to establish their trustworthiness is a plus.
When registering your domain, information about who you are goes into a database. How much of your personal data do you want to be available? You should check with a service to see if they will conceal your details as much as possible.
Will the service you choose offer you the barebones of registering your domain? Will they take on additional duties for you like nameserver and whois administration?
Will they provide support if there's an issue? Can you get in touch with them via phone, email, etc.? You want to ensure that you won't have to fend for yourself in the case of an emergency.
Going for the cheapest domain name doesn't mean the lowest quality
Just because it will be a cheap domain doesn't mean it has to be a poor one. There are guidelines to follow when selecting a domain name. GoDaddy, Moz, and Entrepreneur all have lists to which you can refer. Here are a few of the major takeaways:
The domain name should be easy to remember: This means choosing a domain name that is short, easy to pronounce, and easy to type. You should avoid things like hyphens and numbers. The easier it is for someone to say out loud, the easier it is for them to recall and type it in when they want to visit.
The domain name should be relevant: If there's a keyword that links to your business or service, try to incorporate it. If you're a local outfit, consider including your city in the name. Brand it to your organization if possible.
You don't want to step on anyone's toes: This means no copyright infringement. Do your homework to see if what you've brainstormed is actually someone else's idea. You probably don't want to end up in any legal hot water, so this step is extra important.
Check WHOIS to see what's taken: The WHOIS database shows what's available and what isn't. It's essential to refer here to find out if you can use the killer domain name you devised.
Use a domain name generator if you're short on ideas: No shame here, just plug in a few keywords and let technology do the work for you. NameMesh, and NameBoy are a couple of favorites that are easy to use. They can provide suggestions geared towards specific purposes as well.
Pitfalls when buying cheaper domains
As with any endeavor, there are traps you can fall into if you don't have experience. Unscrupulous registrars will attempt to separate you from your hard-earned dollars with shady practices. Make sure you read the fine print to avoid:
WHOIS Database Trickery: You'll recall that the WHOIS database maintains a record of your registered domain and some personal details. After registering your domain, some companies will try to charge you for editing that information if there are errors or if something needs updating.
Some will offer "privacy services," promising to conceal your information for a price. What they don't tell you is that they substitute their information on the registry. If it comes down to a dispute, then in the eyes of the law that domain is theirs, and not yours.
The most unsavoury services will straight-up steal your personal information and sell it to the highest bidder. No longer are you their customer; you become a product for them to auction off for more profits. Best prepare for the onslaught of spam and robocalls.
Domain Slamming: This is often used as a ploy to get a user to unknowingly switch their registrar. A third-party will email you transfer notices disguised as a bill or renewal notice. Responding to this fraudulent note will transfer your domain to another registrar, and you get "slammed" with higher fees that you did not anticipate.
The counter to Domain Slamming is the Registrar Lock. This keeps anyone from transferring your domain but comes with its own set of problems. A registrar can refuse to turn the lock off and hold you "hostage" if you want to transfer your domain elsewhere.
Sometimes they will allow you to transfer domains, then turn around and hit you with a Transfer Fee that is many times what you paid to register in the first place. It is blatantly unethical. You can often resolve it with a call to your credit card company, as the fee violates ICANN rules regarding domain transfers.
Top places to register cheap domain names
NameCheap.com
HostPapa.com
GoDaddy.com
HostGator.com
Bluehost.com
Moniker.com
1and1.com
Hostway.com
Register.com
NetworkSolutions.com
Netfirms.ca
Let's take a look at what we think are the best 3.
NameCheap offers lower pricing than both Hostpapa and GoDaddy. Their focus is mainly domains, as opposed to hosting, and they seem to have better overall reviews than their competitors.
Their service is simple and straightforward. They also make it easy to transfer domains when you feel the time is right. They have their share of complaints, but you could sum up the majority of opinions as, "at least they aren't as bad as GoDaddy."
Hostpapa is another large hosting service that also allows users to register domains. Their prices are comparable to GoDaddy, and they've won a few awards as well.
On the surface, they are user-friendly. Customers, however, report that they employ pricing tricks to squeeze extra pennies out of users. The most prominent is low initial pricing that balloons to a much higher rate after that introductory term ends.
You can also get a domain name for free here with these guys at the moment if you also need hosting, and once you get going you can check out our guide on how to start a blog if you need more help.
Now it's time to take a look at services who offer cheap domain names. Let's start with one of the best-known places to buy a domain cheap, GoDaddy.
They've been around for a long time and have helped over 38 million websites get their start. They also provide web hosting if you need a place for your site after you've registered the domain name. They are certainly cheap. It's easy to get started, and they are a reliable service.
There are a few downsides, though, namely the constant attempts to upsell potential customers. There are plenty of complaints about their auto-renewal policies and hidden fees. They also make it difficult to leave if you want to do a domain name transfer.
Going for cheaper domain names: the verdict?
You'll have to balance several factors when you're starting your website. There's a whole swath of companies promising a lot when it comes to cheap domains, but seem more intent on nickel-and-diming customers than providing adequate, no-frills registration. If you are unsure, look for a money back guarantee.
If you just want to get a domain registered for the lowest price, though, you'll probably find what you're looking for with NameCheap. They offer basic domain name registration (or even premium domains if needed) along with free privacy services to keep your information guarded.