Last Updated on
As a hosting provider, One.com stands out in several ways. For one, they specifically cater to the individual user, as opposed to larger companies. They also seek to make themselves accessible to all users, including those who know next to nothing about creating a website. But even with this small-minded focus, the company has only grown over the years.
Founded in 2002, One.com has quickly grown into an international web hosting company. Based in Denmark, the company also has offices in Dubai, Holland and the UK. The company runs only one data center, in Denmark, and has about 270 employees. So despite its international reach, One.com remains a fairly small web hosting provider. Even with this single data center, One.com hosts over one million members.
Disclosure
As an independent review site, we get compensated if you purchase through the referral links or coupon codes on this page – at no additional cost to you.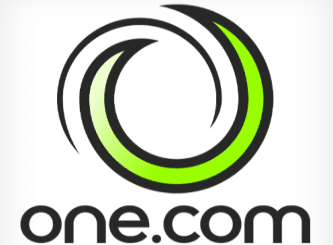 One.com makes itself very accessible to even the most neophyte users. Helpful, customer support staff are generally multilingual. However, their capacity is very limited, and new users may wind up overly reliant on customer support.
Review of one.com: pros & cons
Multilingual site and support
One.com is a truly international company. You can view the website in different languages, including Spanish, French and German. Customer support is also available in several languages. So if the client's more comfortable speaking in their non-English native tongue, they'll be connected with a support staff member who can speak their language.
Includes special features
One.com also offers some features that other hosting companies may not. One of these features is Bix. Bix provides webmasters with real-time synchronization, file sharing options, and music streaming features. The app allows you to import, share, and cache a variety of media, including photos and music.
The mobile suite in particular may make your site more accessible to you and your visitors. Amazingly, this feature comes standard with all plans.
For beginners, One.com web hosting may be a very good service provider to start out with. The information they provide customers is not overly technical, and there are helpful video tutorials that neophytes can view. You can find an overview of their services in this video here:
The price is also very favorable for beginners just starting out with their first website. With a rate of $1.89 a month on their starter plan, One.com's pricing is on par with other affordable shared web hosting services.
What's more, new users get the entire first year free. For this low price, you get 15GB of hosting space, unlimited data transfer, and personalized email accounts. It's not too bad for a budget web hosting provider.
Even as the plans get more expensive, they remain fairly affordable. Their business plan is only $6 a month, and for this price you get 500GB of storage, 4GB of RAM, and eight CPUs. You also get free HTTPS/SSL. And even with these low prices, they don't bombard you with advertising while you use their services.
At this price, are they able to perform well? It turns out in most cases, yes. One.com doesn't promote their uptime, but they generally provide 99.99% uptime for their customers. Most hosts only guarantee 99.9%. So One.com's performance exceeds the competition by a significant margin. Their loading speeds are also above average, staying under 300ms.
You also get a range of free features included in these very cheaply priced plans. Your domain name is free for the first year. All plans come with a free site builder, and hosting users get a cPanel account. Here, you can install WordPress and other features with just one click. You also get add-ons such as a gallery and cloud storage for free.
One web hosting is best known for hosting individual users' personal websites and blogs. This also includes email hosting. All users have access to unlimited email accounts. All email is supported by IMAP and POP3, and all plans have spam filtering and virus screening.
You can choose any email platform you want, but One.com also has their own. If you choose to use One.com's webmail platform, you get the standard address book and calendar. You also can access your email from anywhere.
Their customer support team tends to be both available and helpful. In addition to a multilingual support staff, One.com has 24/7 live chat support. The company gets 90,000 support tickets a month, and most are managed well.
Even at 2 AM, customers may only need to wait a few minutes before hearing from a support staff member. Overall, members of the customer support staff are knowledgeable and prompt.
One.com is also ecologically minded. All of their servers are powered by wind turbines, running purely on wind energy. To achieve this, One.com purchases Renewable Energy credits, which prove that one megawatt hour of energy was produced by renewable resources. This is miles ahead of many other hosting providers.
Not for web developer veterans
One.com appears very friendly to the small-time, inexperienced user. But for seasoned web developers, One.com may not be the best choice. There's limited space and customizable options, even for the most expensive plan.
More experienced web hosting users may want more control put into their hands, and more options to tweak their website to their preferences. One.com is very basic and no-frills, leaving a lot to be desired for web veterans and large businesses.
You also have limited service options with One.com. On all levels of hosting plans, One hosting offers only, well, one kind of service: shared hosting. If you are looking for VPS or cloud hosting, or for dedicated servers, you'll have to look elsewhere.
No customer support phone number
While their customer support is available 24 hours a day, and they speak many languages, there's no contact phone number. Live chat can work just fine in an emergency, but for those who prefer to have a voice speaking with them on the phone, they may have a harder time getting their issue resolved.
Nor does One hosting service come with an uptime guarantee. They do assert that servers are monitored 24-7 to help ensure minimal downtime. But this may do little to assure customers who experience more downtime than usual for their sites.
Their limitations also extend to their scope of performance and scalability. In fact, the company discloses their right to decide whether or not traffic is "excessive" in their terms of service. One reviewer's site only got 100-300 page views in a day, but his account got suspended due to this "excessive" traffic.
Short money back guarantee
Other One.com reviews point out the short duration of the money-back guarantee. One.com does have a money-back guarantee. However, this period is only for 15 days. This is not much compared to other web hosts' guarantees, which can be up to 30 days or even more.
And while your first year is free, you still have to pay a setup fee. After the first year, your pricing per year will likely go up more than ten times. Though at least One.com discloses this fact on their website. Domain prices also vary, depending on whether you want a .com, .org, and so on.
There are some additional features that you can access as a One.com customer. You just have to pay extra for it. For instance, if you want their ecommerce feature, Webshop, you'll have to pay an extra $10 a month, no matter your subscription plan.
The Webshop feature is decent, and run in-house, but then the price start looking a bit more expensive. Sitelock Find, an anti-hacker security feature, is also extra, with the less steep fee of $1.69 per month.
Even with responsive customer support, One.com is not immune to customer complaints. Many customers appear to experience a large amount of downtime for their sites. This may be in part due to the fact that the company's servers can only handle so much traffic.
Other customers complain that the blogging tool is difficult to use, and there's no password protection for their sites. Another One.com review noted that blogs are created in a separate editor, and the available designs leave a lot to be desired.


Our #1 Choice For Hosting Blogs
62% Off Exclusive Offer Applied at Checkout
As with many other web hosts, your mileage may vary with One.com. If you just want a decent email account or personal website, One.com may be the web hosting provider for you. Their customer support and reliability remain a fairly consistent quality when you consider the low starting price.
A web hosting site like Hostpapa, on the other hand, offers hosting at an affordable price and so much more. You can also build your personal website on Hostpapa for just a few dollars more per month. But if you look to grow your site into a viable business, Hostpapa also gives you that room to grow.
Rather than potentially shutting down your website, Hostpapa will allow you to upgrade your membership. Even for shared hosting, it seems that if you want to expand your site's reach, One.com won't be the right service for you.