Last Updated on
I'm glad the site builder and eCommerce services out there are competitive now. Sure, the likes of Shopify, Wix and Weebly have their place and make Squarespace earn its value, but the pricing for Squarespace needs some focus.
With four different plans on offer—two being for site building and two for eCommerce—how do you know which one suits you best?
Disclosure
As an independent review site, we get compensated if you purchase through the referral links or coupon codes on this page – at no additional cost to you.
It's simple…
Check out my Squarespace pricing plans comparison below.
Even if you're a complete beginner to site building, the user-friendly back-end utilizes a simple drag and drop style of functionality. Even my cat could work it out (she couldn't really—she's blind).
There's something for everyone with Squarespace, so be sure to work your way through the different options below carefully.
Ready.
Set.
Go!

Monthly pricing for Squarespace costs more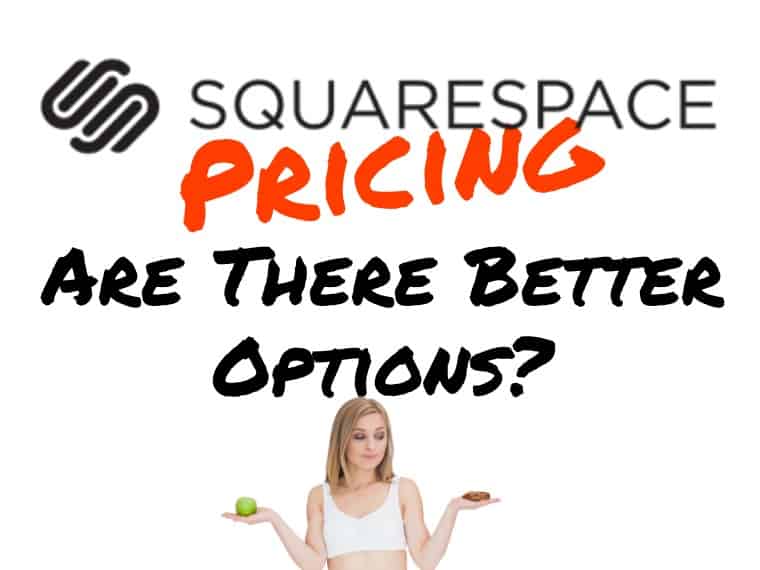 Oh, that cheeky old trick of forcing customers to pay annually and pay less. Flick that switch and you'll see the following monthly pricing for Squarespace:
Personal: $16 per month
Business: $26 per month
Basic Commerce: $30 per month
Advanced Commerce: $46 per month

It's true, you can save up to 30% (it's actually 31%) by paying annually, but keep in mind your cash flow options. If you're all about saving some cash, definitely sign up for annual rather than paying monthly.
Here's a nifty table for you to compare the total cost of both Squarespace pricing options… because I'm nice like that:
| Squarespace plan | Annual Cost if Paid Monthly | Annual Cost if Paid Annually | Saving Per Year |
| --- | --- | --- | --- |
| | | | |
| | | | |
| | | | |
| | | | |
This is all well and good, but what do you actually get for the packages?
Whatever you do, don't go in blind and sign up for the Business Squarespace plan without checking out the below comparison.
Squarespace Personal plan price: $12 per month billed annually
Squarespace Business plan price: $18 per month billed annually
These are the basic offerings of the Squarespace Personal plan:
SSL security
Unlimited bandwidth
Unlimited storage
Ready-to-go templates
SEO basic support
Sites optimized for mobile devices
Site metrics
Third-party extensions
24/7 customer support
Maximum of two contributor accounts
Some of these may sound super flashy but do bear in mind that they're the basics. For example, the templates are just standard templates for your site, but they do still look good.
Also, the SEO support is nothing to write home about; it's just some basics to ensure the search engines pick up your pages correctly and understand your site structure.
That said, it's good to see the SSL certificate and unlimited bandwidth and storage there as standard. Comparison packages have unmetered bandwidth, which isn't the same thing, and definitely isn't as good.
The great thing about Squarespace sites is that they look darn good, and are super easy to build. If you like the idea of dragging and dropping widgets to design your site, this makes up for the basic offerings here.
Consider the personal plan if you're a blogger starting out on your journey.
Bear in mind that if you don't have a domain yet, you can get one for free with Squarespace if you pay for one of the packages a year in advance, but it's only the first year that's free.
Think of the Business plan as a hybrid between a personal blog and shifting into eCommerce. It may suit you if you're looking to monetize your website some more, need some more customization options with the banners and extra contributor accounts, while also being able to target your traffic with the analytics.
That said, you should consider leaping from Personal into one of the below eCommerce packages if you need an online store, as well as all the customizability that goes with that.
Squarespace transaction fees
The stand-out thing for me with the Squarespace transaction fees is that Squarespace will charge you 3% of your eCommerce transactions on the Squarespace Business plan, and that includes shipping costs. For $5 extra a month on the Basic Commerce plan (if paid upfront annually, remember), there's no fee.
This is pretty darn good when you consider that Shopify—as one of the best eCommerce options—charges a transaction cost across all of its plans (apart from Shopify Lite).
Want to find out more on the Squarespace Commerce plans?
As if by magic…
Squarespace Commerce plans: Basic Commerce vs advanced Commerce
With the Squarespace Commerce plans, you get everything the website plans above have to offer, plus the extras in this Squarespace basic vs advanced website hosting comparison:


Our #1 Choice For Hosting Blogs
62% Off Exclusive Offer Applied at Checkout
Squarespace Basic Commerce price: $20 per month billed annually
Squarespace Advanced Commerce Price: $30 per month billed annually
On top of all transaction fees being wiped (3% charge on the final checkout amount), you gain access to the following features:
Point of sale app
Customer account creation
Secure checkout
eCommerce analytics
Merchandise tools
Instagram synchronization
We're clearly in the realms of full eCommerce now, but do keep in mind that Squarespace will still charge you for credit card transactions; it just doesn't charge you for other payment methods.
While you now have access to a basic commercial website suite, it's everything you need to manage customers, inventory and accept payments, which is through Square.
Your customers will also be able to create accounts, which means targeted promotions, better analytics and an excellent opportunity to establish brand identity with them.
The merchandising tools are also quite handy; you know those "related products" banners and promotions you see when you're Christmas shopping and suddenly you've spent more than you needed? The Squarespace Basic Commerce package can do that for you. Neat-O!
If you were just starting out with an online store and business, I would err on the side of caution and go with the Basic Commerce package. The great thing about Squarespace is that you can upgrade or downgrade at any time and receive a pro-rated refund or charge when doing so.
$30 a month is nothing to a site converting thousands of customers per month, but it is for a start-up without a market-rested range of products.
In my view, baby steps are the way forward.
Squarespace email pricing
But wait, there's more. Squarespace's talent don't just include site builders and eCommerce platforms, no, no, no…
The current Squarespace email pricing and packages are as follows:
| Squarespace features | Starter | Core | Pro | Max |
| --- | --- | --- | --- | --- |
| Price (Monthly / Annually) | | | | |
| | | | | |
| | | | | |
| | | | | |
| Squarespace footer branding? | | | | |
| | | | | |
If you don't feel that the email campaign rates are worth it, think how many times you've grabbed what you thought was a bargain via an email, or felt connected to a brand, company or product because of an enticing email.
More often than you realize, I bet!
Building a list is massive for online businesses since it can't be taken away from you, and is now considered the modern rolodex. By a customer sharing their name and email address with you and agreeing to receive your newsletter, you've just exploded your marketing campaign.
If you're already thinking of grabbing one of the Squarespace packages, to me, it makes to think about the Squarespace plan pricing for email, too. Ok, so three blast campaigns per month on the Starter package isn't huge, but the campaign automation and 5,000 sends per month is much more attractive with the Core email price plan..
Food for thought
Squarespace pricing vs competitors pricing
| Company | Plan 1 | Plan 2 | Plan 3 | Plan 4 | Official site |
| --- | --- | --- | --- | --- | --- |
| | | | | | |
| | | | | | |
| | | | | | |
| | | | | | |
| | | | | $299.29 (Advanced Shopify) | |
| | | | | | |
| | | | | | |
| | | | | | |
| | | | | $? (Custom pricing available) | |
| | | | | | |
| | $22.74 (PrestaShop Ready) | | | | |
| | $0 (Free but has transaction fees) | $0 (Free but has transaction fees) | $0 (Free but has transaction fees) | $0 (Free but has transaction fees) | |
Keep in mind that the above prices are all if you paid annually.
So, as you can see, Squarespace holds up pretty well, right? While there's no free option, the pricing is very competitive across all plans, and has more variety than many others.
Squarespace pricing vs Wix and Weebly
It's tough to compare Squarespace with other site builders and eCommerce platforms because they don't all do what Squarespace does and offer that broad spectrum and catch-all type of services.
I wanted to zero in on the two W's, though, since they crop up a lot in conversations when talking about website builders— Wix and Weebly.
I'll be honest, though, both Wix and Weebly kind of make me cringe. I'm not saying they aren't high-quality—they are—but I don't feel they're as good as Squarespace.
Weebly does have a free pricing plan, which is a definite positive if you're risk averse, but you're heavily limited with what you can do, have to accept Weebly's branding, and only get 500MB of storage.
Wix doesn't offer a free option, and is $1 more expensive than Squarespace's basic price plan. However, you're limited to 2GB of bandwidth and 3GB of storage, whereas Squarespace's basic plan is cheaper and has unlimited bandwidth and storage.
Of course, it's not as simple a comparison as that, but if you're looking for basic functionality and don't want to be capped, Squarespace is the place to be.
Squarespace student discount price (50% cheaper!)
I knew that would get your attention!
Squarespace is awesome if you were to only focus on its Education Program alone. Your school needs to be registered with their program for you to qualify. If it is, and you have a school email address, the Squarespace student discount price is as much as 50% lower for your first year.
Note that this has to be for a new account, but applies to any of the plans you take out. For example, if you went for the Basic Commerce plan, you'd pay $156 instead of $312.
Squarespace nonprofit pricing
The Squarespace nonprofit pricing is the same as the regular plans, unfortunately. However, Squarespace is still a great choice for nonprofit ventures, especially since the templates and eCommerce features are an excellent way to keep nonprofit stakeholders engaged and onboard, especially with the ability for your site to accept donations.
Squarespace also has a section on its site dedicated toward the best way to build your nonprofit site. I highly recommend you check this out.
Squarespace store pricing: key takeaways
You can remove a lot of headaches early on by deciding whether you want to sell through your site. If you do, start by looking at the website builder options. The Squarespace store pricing for these are either $12 or $18 per month if you pay annually, or $16 or $26 per month if you monthly.
If you know that you want to sell products through your site and need a checkout, discounts, customer accounts, inventory management, and other top-notch eCommerce options, focus on the Squarespace eCommerce pricing plans of Basic Commerce and Advanced Commerce. These will cost you $26 or $40 per month if you pay annually and $30 or $46 per month if you pay annually.
Critics will say that Squarespace should offer a free option, but your site will look nowhere near as good, nor will it load as fast as with the basic Squarespace pricing package. If anything, the free trial is worth it to see if you like the methodology of putting your site together through the interface.
The excellent thing with the Squarespace pricing plans is that you can move between them when you need to, without incurring a financial penalty.
If you're looking for a high-quality and reliable website builder and/or eCommerce option, Squarespace is a good choice.
FAQs on Squarespace website costs