Last Updated on
Shopify is one of the leading eCommerce platforms in the world. If you ever wanted to start an online store, you have probably heard of Shopify. With Shopify, it is easy to create an online store and sell products. But if you are new to eCommerce, you might have a hard time deciding which Shopify plan is best for you.
Shopify pricing starts at $9/month with Shopify Lite, which is their cheapest plan. Their most expensive license will cost you $2,000/month. So, eCommerce newbies out there are probably wondering, "How huge can the difference between features of those plans be?"
Disclosure
As an independent review site, we get compensated if you purchase through the referral links or coupon codes on this page – at no additional cost to you.
Sometimes it can be hard to judge what features will make the impact on your store, and what features you need. Don't worry, I got you covered. In this article, I listed all the important features that come with each of the plans. There is even a direct comparison between some of the plans to help you decide which one is right for you.
Shopify has something for everyone;, it doesn't matter if you are just starting out, or if you already have a huge eCommerce business and want to switch to Shopify. I will guide you through Shopify plan pricing and everything that comes with each of the price tags Shopify has.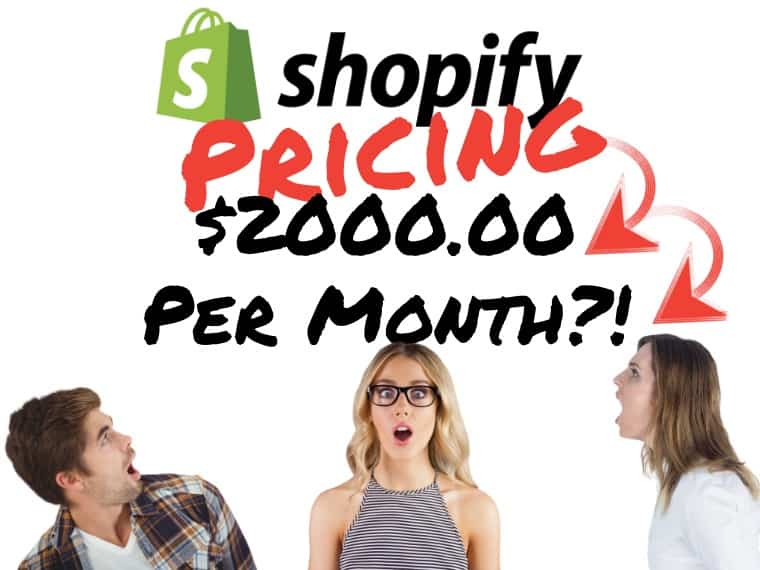 Shopify has five plans in their offer. Let's start with the Shopify eCommerce pricing of each of the plans they have: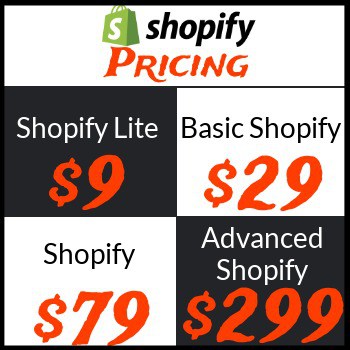 Shopify Lite: $9/month
Basic Shopify: $29/month
Shopify: $79/month
Advanced Shopify: $299/month
Shopify Plus: $2,000+/month
For each of the plans, you can get a 10% discount if you pay annually. This discount increases to a 20% discount if you pay biannually. I created a table to make it easier to see exactly how much exactly you will save if you choose to pay annually or biannually. I excluded Shopify plus from the table because there is no fixed price for that plan;, more on that later in the article. Now, let's check how much you can save with Shopify pricing discounts.
Shopify plan comparison table
| Plan | Annual cost if paid monthly | Annual cost if paid annually | Annual cost if paid biannually | Saving per year if paid annually | Saving per year if paid biannually |
| --- | --- | --- | --- | --- | --- |
| | | | | | |
| | | | | | |
| | | | | | |
| | | | | | |


Our #1 Choice For Hosting Blogs
62% Off Exclusive Offer Applied at Checkout
Shopify Lite plan: How much and what's included?
Shopify Lite is the cheapest option you can get; it costs only $9/month. What you need to know is that Shopify Lite doesn't let you build an eCommerce store. It is a plan created for people who want to add a shopping cart to their Facebook page or already existing website.
Using Shopify Lite is a simple way to embed products, collections, and a shopping cart to a website or Facebook. It comes with a point of sale features, card reader, discount codes, invoicing tool, overview dashboard, and financial reports.
Using Shopify on existing websites is simple. You just embed the Shopify Buy Button or a gallery of products to a website and you are ready to start selling. Buttons are customizable, so you don't have to worry that their design will make your website look unappealing.
The Facebook shop you can create with Shopify Lite is even easier to use. You just add it to your existing Facebook Business page, and the Shop tab will be created. It will contain galleries with your products and a shopping cart. The great thing about it is that all the changes you make in the Shopify dashboard will sync with Facebook. Another automated feature is the removal of out of stock items from your store. Once the item is no longer available for purchase, Shopify will remove it from the shop and notify you.
Features that come with Shopify Lite for Facebook don't stop there. There is also a Live Chat module for Facebook messenger. This module lets customers browse your products and make purchases in their Messenger app. While they are browsing, they can get automated responses you created to easily provide answers to their questions. Those responses come with a call-to-action that can help you drive customers to product descriptions, purchase pages, or any other place you want them to go. Once customers purchase an item, they get automated messages with all shipping information in one place.
Shopify Lite is created with social selling in mind. It is a great tool for people with already existing audiences who want to start selling products. It isn't designed for creating powerful online stores, so if you are looking for that, check out the other Shopify plans.
Shopify Plus pricing: Is it worth it?
Shopify pricing hits its peak with Shopify Plus. It is a very expensive plan designed for huge international online stores. The Shopify Plus license costs $2,000/month, but the price isn't completely fixed. Let me explain how exactly the pricing works here.
The cost will stay at $2,000/month as long as your stores transact under $800,000/month. Once you go over $800,000, you will be charged an additional 0.25% of store sales per month. The good thing about it is you can create 10 stores with a $2,000 license. This means you can spread 10 stores across different countries, and if they make less than $800,000 per month, you will effectively pay $200 per month per store.
With Shopify Plus, you will get more power, speed, control, customization, and automation than with any other Shopify deal. It has support for processing up to 8,000 orders per minute, per store. A real-time event dashboard lets you check how your campaigns are going at any moment. This is just the beginning of all the features this beast of a plan has to offer.
Huge stores will benefit from Bulk Account Inviter that can send invitations to entire customer groups. Launchpad is another Shopify Plus exclusive that lets merchants schedule, coordinate, and execute events such as sales, product drops and inventory restocks.
If you are selling internationally, you will be happy to know you can create multiple clones of your website in different languages and currencies. Additionally, you can use the Script Editor app to modify the prices and properties of line items in your store's cart.
Transporter app lets Shopify Plus merchants import customer, product, and order records into Shopify Store. Once everything is imported and set up, you can automate tasks in store: This way you can relax, and let Shopify do your work.
The features that come with Shopify Plus aren't the only reason you might want to upgrade. With other plans, you can create a limited number of staff accounts (15 with Shopify Advanced). If you have 10 online stores that sell internationally, 15 staff members won't be enough to manage them all, so you will have to upgrade to Shopify Plus if you want your business to keep growing.
When all is said and done, Shopify Plus isn't for everyone. It isn't for most of the eCommerce businesses. But the biggest businesses out there will need the automation, power, speed, and customizability that come with this plan.
Which Shopify pricing plan should I go for?
When deciding which Shopify plan to go with, there are several factors you should consider. The first is the pricing of the plan, compared to the profit you expect your store to generate. If most of your profit covers just the plan, you should consider choosing a lower-tier plan.
Once you are certain you can comfortably afford the plan, you should check what features you need. It doesn't make much sense to pay more for the plan just because you can afford it, and not use most of the features. It is even worse if you get a cheaper plan that doesn't let you conduct business normally.
Pay special attention to the number of staff members you can add to your account and the number of store locations you can have. If you get a plan that supports fewer store locations than the number of stores you have, you will lose profit from the stores you can't list.
Do you have gift cards? Do you need to print shipping labels, or you intend to just sell digital goods? Do you even need a full online store, or is it just a shopping cart on your Facebook Business page enough for your goals? Ask yourself questions like these while reading these plan comparisons, and you will find a plan that fits you perfectly.
In this table, I will compare Shopify and Shopify Plus features side by side. Bear in mind that Shopify Plus is very expensive and you shouldn't even consider it unless your business is capable of generating tens of thousands of dollars every month.
A comparison between these two plans is mostly aimed at those who are in between medium-sized and large eCommerce businesses and can't decide which option is better for them.
Shopify: $79/month
Shopify Plus: $2000+/month
These are the features you can expect from Shopify:
Unlimited Products
5 staff accounts
24/7 support
Sales channels
Manual order creation
Discount codes
Free SSL certificate
Abandoned cart recovery
Gift Cards
Professional reports
Up to 72% Shipping discount
Print shipping labels
USPS Priority Mail Cubic pricing
2.6% + $0.30 online credit card rates
2.5% in-person credit card rates
1% additional fees using payment providers other than Shopify Payments
Shopify POS app
Register shifts
Hardware peripheral support
Unlimited Staff POS PINs
1-5 store locations
Shopify is an excellent option for small- to medium-sized businesses. You can start an online store, and equip it with all the features small businesses need.
The first thing that sets apart Shopify from Shopify Plus is the number of staff accounts you can add. If you are running an enterprise of several stores, 5 staff members will hardly be enough to handle your stores.
Aside from the number of staff accounts, Shopify Plus offers more of everything. You get to customize your store better, control the elements you can't control with Shopify, access exclusive apps, etc.
Shopify Plus is far more expensive, but don't forget that lower credit card rates could save you some money if you are running a huge online store.
My Shopify pricing advice
My advice here is: If you don't have more than 5 store locations, and don't need more than 5 staff accounts, choose Shopify unless you are certain you need Shopify Plus features.
Shopify has excellent features, and you can always upgrade to Shopify Plus once you try Shopify and realize you don't have all the features you need.
If you are leaning more towards Shopify Plus, but you think that something in between would be even better fit read on, maybe Shopify Advanced is what you need.
Shopify Plus vs Shopify Advanced
When comparing two of the most expensive Shopify plans, it is all about how much profit your online store makes, and how powerful the features you want in it. The Shopify Plus plan isn't much different from the Shopify Advanced plan, but there are a few important features that set them apart.
Shopify Plus is still a way to go for the biggest eCommerce businesses out there. However, if Shopify Advanced covers everything you need, you can save yourself $1,700/month by choosing it.
Shopify Advanced: $299/month
Shopify Plus: $2,000+/month
Here is what you get with Shopify Advanced plan:
Advanced report builder
Third-party calculated shipping rates
Unlimited Products
15 staff accounts
24/7 support
Sales channels
Manual order creation
Discount codes
Free SSL certificate
Abandoned cart recovery
Gift Cards
Professional reports
Up to 74% Shipping discount
Print shipping labels
USPS Priority Mail Cubic pricing
2.4% + $0.30 online credit card rates
2.4% in-person credit card rates
0.5% additional fees using payment providers other than Shopify Payments
Shopify POS app
Register shifts
Hardware peripheral support
Unlimited Staff POS PINs
Up to 8 store locations
As you can see, there isn't much change in features compared to the Shopify plan. The two additional features you get by upgrading to the Shopify Advanced plan are third-party calculated shipping rates and the advanced report builder.
The third-party calculated shipping rates feature can be handy if you are shipping lots of heavy items. It can be reason enough to choose Shopify Advanced if you don't need all the features from Shopify Plus, or if you just can't afford it (yet).
When you apply filters or edits in the report builder you get with lower plans, they are temporary. With the advanced report builder, you can save your filtered and edited reports, or create custom reports from scratch.
Shopify Advanced raises the number of staff accounts you can create to 15 and offers lower credit rates. It is a plan for businesses that have grown to the point where the price difference between the plans is smaller than the amount of money they lose due to credit card fees.
To conclude this comparison, the Shopify Advanced plan has everything that medium-sized online stores and most of the big online stores need.
Some of the features that come with the Shopify Plus are a nice bonus for any store, but they aren't for everyone. For most medium-sized stores, they are practically useless, so think carefully if you need Shopify Plus before you decide to purchase it.
The price difference is huge, and don't go for it just because some features sound cool. Subscribe to it only if you need those additional features.
Shopify Basic and Shopify Lite are designed for two completely different types of eCommerce businesses. Shopify Basic is a plan great for people who want to start small online stores. Shopify Lite, on the other hand, is a plan for social eCommerce. It lets you add a cart to your Facebook Business or already existing website.
With Shopify Lite, you get Shopify Buy Button. It lets you generate an embeddable product card and check out that can be placed anywhere on your website. Features that are included in Shopify Lite, are fully integrated Facebook shop, point-of-sale app, financial reports, card reader and an overview dashboard.
For just $9/month, it is a great deal for people with already existing audiences who want to sell products, but don't want to manage a complete online store.
Using Shopify Basic is a completely different experience. It lets you create a complete online store for $29/month, so let's check out what you get in that deal.
Unlimited Products
2 staff accounts
24/7 support
Sales channels
Manual order creation
Discount codes
Free SSL certificate
Abandoned cart recovery
Shopify POS app
Up to 65% shipping discount
Print shipping labels
2.9% + $0.30 online credit card rates
2.7% in-person credit card rates
2% additional fees using payment providers other than Shopify Payments
With these features, you can manage a small eCommerce business. It is limited in the number of staff accounts you can create, and unfortunately, doesn't allow you to create gift cards. Other than that, you get all the features needed for a small online shop.
Both plans are great for the people they are targeting. The only question you need to ask yourself when choosing between these two plans is: "Do I want a complete eCommerce store, or do I just want to sell products to my Facebook or blog audience?"
If you want a real store, go for Shopify Basic. Abandoned cart recovery and discount codes, are features that can make a big difference in the number of sales you make, and you wouldn't be reading this article if you didn't want to sell your products.
How much are Shopify transaction fees?
Shopify doesn't have transaction fees if you use Shopify Payments. If you choose another payment gateway, additional fees depend on which Shopify plan you have. The fees are 2% for Basic Shopify, 1% for Shopify, and 0.5% for Advanced Shopify.
Shopify for nonprofits: what are the options?
With Shopify, you can create a storefront for a charity or nonprofit. The first thing you probably want to know is if you can accept donations with Shopify. The answer is yes, you can, but there is a somewhat roundabout method to it.
To accept donations with Shopify, you have to create donation products. You will have to create different products for different preset donation amounts. Unfortunately, there is no donate button where your donors can just donate the amount they want. To achieve that, you will have to use an app called "Pay What You Want". The app will cost you an additional $5/month.
On their website, there is also mention of the great rates they are offering to nonprofits. However, any additional information and exact rates are nowhere to be found.
My guess is that Shopify pricing for nonprofit is the same as regular pricing. Judging by that and the lack of donate button, Shopify doesn't put much effort to become a great option for nonprofits. You might want to look for another company if you are a nonprofit.
Is the Shopify annual plan worth it?
The Shopify annual plan will lower the cost of your subscription by 10%. If you can afford to pay upfront, you can save some money that way. The exact amount you will save annually on each of the plans is: $10.8 for Shopify Lite, $34.8 for Shopify Basic, $94.8 for Shopify, and $358.8 for Shopify Advanced.
It is up to you to decide if paying for the whole year upfront is worth the money you save in the end. Also don't forget that Shopify has biannual plans that come at a 20% discount.
Shopify vs other platforms & competitors
Now that you got informed about Shopify's plans, there is a chance that it isn't right for you. Don't worry, there are lots of alternatives out there. Check out the table below to compare Shopify pricing with other eCommerce providers. Maybe one of them is a better fit for your online store.
| Company | Plan 1 | Plan 2 | Plan 3 | Plan 4 | Official site |
| --- | --- | --- | --- | --- | --- |
| | | | | | |
| | | | | | |
| | | | | | |
| | | | | | |
| | | | | $299.29 (Advanced Shopify) | |
| | | | | | |
| | | | | | |
| | | | | | |
| | | | | $? (Custom pricing available) | |
| | | | | | |
| | $22.74 (PrestaShop Ready) | | | | |
| | $0 (Free but has transaction fees) | $0 (Free but has transaction fees) | $0 (Free but has transaction fees) | $0 (Free but has transaction fees) | |
Shopify pricing: key takeaways
You can't create an online store with Shopify Lite
Shopify Basic is the cheapest plan for a complete online store
Shopify has additional fees if you don't use the Shopify Payments gateway
Double check how many store locations and staff accounts you need before choosing one of Shopify's plans
You can save 10% if you pay annually, and 20% if you pay biannually
Shopify Lite is an easy way to add a shopping cart to your Facebook or Blog
Shopify Plus charges an additional 0.25% of store sales per month once you go over $800,000/month