Last Updated on
Let's kick today off with one of the most important lessons I've learned the hard way after blogging for almost 7 years. This is something that I wish I had done earlier:
Why it matters:
Disclosure
As an independent review site, we get compensated if you purchase through the referral links or coupon codes on this page – at no additional cost to you.
Yep, that's the most crucial aspect I ignored for a long time. Here's why it is super important:
1. The number of blogs people browse daily has grown enormously
Here's the sad story: People browse hundreds of websites on a daily basis and even if they REALLY enjoy your blog/content, they forget to come back. You probably know the moment when you re-discover a website you really enjoyed and think why you haven't visited it for 6 months.
2. Huge oart of blogging is about getting the word out about new posts
Many people tell you to be present on Facebook, Twitter or any other social media channel to spread the word about your new posts. When you have no relationship with your visitors, you won't get many clicks. Why? People don't know who you are and they have no trust.
When you have an email list, you don't need to use social channels that extensively. All you need to do is gather your visitors' emails, send them useful/helpful tips and give them a notice when you have published a new post. Simple, eh?
This will generate more and more returning TRAFFIC to your blog which will also get you more likes, shares and even LINKS that help you to get better rankings on Google.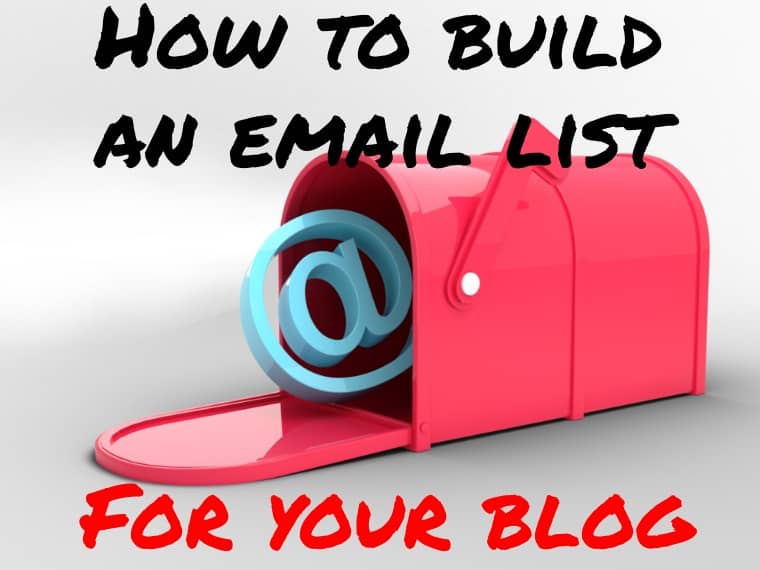 How to create an email list in 3 steps
I don't want you to make the same mistake I made, so here's a quick guide to get started:
1. Choose your email newsletter provider
I like using two different providers depending on the sort of site I'm building.
For simplicity and low costs, I like to use ActiveCampaign. (There's a free trial if you click here.)
They are perfect for new bloggers that want uncomplicated without losing out on important features.
Constant Contact is a better choice for businesses to collect & send emails and they have a 60-day free trial (no credit card required). After that their pricing starts as low as $20/month but I was able to get you 20% off if you click here!
2. Set up an opt-In box on your blog
Whenever you want to get your visitors' email addresses to send them emails/newsletters, you'll need an "opt-in-box". You can find plenty of tutorials on how to set them up on your blog, but
ActiveCampaign has a free WordPress plugin
to take the headache out of the process.
This is the easiest part. When you have something to say to your followers, you can set up emails and send them all at once, or even plan them out weeks ahead so you can forget about them for a while.
I suggest that you share something useful or helpful. In that way, you are able to build a relationship with your visitor. Once you have a relationship, you can start sending them information about your new posts or offers.
Many (if not all) successful bloggers collect emails. It's a long-term strategy that will help you to build your blog bigger and better. There's even a saying "The money is in the list", and it's completely true.
Like always, if you have any questions, feel free to contact me. I'm always helping my subscribers and I read and respond to every email.
If you're not on the email list I have created yet, what are you waiting for? You can sign up for my free blogging course and ask questions while seeing how I did it.
Did you know that there is more carbon dioxide in our atmosphere today than any time in history?

We take pride in reducing our carbon footprint with the #1 Green Hosting Platform
Their servers operate on 100% Wind Energy, so you can help the climate for a super affordable price (through us) while benefiting from the best features a hosting platform has to offer. 
You'll even get a FREE domain name with them! 
Help save the planet. Get your web hosting with GreenGeeks now.