Last Updated on
Affiliate marketing is a way to generate revenue on a website or social network by referring products to your audience. When someone buys a product after visiting Amazon or another shop by following your affiliate link, you will get a cut from the sale. If you are reading this article, you probably already know that Amazon has reduced affiliate marketers' commissions. This isn't the first time Amazon has done this, and it probably won't be the last time.
The whole point of why affiliate programs exist is because companies want to increase their profit by increasing the number of sales and regular customers. Amazon already has a huge number of regular customers, so what they need now isn't an increase in the number of affiliate marketers; they need improvement in the quality of affiliates. At some point in the future, Amazon probably won't need affiliates at all, so there might come a moment when Amazon's affiliate program will be completely discontinued.
Disclosure
As an independent review site, we get compensated if you purchase through the referral links or coupon codes on this page – at no additional cost to you.
There are reasons why you should use (and look at) other affiliate networks; some of the reasons would apply even if Amazon didn't cut the commissions. You can find better commissions in some niches on different platforms, there are platforms with a longer cookie lifespan (the time-window in which a customer has to buy something after using your affiliate link for you to be eligible for commission), and finally to be prepared for a scenario in which an affiliate program shuts down.
| Affiliate program alternatives | Best for | Rating | Learn more |
| --- | --- | --- | --- |
| | | | |
| | Excellent educational resources for affiliate marketers | | |
| | | | |
| | Advertisement monetization | | |
| | | | |
| | | | |
| | | | |
| | | | |
| | Excellent commission rates | | |
| | | | |
| | | | |
| | Ability to opt-out ads by topic | | |
| | Best ad network for bloggers | | |
| | Diversified ads across different locations and demographics | | |
| | Best for diversity in terms and conditions | | |
| | | | |
Here are the best Amazon affiliate alternatives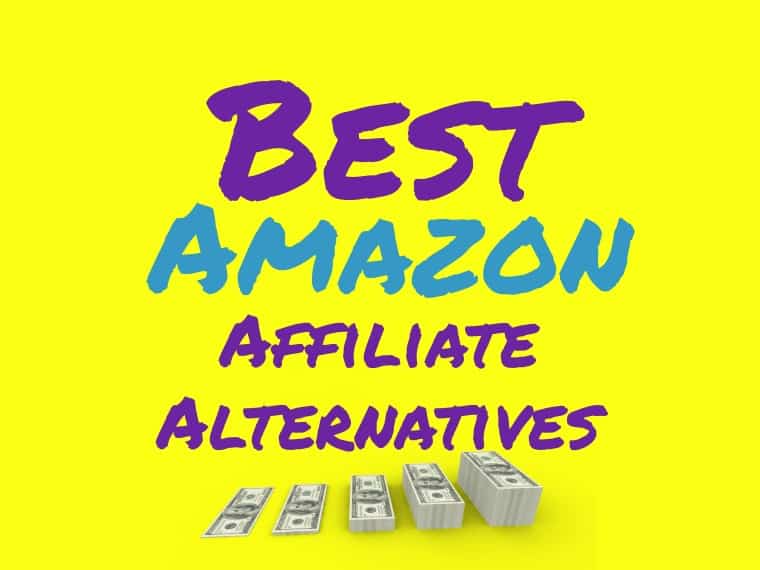 These are our picks for the best Amazon affiliate alternatives. Each of these companies caters to different niches, types of products, and types of monetization. Read on to find out which Amazon associates alternatives will work for you.
ShareASale
Commission Junkies
Rakuten
ClickBank
eBay
Target
Walmart
Google AdSense
Avantlink
Impact Radius
1. ShareASale (best alternative to Amazon associates overall)
ShareASale is an affiliate marketing program with over 4,000 merchants to choose from. ShareASale showcases merchants with both physical and digital goods, which gives you more flexibility in the type of products you can market. The commission percentage isn't based on the product category; instead, each vendor sets their own commission.
ShareASale has detailed statistics on each vendor and great tools for browsing the vendors based on those statistics. You can apply a variety of filters when browsing through merchants; 7 or 30 day EPC, sale commission, lead commission, click commission, cookie duration, etc. Once you have filtered out some of the merchants, you can modify the search with another set of parameters. This way, it will be easy to find merchants suitable for your preferences.
Payments to affiliate marketers are issued on the 20th of each month. The payment options you get to choose from are direct deposit, mailed check, and Payoneer. There is a $50 threshold you will have to reach to receive payment. Some affiliates consider this a huge threshold, but let's face it, if you can't make over $50 in a month, affiliate marketing might not be a suitable business for you.
Both physical and digital products
No sales quota
Simple interface
Excellent search tools


Our #1 Choice For Hosting Blogs
62% Off Exclusive Offer Applied at Checkout
2. Commission Junction (CJ Affiliate)
CJ Affiliate program is one of the Amazon affiliate alternatives that offer you more ways to monetize. The only way to earn money with the Amazon affiliate program is by commissions for sales. With CJ Affiliate, you can get paid based on CPA (cost per action), CPL (cost per lead), and CPS (cost per sale).
Every merchant is free to add their own terms and conditions, as well as their own commission rates and cookie length. With an extensive range of vendors and brands, this can be a double-edged sword. On the one hand, you can find vendors that are perfect for you; on the other hand, it is time-consuming to have to read the terms and conditions of every vendor you are interested in.
CJ affiliate pros and cons
Multiple ways to monetize
High diversity in options
They are developing cookieless tracking
Rakuten is one of the affiliate programs that reward affiliate marketers that are doing a good job. They do this by increasing the commission percentage based on the number of sales you can land.
They also provide you with excellent creative tools. One of the best tools you will have at your disposal is the ad rotation tool. This way when people visit your website multiple times, they won't be seeing the same ad for the same product each time. This can increase your revenue because different ads will be eye-catching to different visitors.
Ad rotation
Payments in 25 currencies
ClickBank is an alternative to Amazon associates that is dedicated to digital products. Commissions are set by vendors, and some of those commissions are extremely high (they can go up to 75%). This might seem unreal, but keep in mind that they only offer digital goods. This means that there are no shipping, production, or other logistical costs associated with physical products.
Another great thing is that you get to choose the payment schedule and threshold. There used to be many complaints about the dated interface and lots of low-quality products hosted by ClickBank. Good news is that they updated their review policy, so the quality of products you will find has greatly improved. The interface dashboard also got an update, so that is another problem fixed.
With ClickBank, you get to choose the payment schedule and threshold. Combine this with high commissions and you can earn lots of money on a reliable schedule. If you are marketing digital goods, ClickBank might be the best Amazon alternative for you.
High commission rates
Flexible payment schedule and threshold
eBay, one of the most popular online marketplaces, also has an affiliate program. It is one of the best alternatives to Amazon when it comes to the diversity of products. eBay sells everything, so you can find products for every niche there. You will get payouts from the eBay affiliate program monthly, but only if you manage to pass the $10 threshold.
eBay doesn't collect the sales fee, so they have a different approach to commissions than the rest of the alternatives to the Amazon affiliate program. You will get the commission based on the fees that eBay receives. The commission fee depends on the category of product, but they are all in the 50%-70% range.
The most important disadvantage eBay shares with Amazon is the 24-hour cookie duration. However, the bidding option on products makes this even more of a problem. Let me explain this through an example.
If someone finds a product on eBay through your affiliate link, they might decide to bid on it instead of buying it outright. Most of the bidders will place their bids when the bidding process is almost finished. So, if they decide to place a bid after the 24-hour period has passed, you won't get a commission even if they buy the product.
You can get paid through PayPal
Huge and diverse market
Target is another one of Amazon affiliate program alternatives with "the more you sell, more you will earn" approach. Their commission rate is based on two factors: category of product and monthly net orders.
Target's lowest commission is on health and beauty products (1%). This is also the only category that isn't affected by the number of sales you make, so if that is your niche, Target's affiliate program is not a program for you.
The highest commission rate is on home and outdoor living products. It starts at 5% if you sell 0-10 products per month, and goes up to 8% commission if you manage to sell over 1,000 products in a month.
Target's cookies will last for 7 days and you will get a commission on every qualifying transaction during that time. This is another great improvement compared to Amazon's 24-hour cookie duration.
Target is focused on the US market, so if your market is majorly based outside of the US, you have another reason not to use Target. When all is said and done, they are an excellent alternative for a specific niche of affiliate marketers.
Commission rates increase based on how much you manage to sell
7-day cookie lifespan
Walmart has impressive brand recognition and diverse product options you can market. They sell almost everything, so it is hard to imagine you won't find something in your niche. As Walmart is a recognized brand, and that is certainly true for the US, so anyone with a huge US audience can capitalize on that. I, on the other hand, live in Europe, and I haven't even heard of Walmart before I started watching South Park.
The main reason you might not have heard of Walmart's affiliate program is that they had a lower commission rate until Amazon dropped their rate. Walmart has a flat 4% commission rate. After Amazon reduced commissions in some categories to 1%, Walmart is a great option if you are in one of those niches. Cookies last three days with Walmart, so that is another thing to consider.
Walmart is hosted on Rakuten. To use the Walmart affiliate program, you will first will have to register on Rakuten. While you are at it, you should check what other vendors you can find on Rakuten.
Flat 4% rate is excellent for some niches that usually have lower rates
Brand recognition
Huge product diversity
Google AdSense is an alternative for Amazon if you are looking for a different approach to the monetization of your website. With Amazon, you get paid when someone buys a product after following your affiliate link.
With Google AdSense, you earn money based on the number of clicks on advertisements placed on your website and the number of times that advertisement is displayed on your website.
Google AdSense pros and cons
Your audience doesn't have to buy anything for you to earn money
Avantlink is a great affiliate network if you are looking for a network with a huge number of merchants to choose from. Commissions on some of the products are as low as on Amazon, but there are other products with commission rates that range from 10% to 50%. The best Avantlink niches are wellness & nutrition, sports & outdoors, and college textbooks.
The biggest downside is that they don't allow you to place cookies on your website. Instead, you will have to place cookies on ads. The good thing about cookies is the 60-120 day duration.
Some products have lucrative commission rates
Cookies on ads have up to 120 days duration
With CPA, CPS, and CPS commissions, there are plenty of ways to earn money through the Impact Radius affiliate program. Impact Radius is a flexible alternative to Amazon affiliate; they let you choose your own payment threshold. Once the threshold is reached, you get paid.
Impact Radius lets vendors manage their own affiliates. This leaves them with more resources to focus more on platform development. This results in numerous useful webinars and case studies that can help you get better in the affiliate marketing business.
Impact Radius pros and cons
Great conversion rates
Lots of useful resources
Best alternative to Amazon affiliate program: key takeaways
Affiliate World isn't finished because Amazon cut commission rates
Cookie duration can be even more important than the commission rate
Use different affiliate networks for different niches
There are affiliate programs with bigger monetization variety than Amazon
Choice of the affiliate program can depend on your audience
Amazon affiliate alternatives FAQs


Our #1 Choice For Hosting Blogs
62% Off Exclusive Offer Applied at Checkout