Last Updated on
Did you know that there is more carbon dioxide in our atmosphere today than any time in history?

We take pride in reducing our carbon footprint with the #1 Green Hosting Platform
Their servers operate on 100% Wind Energy, so you can help the climate for a super affordable price (through us) while benefiting from the best features a hosting platform has to offer. 
Disclosure
As an independent review site, we get compensated if you purchase through the referral links or coupon codes on this page – at no additional cost to you.
You'll even get a FREE domain name with them! 
Help save the planet. Get your web hosting with GreenGeeks now.

Does your site get a good amount of traffic but you fail to turn these visitors into customers?
You might be doing things wrong or there might be things you are not doing right or you are not even be aware of ways to increase conversion rate on your website perhaps.
The infographic featured here should help you get acquainted with simple but effective ways for increasing your conversion rate.
Here's how to increase conversion rate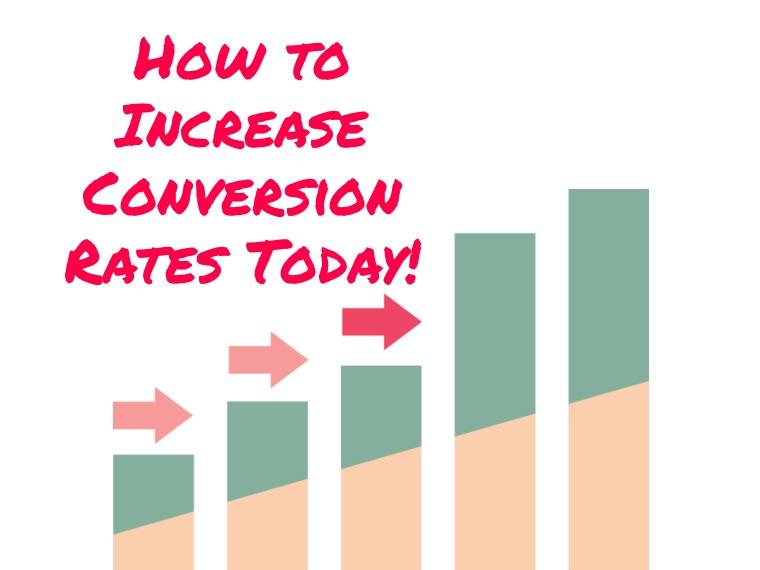 Improve your site design, navigation and architecture
Use a responsive or mobile friendly web design
Focus on the right audience to improve conversion massively
Create your buyer personas
Serve relevant and engaging content
Implement A/B testing to increase conversion rate
Write enticing headlines
Use strong call to actions
Optimize lead capture forms
Make use of social networking
Include positive testimonials and reviews

There's nothing wrong in making your site, the landing page in particular, attractive. This is even necessary in grabbing your potential customers' attention. Just make sure that your site's loading time does not slow down as you do this.
It's also important to make sure that it is easy to go around your site. The menus and links should be clearly laid out. The layout and colors should not be confusing. Buttons and links should be easy to spot and click.
As much as possible, users should no longer have to scroll lower to see the most important contents of the site. Everything important should already be presented on top. Links to product pages, sign up buttons, and highlight deals or offers should be readily visible.
Additionally, reduce distractions on your homepage. As much as possible, avoid having third party ads and animated images or announcements on your landing page.
It's a fact that more Internet users are now mobile-based so it only makes sense making your site suitable for mobile browsing.The gap between mobile and desktop Internet users is even expected to grow bigger over the years.
A business that refuses to make things easier for customers in the mobile Internet is almost bound to fail!
You need to be clear and specific with your target market. You need to get acquainted with your target buyers and be aware of their needs, wants, and interests. Also, be sure to offer content that they can easily relate with. Infuse details, facts, and nuances that foster connections.
Content matters and it matters greatly. Make sure that you offer content that is not only for the consumption of search engines. Your content should engage real people as it should be readable, relevant, and fresh in addition to having the usual strategically positioned relevant keywords and authoritative links. It should also be written in a tone and language that suits the target audience.
A/B testing or split testing is one of the most viable methods for improving conversion rates. It's just unfortunate that not many companies make good use of it. A study on conversion rate by Econsultancy says that only 44% of companies are using A/B testing in optimizing their marketing and operations.
Long lead capture forms tend to intimidate customers. That's why it has to be short and simple. An account signup form, for example, that asks for a multitude of details including tax identification or social security numbers will easily drive potential customers away.
If it's inevitable to have a long form, consider making it a two-step process or just let the customer fill out the rest of the details once the account has already been created. Moreover, it helps making use of dropdown menus and checkboxes.
Don't forget to harness the power of social media. Social networking platforms allow you to reach more potential customers and establish trust along the way. It is also advisable to allow customers to sign up or login to your site or online store using their social media username and password.
Additionally, make customers act as your subtle advertisers by letting them share about their purchase (from your store) on Twitter, Facebook, and other social media platforms.
Even those who are usually skeptical about information posted online don't easily dismiss customer testimonials or reviews posted on websites. That's why it greatly helps posting reviews or comments that express favorable feedback or even commendation.
They can help create a sense of trust. If possible, these comments can be linked to the social media accounts of the ones giving them, to serve as proof that these customer testimonials are not fabricated.
Poor conversion rate is a problem many online companies encounter. It's important to emphasize, though, that there are things that can be done to address this problem. These methods of increasing conversion rate are not even complicated or advanced solutions that require significant additional expenditures. Most business owners should be able to implement them and increase conversion rates without too much trouble.