Last Updated on
Twitter is a great social media marketing tool for businesses of all shapes and sizes. With currently over 500 million users, there's no doubt that your business should be here as well. If you want to learn how to create a Twitter account, then you've come to the right place! Setting up your business Twitter profile is pretty straightforward. I've created this simple step-by-step guide to show you how to create a Twitter account and optimize it without any hassle. But before we get started, let's introduce you to Twitter and see what it can actually do for your business.
What is Twitter and what can it do for you?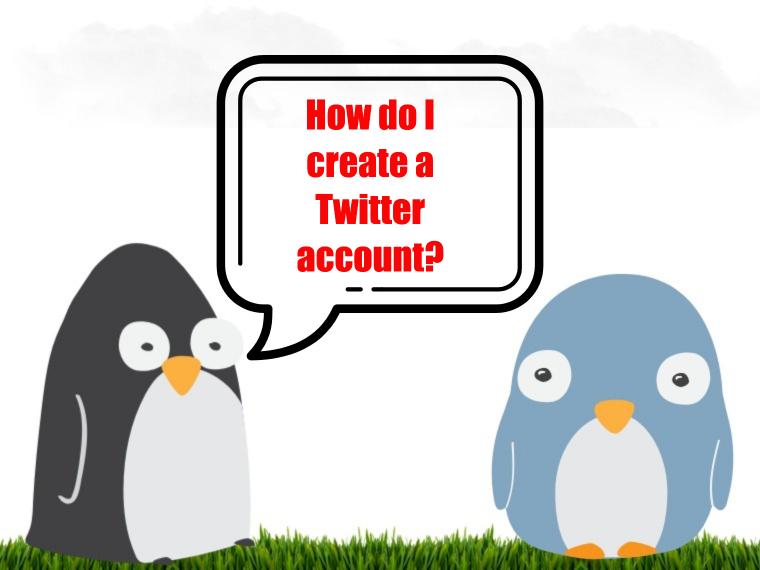 Before creating an account on a social media network, especially if you are wondering how to create a Twitter account, you first need to ask yourself what it is and how you plan to use it. Same as with any other social network, the first impression of your profile and account will show your friends, followers, or contacts what you do and who you are. Everything you publish on your Twitter account will be visible for the entire world to see. It will reflect you or brand's identity if you're planning on creating a Twitter account to boost your business. Opening a Twitter account has lately become very trendy within professional areas. With a decent Twitter profile, you'll introduce your image as a brand or an individual to a broader audience. You'll also improve your brand's visibility on the internet by utilizing many different ways of transmitting your information. Oh, and don't worry… If you're one of those folks who aren't familiar with Twitter at all, I have your back. In this tutorial on how to create a Twitter account, I'm also including a brief guide at the end on some important Twitter slang that will be very useful to you.
How to create a Twitter account in 10 easy steps
Enter your name and email or phone number
Confirm your signup information
Verify your details via email or phone
Set up a secure password for your Twitter account
Choose a Twitter username
Add a profile photo
Create your biography
Start to build a following
Build your basic Twitter vocabulary (terminology)
Avoid common Twitter mistakes
As already mentioned, it's important for you to learn how to create a Twitter account as it will allow you to reach a larger number of people. It'll also introduce your brand to a greater audience and other professionals from the same field ensuring future collaborations or just maintaining contact. So, now that know the basic Twitter slang, it's time to show you how to create a Twitter account in just a few clicks.
Let's get set up and learn how to build a Twitter account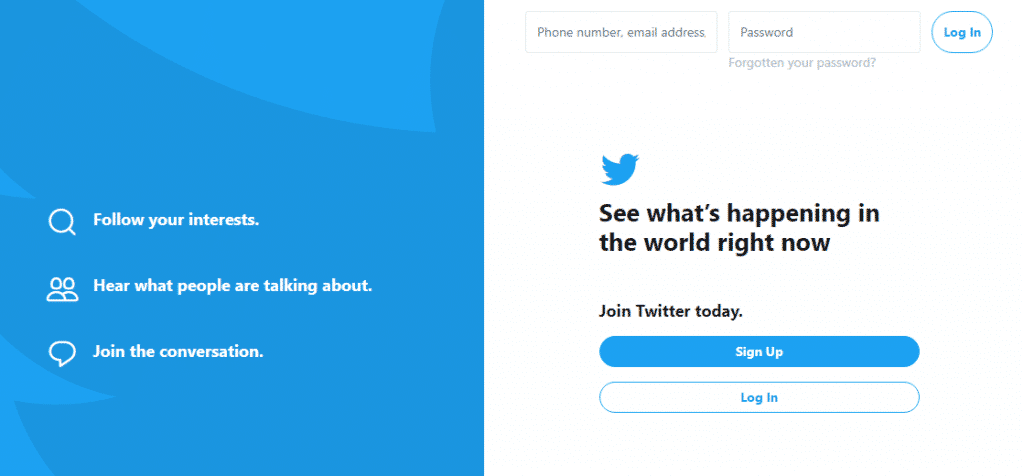 If you're new to Twitter, then you'll have to
visit their official website
, and then select the "Sign Up" button to create a new account. This will open up a box where you'll have to fill in: your name, email or phone, and password. Let's break it down in a step-by-step guide.
1. Enter your name and email or phone number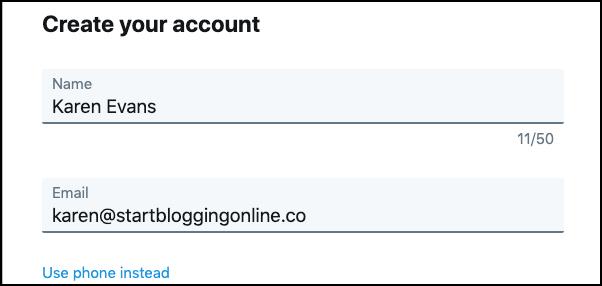 First, you need to fill in your full name and email address or phone number, then press the "Next" button from the top right corner of the box.
2. Confirm your signup information
Once you hit the Next button, you'll be asked to confirm your sign up process by hitting the Sign-Up button again. So, do that.
3. Verify your details via email or phone

On this step, Twitter will send you a verification code on your email or phone number. Check your inbox, and the code should be there in a text message saying "Your Twitter verification code is XXXX." Fill in the verification code and hit Next.
4. Set up a secure password for your Twitter account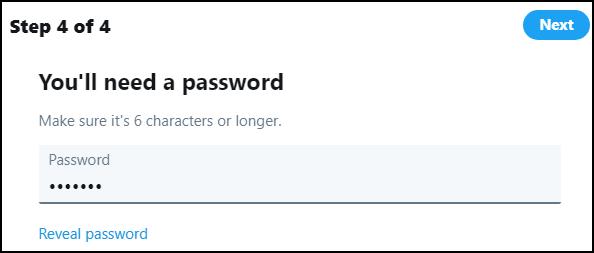 Once verified, choose a password for your Twitter account. Remember, to increase the security of your Twitter profile; your password must contain a combination of letters and numbers. Try not to reuse the password from your other social media networks.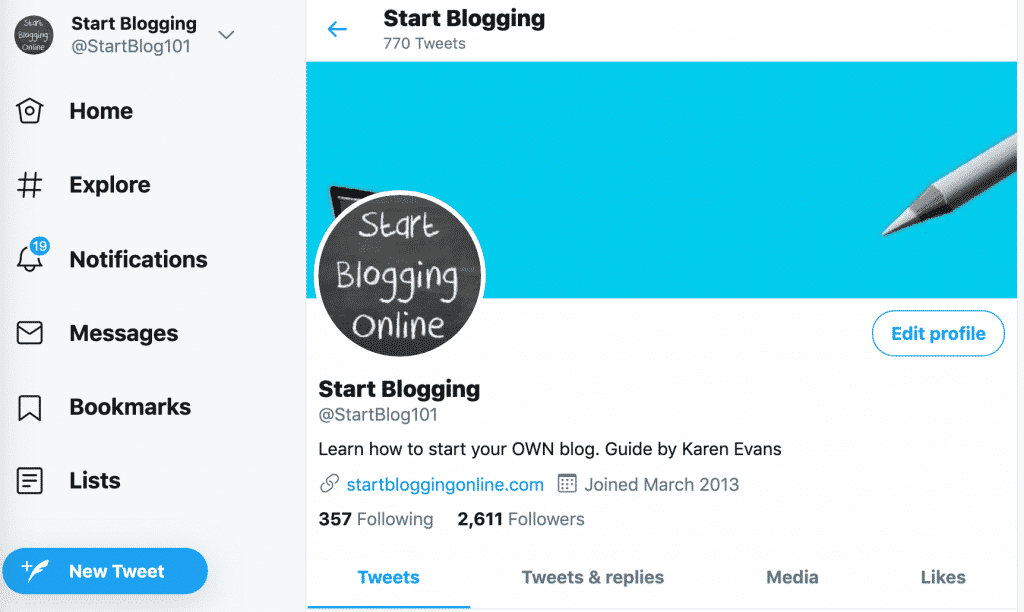 And voila! That's how easy it is to learn how to create a Twitter account in 2020. All you have to do now is set a profile picture, follow some users, turn on notifications, and your profile is ready!
Tips to optimize your Twitter account
5. Choose a Twitter username
The username is what you are going to be recognized through. So I'd recommend choosing one that sounds professional and is easy to associate with your company. You can either use your company's name or change it subtly depending upon its availability. Invest some time and thought to pick up a twitter handle that best represents you or your company. Don't worry if you had already decided to go with the name suggested by Twitter. You can change your username anytime and any number of times. However, changing it too many times can lead to confusion. Try coming up with a unique and catchy Twitter handle, not to mention a one that reminds Twitter users of your company and its qualities. Like, for example, having "secret muffin" as your username won't help you if your company deals in towels. You can opt to use the actual name of your firm. However, do so while keeping in mind that your name can have a maximum of only 20 characters. It will be ideal to settle for a crisp, easy-to-remember twitter handle. Try being original without making it tough. Use a name that goes with your brand to the extent possible.
6. Add a profile photo
It isn't mandatory to set a profile picture. But I highly recommend you to set an appropriate photo for your Twitter account to make a good impression for yourself or your brand. If you don't add a photo to your profile, it doesn't show transparency or credibility, making it harder to reach your followers and potential clients.
7. Create your biography
Your Twitter bio is crucial if you want to boost your brand and emphasize the value your business can add or what makes it different from your competition. Also, don't forget to add a URL (your blog, about me, LinkedIn profile) so your audience can easily access your information or that of your business or website.
8. Start to build a following
Before completing the process of making a Twitter account, you'll have to follow some people (not mandatory, but consider it). Millions of people are already using Twitter of course so it will be easy for you to find someone to follow. However, from a business perspective, I would recommend you to follow people who can be of any interest or add value to your business. For instance, you can select followers of a specific group of people in a category so it will be easier to follow them and find professionals related to your activity. Music or Entertainment, Sports, Politics and Government, TV and Movies, and Science and Technology are some of the groups you can access right away.
Twitter Access
After finishing all the previous steps you will be able to access your profile and log in to Twitter easily whenever you want. As I already mentioned, you must have followers and follow people who you're really interested in if you want to get the most out of Twitter. You can do this easily by synchronizing your account with your accounts in other social media channels or simply your email accounts. For instance, Twitter lets you link your new Twitter profile to your email accounts, such as Gmail, Outlook, Yahoo or AOL. Therefore, if any of your contacts have a Twitter account, they'll appear in front of you so you can follow them.
9. Build your basic Twitter vocabulary (terminology)
Tweet: to write a tweet, any text message up to 280 characters.
Retweet: to share a tweet you liked posted by another user and showcase it on your profile. When you retweet someone else's tweet, you can either share the tweet or quote it. When you quote a tweet, you can add a comment to give a brief introduction and below the tweet, you quoted.
Hashtag: a word or string of words without any spaces between them beginning with the pound symbol (#) and used to identify a particular topic.The more interactions you receive, the better possibilities you gain to be visible.
Trending Topic or TT: this refers to topics that receive the most comments and attention compared to others on Twitter in a particular period. Some things become trending topics for a few days, weeks, or even months. TT can be generated at a global level or in a specific country.
Twitter Followers: these are people who follow your Twitter feed so they can read your tweets in their timeline.
Unfollow: means when someone decides to stop following a Twitter account.
Twitter Verified Account: this is identified by a blue badge, indicating that a Twitter account from a business or individual is authentic.
10. Avoid common Twitter mistakes
There's a very common mistake users make while creating a Twitter account for the first time. Many of them feel comfortable while completing all the steps mentioned in this article, but the problem occurs once they forget about managing their account afterward and putting it into use. If you want to promote your business in a professional manner, I recommend that you:
Use your Twitter account often: Check the new notifications, search for new followers and keep your Twitter profile updated with the newest, most relevant information.
Follow and be followed: Be open to following other Twitter users and brands that are related to your business and interests. Look for strategic collaborators.
Comment and interact: Always interact with your audience to get better visibility and more contacts.
Utilize Twitter and all of its features: Respond to all mentions and questions that you receive from your followers. Use the platform wisely.
In short, a business Twitter account shows your professional side rather than an average Twitter profile. But, make sure always to be yourself and showcase the authenticity that makes you stand out. So, now that you know how to create a Twitter account, you can utilize different tools to analyze and figure out when your audiences are more active. You can also monitor what others are saying about you on Twitter or know when it is the right time to tweet something. Remember, opening a Twitter profile will help you obtain more clients and boost your brand's visibility, as well as helping you find other professionals and interact with them. So, don't waste a single moment, make a unique profile, and start tweeting!
Did I miss anything about how to build a Twitter account?
Let me know in the comments if you have any other Twitter tips and tricks, or if I missed something.


Our #1 Choice For Hosting Blogs
Disclosure
As an independent review site, we get compensated if you purchase through the referral links or coupon codes on this page – at no additional cost to you.
62% Off Exclusive Offer Applied at Checkout