Last Updated on
OK, so forgive me, this is going to be one of those long posts.
Why?
Disclosure
As an independent review site, we get compensated if you purchase through the referral links or coupon codes on this page – at no additional cost to you.
Because as I wrote my Page Optimizer Pro review, I was also conducting research using this very tool so I get right into the weeds and give a tutorial for POP (short for Page Optimizer Pro from here on), as well as contacting the creator Kyle Roof for a  Page Optimizer Pro coupon code so my readers can give it a shot for nothing!
So, buckle up and prepare to learn something new that is going to help you kill it with your blog. I hope that I have done a good job of explaining the page optimization process using this software, and what it can do to help you rank your articles or blog posts better by simply by using the clues that Google already gives us in the SERPs. But first…
I know some of you are just here for the Page Optimizer Pro coupon code, and that's fine if you already know what this software does, so here it is: startblog. You can use this promo code to try POP five times for nothing.
For those of you who are unsure what Page Optimizer Pro is, or what it does, you are in for a real treat when you use that promotion code on your website!
Read on…
Page Optimizer Pro review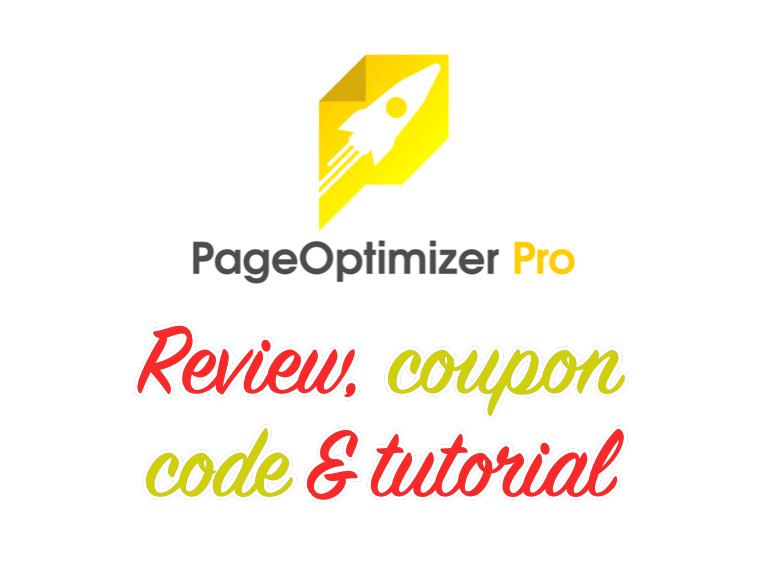 So first let's dig into what Page Optimizer Pro actually does before we see this beast in action.
What Page Optimizer Pro isn't
First of all, this is not a keyword research tool as you might generally classify a keyword tool. While it does do research on a single keyword, it doesn't actually go out and find the best keywords, or tell you the traffic potential, or how difficult it might be to rank like Long Tail Pro for example.
Page Optimizer pro comes into the picture when you know what keyword you want to rank, and then it helps you makes decisions about how to structure your page based on what Google is already ranking for these keywords.
Skeptical?
So was I until I started using this beast, but I've seen some great results.
Now moving up 3 spots might not seem like a big deal, but getting into the top 3 positions should really be everyone's goal (this is where the lions share of the traffic goes). And if you can do this without the expense of backlinking, this tool pays for itself on the first article hands down.
Here's another (even better) example where Page Optimizer Pro optimization helped me knock it out of the park…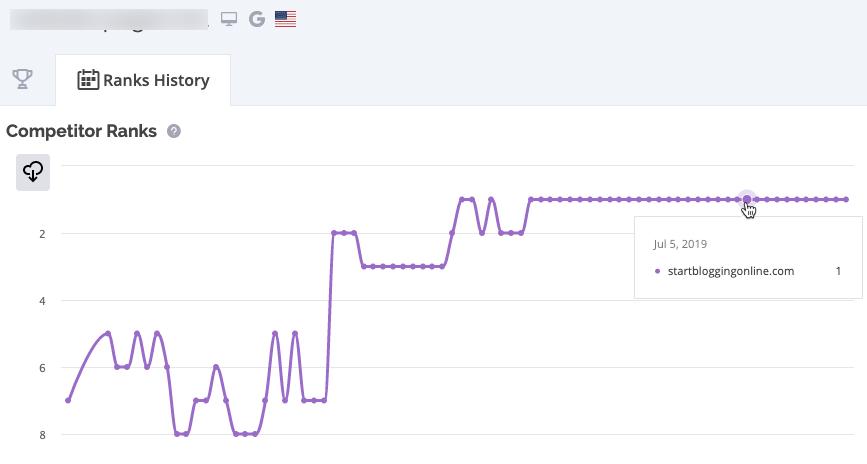 And if your article isn't ranking very well at all, things get really interesting. Here's one that was failing and jumping around in the twenties, thirties and forties that rocketed to top ten after optimization…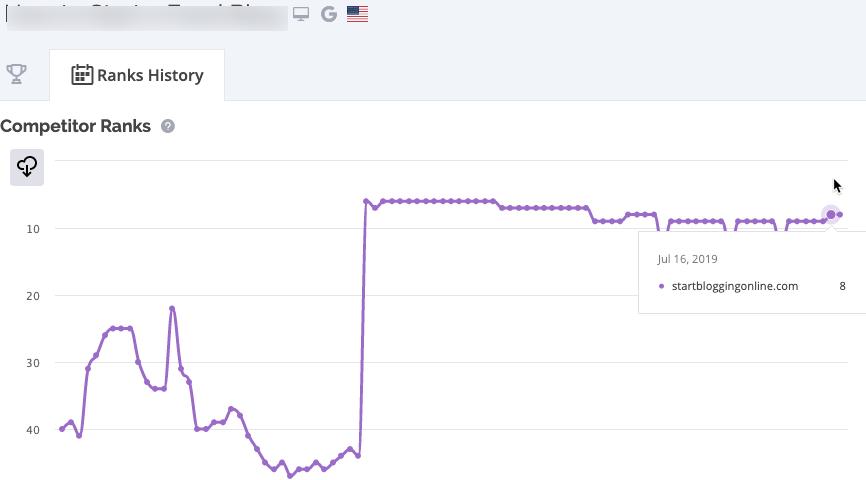 Page Optimizer Pro doesn't work miracles
Your on-page optimization is EXTREMELY important but it isn't, of course, the only ranking factor. If that were the case, all of the above examples would be ranking number one.
The harsh truth is that on-page optimization can only take you so far, so if you think this is a magic bullet, I'm here to tell you it isn't.
A lot of the time, keyword selection is a huge factor if you don't want to target highly competitive words, but if you do, backlinks also come into play so bear this in mind!
I don't say this to put you off using POP (Page Optimizer Pro), I say it so you can use it to better effect. But with that said, if you are targeting low competition keywords it's highly likely you will see very good results.
Page Optimizer Pro tutorial
So unlike most Page Optimizer Pro reviews, I'll also be showing you how I use this tool so you can hit the ground running. Ready? OK, let's take a look…
The first thing you'll see when you hover over your email address after you log in is that you have a free report balance (if you use this link) to do some optimization of your own articles.
This could be existing articles on your site, or you can also run a report for articles you are planning to write so you can hit the ground running with your new content.
All set with your 5 free credits? OK, let's go…
First of all, you need to create a project.
A project will basically hold all of the reports you run for each of your articles/keywords. So if you only have one website, you'll only create one project.
To do this…
Click on "Projects on the top left of your screen
Click the big blue "+" sign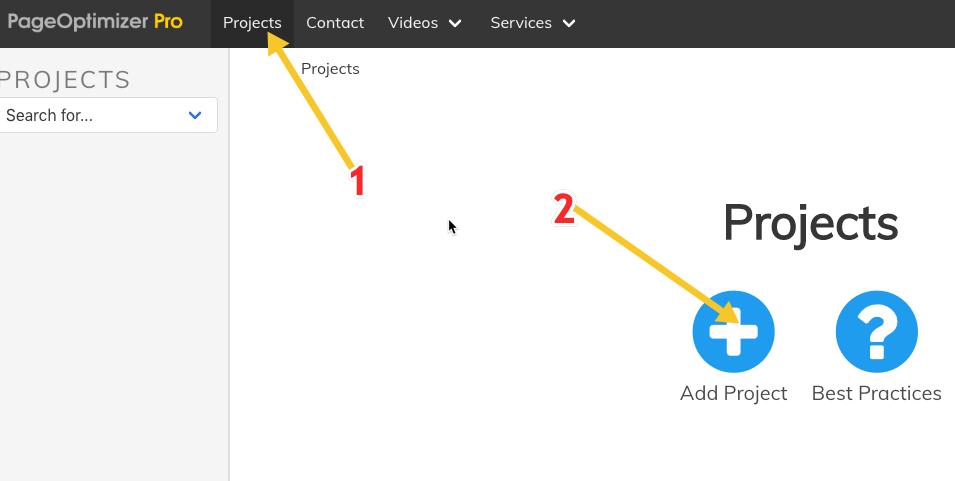 Next up, we need to add some details about our site…
Enter a name for your project/site (whatever you like to make it easy to find if you are adding lots of sites)
Enter your domain
Click "Add Project"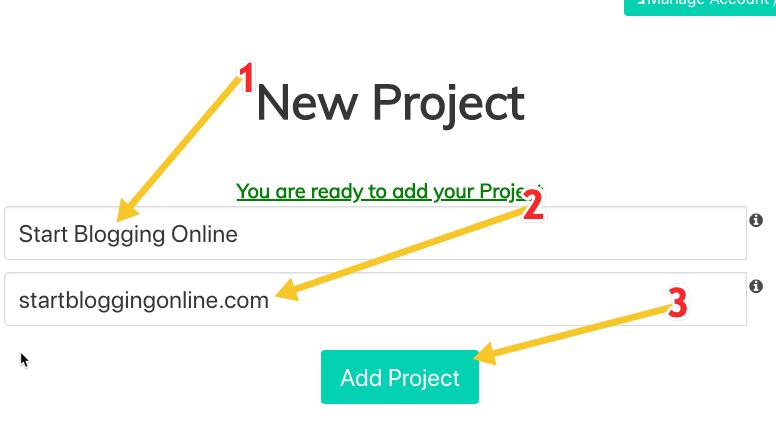 After this, you will see a popup asking you to confirm you have entered the correct domain. Double-check it, and if everything looks good click OK.
Nest you will be presented with two options.
View the best practices (recommended)
Create a new page for this project
After you have read the best practices, click the big blue "+" sign to create a new page in your project.
Next we will tell Page Optimizer pro all about the keyword we want to rank and any existing page we might have for it.
Here's how I do it. I'll run a demonstration with the keyword "how to optimize blog posts for SEO".
I add my keyword into the "page name" field followed by the ID of the post (this is how I organize myself, you can do it differently)
Enter the URL of your existing post, OR check the "I haven't built this page" box
Paste your keyword into the "Keyword" field
Select your language
If you like, you can choose to analyze text with Google's natural language processing API if you have an agency plan
Select the country you want your keyword to rank in
Click "Google search for selected location"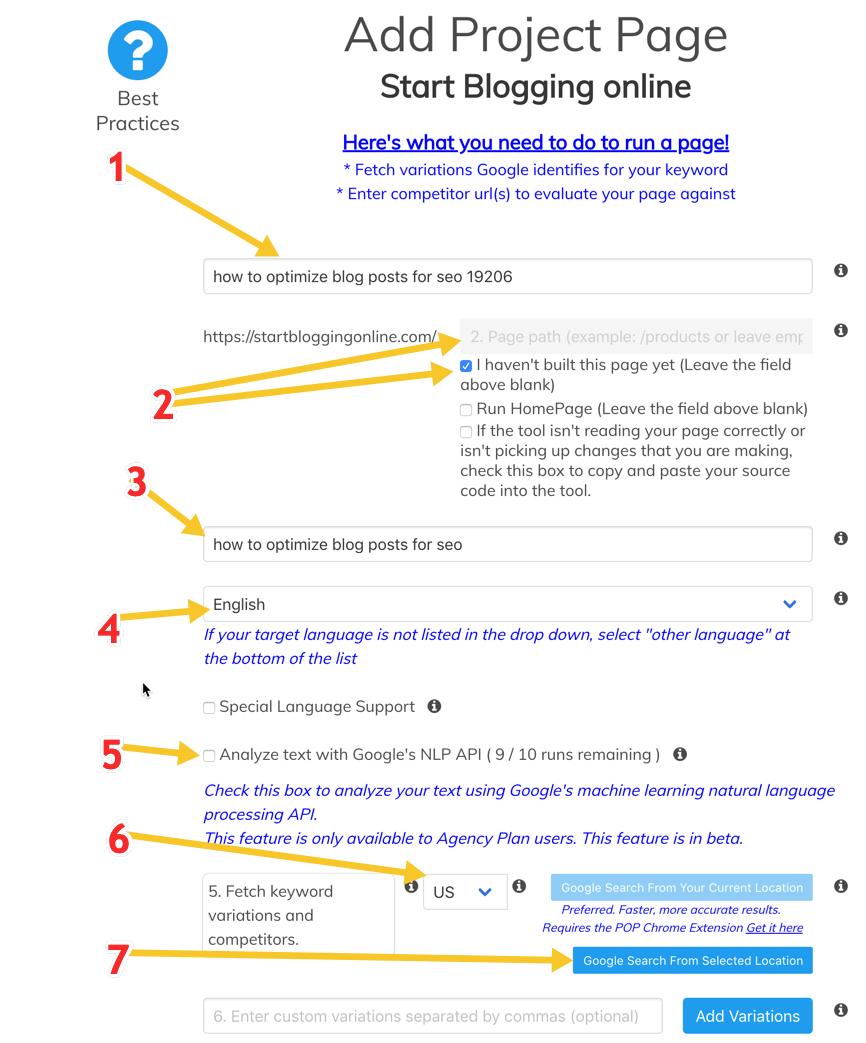 Page Optimizer Pro will now go out and do its thing, so give it a few minutes. Once it has run its course, we'll get back a list of the top-ranking pages for our keyword.
How to choose competitors
Page Optimizer Pro will now go out and do its thing, so give it a few minutes. Once it has run its course, we'll get back a list of the top-ranking pages for our keyword.
Our next job is to select 10 "competitors" from the list we got back, but don't just check off the top 10, they may not be "true" competitors.
What do I mean by this?
Well, let's say you are writing a blog review around a particular product and some of the top 10 results are shopping or eCommerce sites that sell this product, we would not put those in as competitors because they are not creating the same sort of page as we are. We would add pages that have created the same sort of page that we intend to build.
Note, if all of the top 10 competitors are eCommerce sites and you want to make a blog post, you should probably pass on this keyword!
The next step is to…
Click on the headline of each of the competitor sites and make sure they really are your competitors. You can take this opportunity to also jot down notes on what they cover in their article
Click the checkboxes on those sites that pass your manual check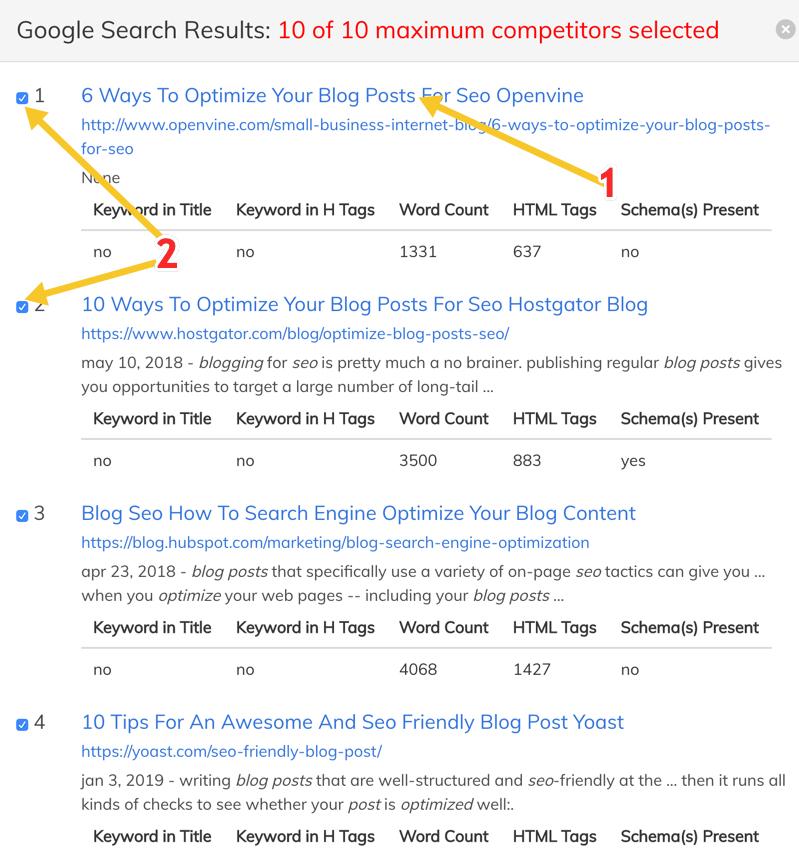 This can seem a little overwhelming at first, but it will become second nature after you have run the tool a few times. I suggest you watch the video below (which is also available in the Page Optimizer pro navigation).
Video: how to choose the right competitors for Page Optimizer Pro
Next, you have to validate your competitors URLs, just click the blue button to do this.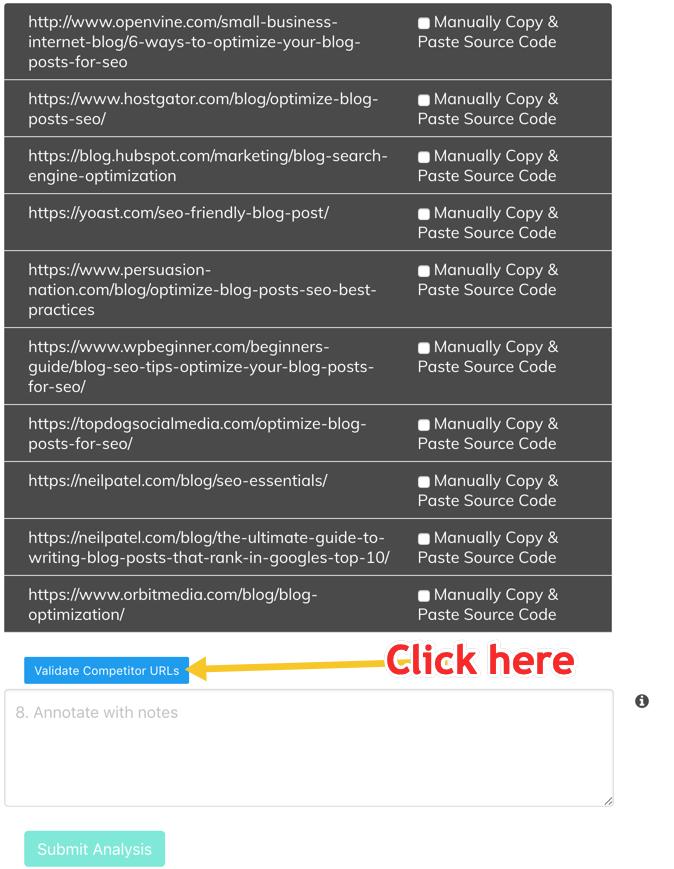 Important: You now get to select focus competitors. There are two different ways I do this.
If the top 3 results are all great blog posts from sites I know are not very strong and don't have a ton of backlinks, I add those 3 as my focus competitors
If I think some of the top 3 are NOT there simply because of great content (huge authority sites, or sites with a lot of links), I will do the search in Google (in an incognito window) in quotation marks to see who bubbles up to the top and add these as my focus competitors
How do you make these distinctions?
Well, there are a few ways, but the free Mozbar is the easiest (free) way.
Simply install it, and you can look at the SERPs (Search Engine Results Pages) and it will show you the domain authority and an estimate of how many backlinks a page has.
The image below shows the search done without quotations, but sure enough, when you do the search "how to optimize blog posts for SEO" with quotations, persuasion-nation.com bubbles up as one of the top results.
Note 1
These searches should be done in incognito mode with your location set to the US (or wherever you are trying to rank), and you will also have to allow the Mozbar to function in incognito mode.
Note 2
I like to see the competitor showing up in both the top 10 in normal search and high in the search with quotation marks added for them to be added as a focus competitor.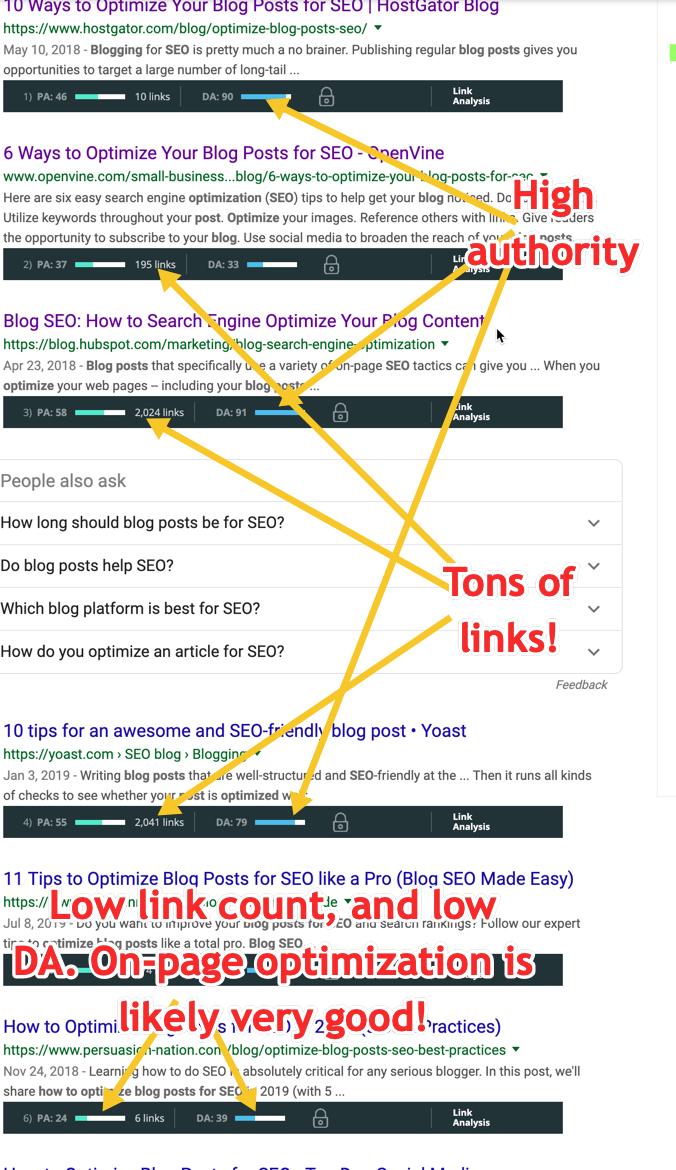 Note: I am not saying the pages above with high authority and lots of links shouldn't be chosen at all, but unless they also show up at the top of a quotation mark search, they will not go into my focus competitors.
Next up we have to select our focus competitors so that POP knows who they are. You can do this by holding "ctrl" (or "cmd" on Mac) and clicking those competitors you think have the best on-page, and then click "Submit analysis".
Now grab yourself a cuppa while POP goes out and does its magic again.
All done?
So this is where the magic happens.
If you have not yet created your page you will get a roadmap of where to include your keywords (and how often), as well as which variations and other important words to include in your post.
On top of this, you will also get a target word count so that you can match the competition.
The easiest way to much of the information on variations and other words to include on your page, in one place is by going to the "Summary" section (see image below).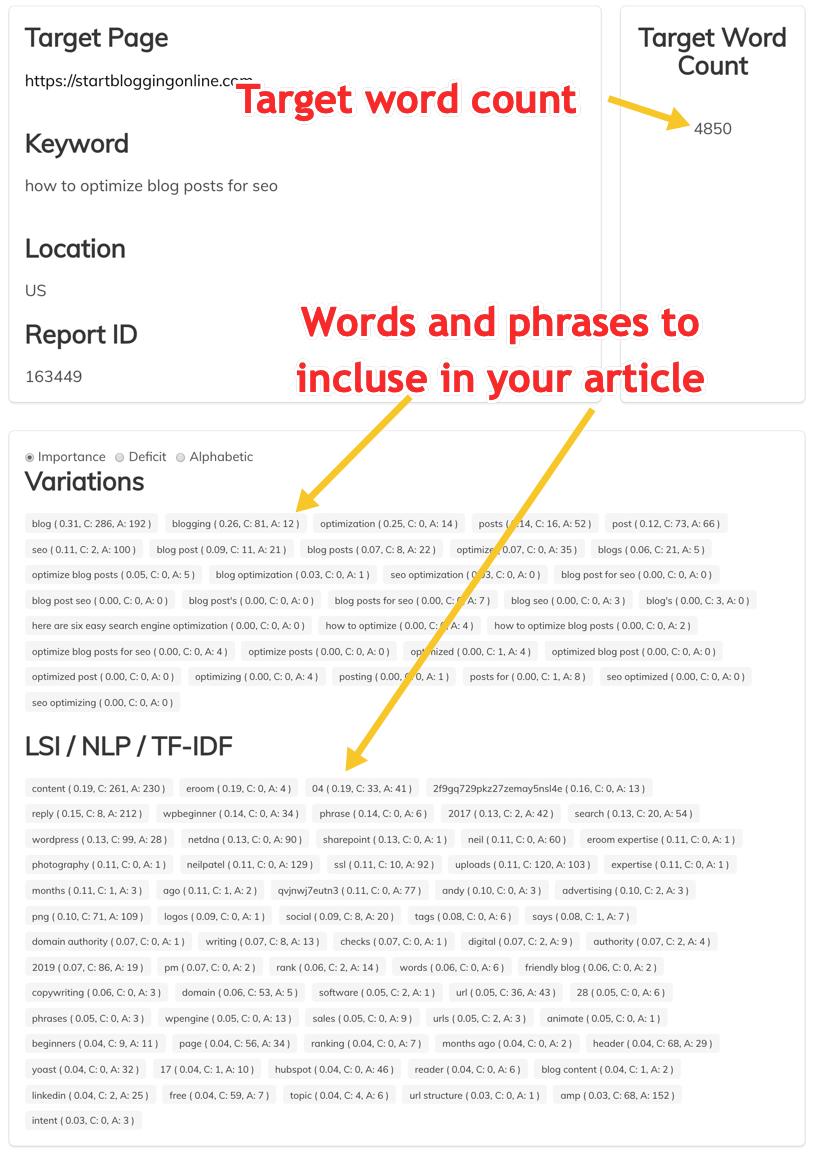 Now let's move onto the main "Recommendations" section as this will tell you exactly where to put your exact keyword and variations as well as in what quantity.
I won't show you a run for this new keyword here as it is a pretty simple list of the above. I'll instead show you a report on a page that already exists and has been measured up against the top competitors.
So the report below shows…
A page before I did any optimization
the same page after optimization has been done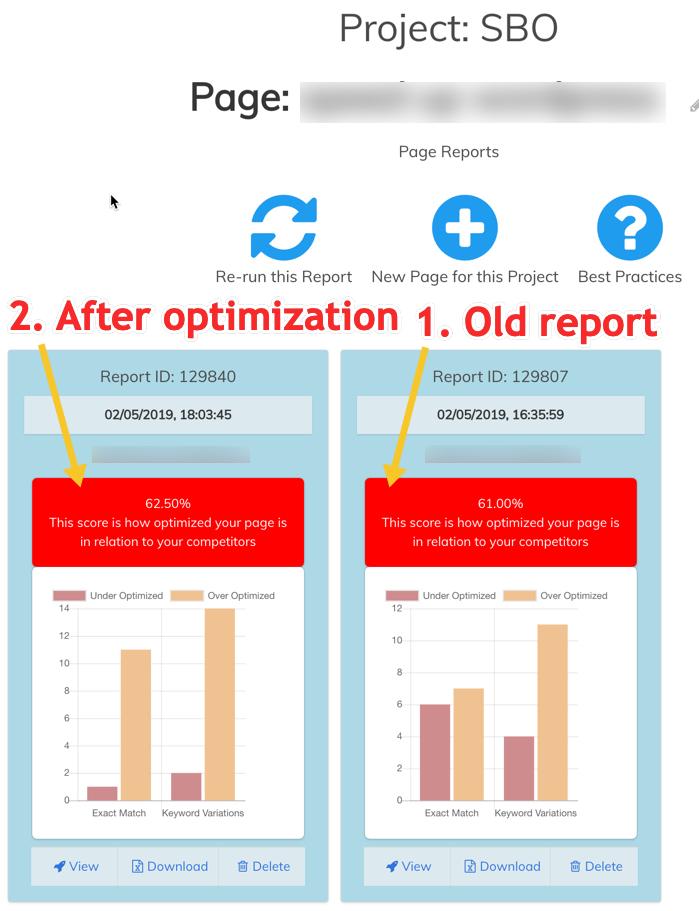 The red bars represent where you are under-optimized compared to competitors while the orange bars represent where you are over-optimized compared to your competitors. Now, this should be an eye-opener for most people, even experienced SEOs!
Why?
Because it highlights the fact that it is possible to be both under, and over-optimized at the same time!
In the above image you can see that the red bars have dropped on the "after optimization" graph. This is because it is recommended to bring your under-optimizations in line with your competitors BEFORE you start bringing down any over-optimization. Then you let things settle to see if your page has any positive movement before taking any action to bring down these "over-optimizations".
The reasoning behind this is that the top pages may not be optimized well at all, so your "over-optimizations" may well put you ahead of the competition anyway.
For example, if none of the top ten pages have their exact match keyword in the H1 or meta title (or even on the page), by comparison, your page would be over-optimized according to POP, but it may not be a bad thing that you have optimized your page "better"!
Make sense?
Finally, let's take a look at the "Recommendations" from Page Optimizer Pro.
As you can see from the image below, in this case, POP recommends we…
Leave the meta title as it is
Reduce the number of exact keywords in H2s by 2
Increase the number of the exact keyword in paragraph text by 2
But remember, we only take notice of the red under-optimizations on our first run, so we would deal with this and then see how it affects rankings.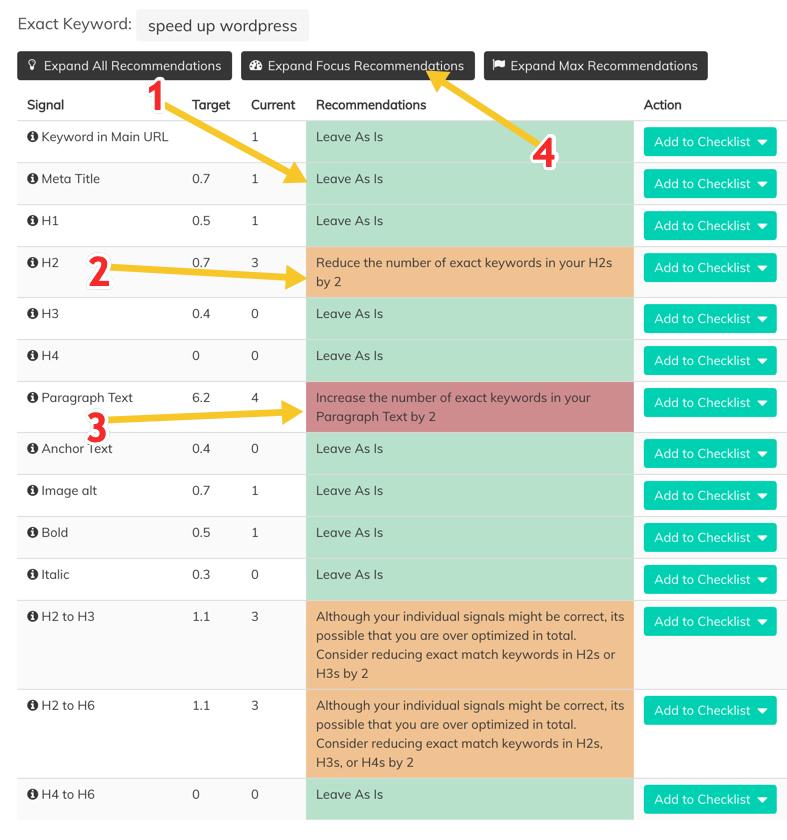 Finally, where I have added number 4 in the image above, we have the opportunity to get the same suggestions, but based on our top three "focus competitors".
I prefer to work to these suggestions if the top three focus competitors I have selected rank well in both the quotation keyword search, and in the normal search, but I'm also open to other opinions on this. After all…
Many minds work better than one, so leave your comments below if you have a better way! 🙂


Our #1 Choice For Hosting Blogs
62% Off Exclusive Offer Applied at Checkout
Our Page Optimizer Pro review rating
Page Optimizer Pro is almost perfect, the only complaint I can make is that it picks up some code when analyzing competitors for variations. This may be by design so you can pick out code that is also relevant, but personally, I find it to be a small distraction.
Overall, Page Optimiser Pro is amazing, and more importantly, actually gives results. I'm excited to see what else happens in future development.
I give POP 4.5 out of 5 stars.
FAQs about Page Optimizer Pro
Q: What is the Page Optimizer Pro pricing after the free trial?
A: The prices are different according to your needs. For a starter who only needs to analyze a few articles a month, you can get started for $10 a month for 5 reports. Those who need a much bigger plan can use the tool for $39 a month and create unlimited reports (plus on a one-off you get another 5 reports free with the coupon code "startblog" on any plan).
There are also plans in between these two extremes, as well as yearly plans (so you get a discount to save more) which you can take a look at here.
Q: Is there a Page Optimizer Pro affiliate program?
A: Yes, but you do have to sign up for your own account before you can become an affiliate. Sign up as an affiliate by creating your account here.
More questions?
Leave them in the comments below and I will do my best to give you an answer! 🙂


Our #1 Choice For Hosting Blogs
62% Off Exclusive Offer Applied at Checkout