Last Updated on
We receive loads of questions from visitors who want to learn how to add a WordPress subscribe to blog signup box to their site. It could be a headache for a beginner who has no experience, so to save your precious time, I decided to dedicate a whole blog post showing exactly how to add email subscription to WordPress blog sites.
You will need to sign up for Constant Contact to follow this guide. Right now they have a 60 day free trial (no credit-card required). After that their pricing starts as low as $20/month but I was able to get you 20% off by clicking here.
Disclosure
As an independent review site, we get compensated if you purchase through the referral links or coupon codes on this page – at no additional cost to you.
The main problem for starting bloggers is getting visitors and making them come back for more. I tend to discover a LOT of great blogs (and blog posts) on a daily basis but I never go back for one simple reason: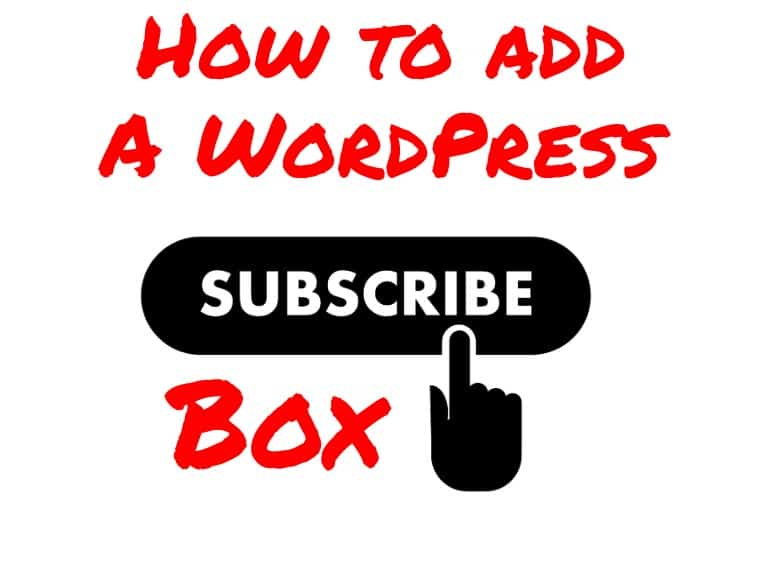 Bang, you've just lost me for good.
This is where we ALL lose a lot of visitors. The solution to this problem is collecting email addresses from YOUR visitors. I'm preaching email marketing and I also have a free blogging course (button at top of page) where I collect emails from my visitors. In my opinion, email marketing is way better than social media marketing. However, it doesn't mean you'll have to leave social media behind… but email brings better results, here's why:
Email is personal, private and cheap.
Imagine for a second how much more visitors you'd have if all the happy folks who enjoy your posts come back regularly. That's probably a lot. This is exactly what email marketing helps to achieve.
You simply add an email subscription box below your posts or in a sidebar and ask people to sign up so you could notify them via mail about new posts, announcements, products, etc…
I bet you've seen something similar on different blogs and websites: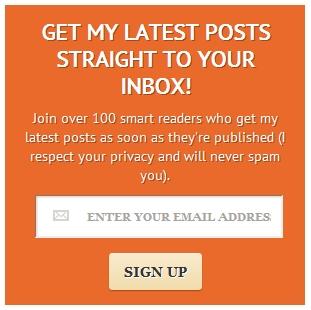 Learn how to create a subscribe form in WordPress too!
Here's how you can add email subscriptions to your WordPress blog as well. The current tutorial works well for WordPress blogs (if you don't believe me, go through the steps and see it yourself.) and I'm sure you will get it working in less than 15 minutes.
I'm using Constant Contact in this example because I believe it's one of the best products in the email marketing world. They have some great advanced features like tagging and automation.
Let's get straight to it…
This is how to add email subscription to WordPress sites
There are 5 easy steps to set up your email newsletter like a pro, and you won't need any documentation from any pesky plugin or email providers other than this quick list.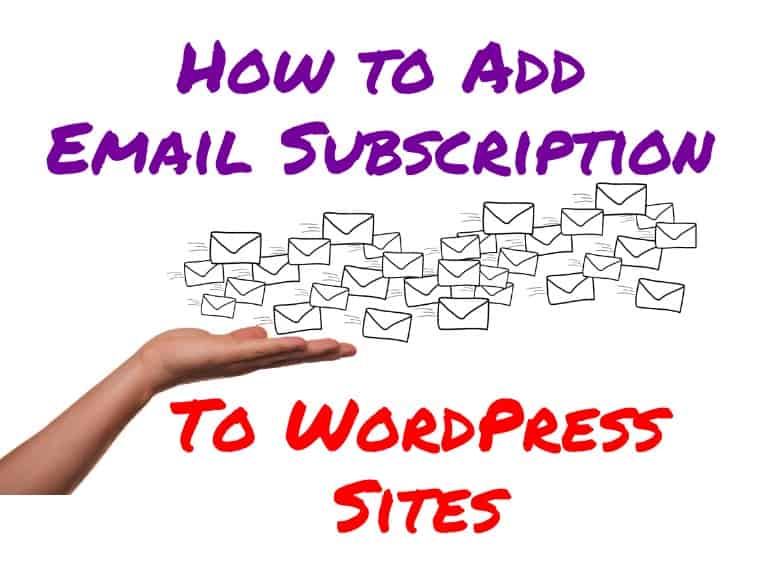 1. Sign up for a free trial at an email subscription service
Sign up for a free trial at Constant Contact, Login and click "Set up your first list". Fill in a memorable list name and add your own email under the "add some email addresses" section to get started.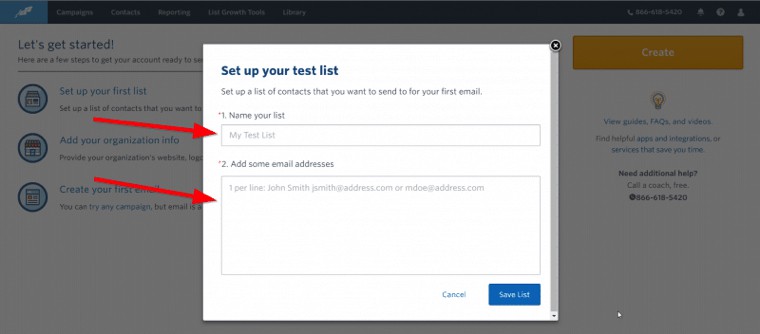 2. Install the WordPress email subscription plugin
Head over to your WordPress Plugin installation area then search for, install, and activate a plugin called "Constant Contact Forms" as shown in image number 1 below.
After activation the nest step is to click "Connect Plugin". This will send you to a settings page where you can log in to your Constant Contact account, and auto-connect to the plugin via API.



3. Create a new signup box
Create a new optin form by clicking on "add new form." Fill out the information. I recommend adding a field for "First Name." Click "Publish" and copy the shortcode.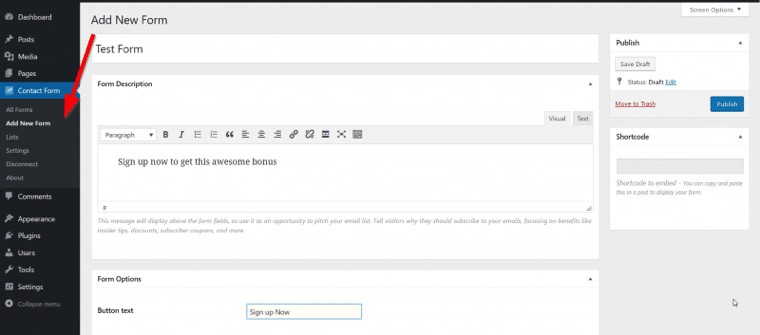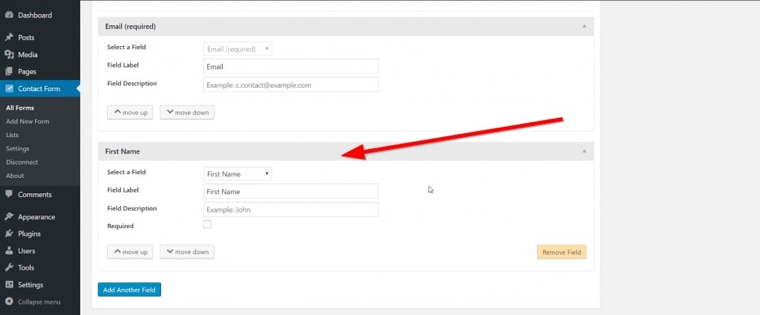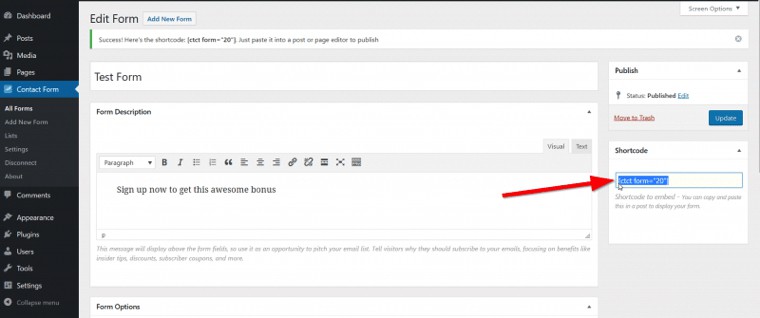 4. Add the WordPress blog subscription box where you need it
Add the sign up box/form to your WordPress blog pages or add a sidebar subscribe widget by pasting the subscription form shortcode from the plugin (example [ctct form="20″]) into to the posts and pages as shown below. Make sure the Editor is switched to Text, not Visual, otherwise the form won't show up.

5. Start creating campaigns for subscriber to read
Start writing mail for your subscribers in Constant Contact under "Campaigns" and see how your earlier visitors come back to your WordPress blog. 🙂
If you're not a professional blogger that has invested a lot of time and money into blog design and customization, then there's no need to design your newsletters with awesome layouts and visuals. That's something banks and big e-commerce companies like Amazon and eBay do. It doesn't have to be that way however, mailing your email subscribers can be simple, plain and quick.
How to send emails and start new campaigns on Constant Contact
Here's how you can get started with sending emails in Constant Contact:
1. Pick Campaigns and "Create". On the pop up that asks to select a type, pick "Email"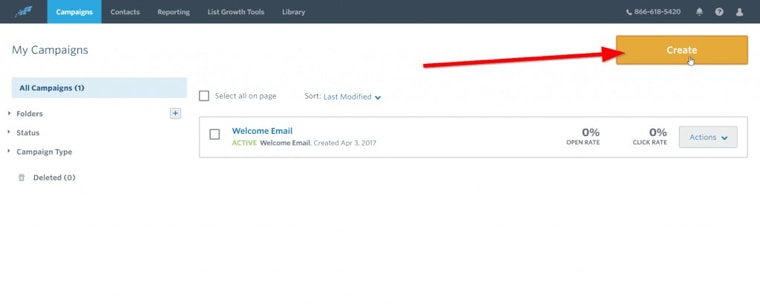 2. Select the format you want to use. My suggestion is to go with the Blank template. It can be read on every device that allows checking emails. It's a bit risky to develop newsletters with very advanced design elements because each email provider may display these differently.
Search for "Blank" and select the template.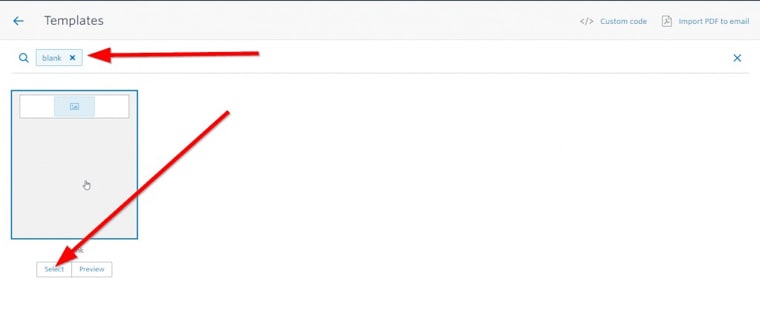 3. Now fill in the heading and other details. The subject is the most important part of every newsletter – it determines whether a person opens the newsletter or not. Delete the top image (unless you want to put in a header image). Add a Text by clicking the "Text" button.



4. Write the text for the newsletter. Keep the body part short if you're linking out to your latest blog post. It can be longer if the reader doesn't have to go outside of the email.
Also, make sure the newsletter is personal by adding the first name, for that you can insert contact details (see on the picture below).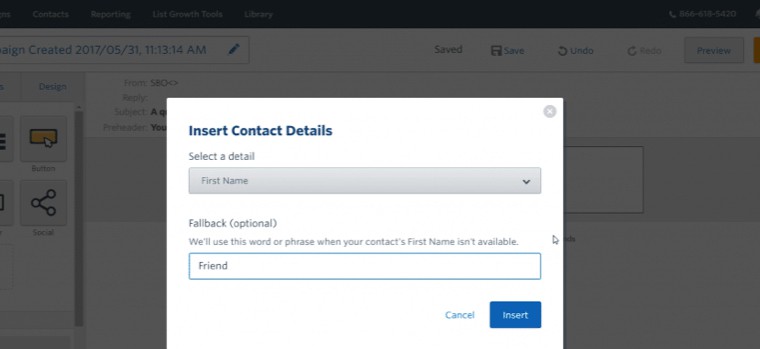 5. Click "Continue" to schedule the email to send later or send it now.
When people subscribe to blog via email...
You're excited to start collecting email addresses by now and sending emails to your visitors but wait for a second. To use email marketing effectively, you need to send campaigns from time-to-time. There are a couple of important rules you should always remember:
1. Don't spam your subscriptions... ever!
The number one reason why subscribers unsubscribe from your list is that they are getting way too many emails, offers, news, etc. It's just overwhelming and in some cases information overloads inboxes. Start off slowly, 3-4 emails per month is more than enough (usually).
When you start writing an email, use "Hello, NAME." instead of "Hello visitor!". People want to get personalized emails, otherwise, they will delete it or just don't care about it. Be as personal as possible and make sure you check this blog post as well: "11 Ways to get personal in your email marketing".
3. Do build trust and offer to help
Whenever you start building your email signup base, your ultimate goal should be building trust among your subscribers. If they don't trust you, they won't read your posts nor buy your products.
Quite simple eh? So start off by offering free help (just like I'm doing). In that way, your list will get way more engaged and grow faster.
4. Do make sure every email has a purpose and gives value
Make sure you deliver what you promised. If you blog about choreography, readers won't be interested in topics that have no connection to it. Explain to them WIIFM (what's in it for me). For more reading, check this article.
5. Do copy others if you are unsure what to do
Here's a really awesome tip that could help you to get better knowledge about how to add email subscriptions and keep them happy. Simply sign up to two or three highly relevant yet professional and successful newsletters and see how they operate. Track what they offer, how long the emails are, how often they send them and what's their wording etc.
That gives you a lot of insights on what works for others who are adding email subscriptions to WordPress in a highly professional way. It's a great way to get some new ideas, modify them and use for your own email newsletter.
Now over to you: Leave a comment whether you're planning to add an email subscriptions box to WordPress and put the effort into email marketing. If not, what's the reason?


Our #1 Choice For Hosting Blogs
62% Off Exclusive Offer Applied at Checkout