Updated 5th of February, 2015.
You must have seen or heard about people who make a lot of money from blogs. Some people aren't even afraid to show it off to their readers. Here are a couple of folks who do extremely well with blogging:
Pat Flynn from SmartPassiveIncome.com makes around $80,000 per month (he started his blog 5-6 years ago, though).
Lindsay from PinchOfYum.com makes around $20,000 per month (she started her blog in 2010).
Regina from ByRegina.com makes around $7,000 per month.
As you can see, the list can go on and on, but this isn't my main goal here. Below, I'll point out some of the main strategies to start earning money with your current or a new blog.
Don't get too carried away by the insane numbers mentioned above. The only reason I showed them to you was to get you off the ground and motivate you a bit.
It is true that you can make hundreds if not thousands of dollars every year just by blogging. Of course, in the beginning it will be difficult and you'd be happy if you earned enough to cover the domain and hosting expenses. As you progress, your experiences and knowledge will improve as well as the income. You just need to keep yourself motivated.
I'll be honest with you, I don't like blogs that are solely built on making money. In my opinion, you should first give in order to get. What I mean by that is that you have to produce well-written content that people like and share. If you earn the trust of your readers, they'll be more likely to buy something from you. So if you are just starting out, focus more on the content rather than making money.
Without further ado, let's cover the basic ways of how to earn money with your blog.
1) Google Adsense – place ads on your blog
Google Adsense is one of the most popular advertising platforms to earn money with your personal blog/website. You must have seen blogs that have placed Google Ads all over the website (see the picture below):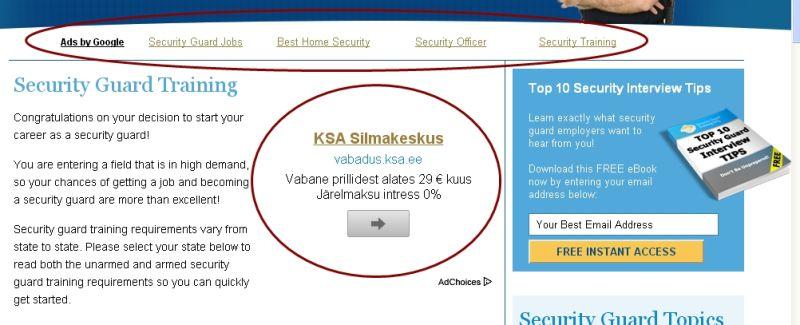 In order to place similar ads to your site, you need to sign up to Google Adsense. After you have submitted your application, your blog will be reviewed and a few days later you will be able to use Google Ads. Make sure you have some content on your blog, otherwise they'll decline your application. For more information, read their TOS.
Once you get approved, you'll get a small Adsense code that you can place inside your sidebar or in blog posts.
How does it work?
Someone clicks on your ad = you will earn money. It can be anything from a few cents to a few dollars, depending on your blog and the advertisers who use Adsense. Some niches pay more than others; see this graph for more information. Once you have earned over $100, the money will be transferred to your bank account. As an alternative, you are able to receive cheques as well.
2) Affiliate Marketing – place links on your blog
Another way to make money using your blog is to do affiliate marketing. In short, many companies and agencies are actively looking for ways to get more leads and sales. Thus, many of them have made an affiliate program for bloggers and webmasters. The most popular one is probably Commission Junction where you can find hundreds of affiliate offers. Just pick something that is relevant to your blog topic and you should be good to go.
You can write reviews about X products and services or you can simply place affiliate banners and links on your blog's sidebar. It's completely up to you.
How does it work?
If your visitor buys their (your affiliate partner) product through the affiliate link  on your site, you will receive commission. Commission ranges from 5% to 75% of the product's sale price. For example, if you are selling a book that costs $40 and the commission is 50%, you will get a sweet $20 just for promoting it. Good, isn't it? Obviously the other $20 goes to the product owner. Those products can be books, services, physical items and so on…
3) Amazon Affiliate – Partner up with online store
If you haven't used Amazon to buy stuff, you must have heard about it. Amazon is the second largest online store besides eBay. If you have a website or a blog, you have the possibility to sign up as an Amazon partner.
Once you have signed up and your application has been accepted, you can start adding Amazon "Ads" on your blog: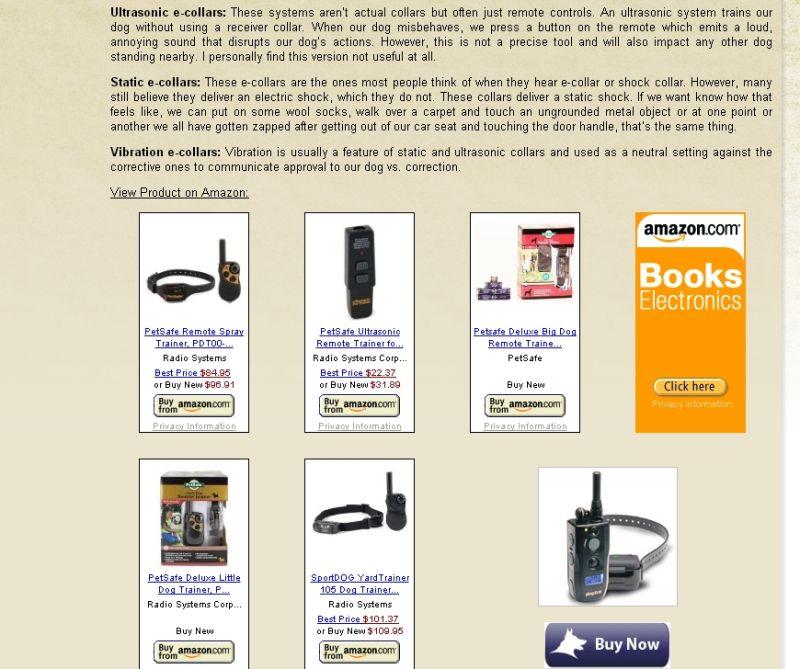 How does it work?
The system is a no-brainer. If someone clicks on your Amazon link and buys (any) product from Amazon, you will receive commission that can range from 4% to 10%. You might think that it's ridiculously low, but what if someone buys a laptop or a pro camera through your link? You'll most likely get at least $100 from it. Not too bad.
Furthermore, some of the buyers don't buy only one thing. For example, if they are planning to buy a snowboard, they will most likely want to buy some additional gear as well (helmet, boots etc.).
4) Selling Ad Space – Find advertisers for your blog
If you don't want to monetize your blog using Adsense or affiliate programs, you can also try selling ad space. This has been the most common way of monetizing a blog since the early days of the Internet. The price of ad space can differ a lot. It depends on the quality of your blog, the age of your visitors, the number of visitors and many other aspects. Ad rates can vary from $5 to $2000 per month. Keep in mind that you can always sell ad space to different website/business owners.
How does it work?
The first step is to find advertisers for your blog. One way is to set up a separate page called "For Advertisers". There you can list the prices of your ads as well as placements. An easier way is to get your blog listed on sites like BuySellAds –that way advertisers will find your blog themselves.
5) Sell Your Own Product – Sell an e-book
Sometimes it's smarter to sell your own product. If you don't have one, you can produce one. It can be an e-book, software or maybe some coaching/consultation time/lessons. Just think about your passions and the things you are good at. You will be amazed how many people will be interested. For example, when I started StartBloggingOnline.com I didn't have any idea how big the blogging community was. I was shocked when visitors started to roll in…
How does it work?
Let's say you like to cook and you have implemented some new recipes that no one is using (except you). You want to share them with other people and earn money at the same time. Open Word and write down all the recipes you think other people would like and then illustrate them with pictures of your food. Now save it as a PDF and sell it on your blog for $10. Sounds like a plan?
6) Get leads to your own business – Publish high quality blog posts
Do you have a business? Do you provide some sort of service? Great – the content of your blog posts can bring you more customers. If they like what you write, they will be more likely to feel motivated to do business with you. For example, my cousin has a chiropractic business near LA. So far, she has managed to get hundreds of new customers from her blog. If she can do it, I bet you can do it too.
How does it work?
Just write something that could potentially help your customers and visitors. People search for all kind of things on the Internet. If they find your blog post named, "How to ease your back pain" and they like it – you'll earn a huge amount of trust from them. And guess what? Some of the readers/visitors might even become your future clients.
6) Set Up a Donation Widget
You've probably seen donation widgets or websites where you can donate money to support the people behind it. There are several different WordPress plugins for that, but in my opinion PayPal Donations is the best one. Why? PayPal is the most universal money transfer platform and more people use it than any other. Some widgets use credit card payments but these have significantly lower conversion rates. People are afraid of credit card fraud, so I suggest using other methods.
7) Build Jobs Boards
If you have a niche blog that can be connected with any industry where people look for new jobs then it may be a smart move to set up a job board. Whether your blog is about engineering or graphic design, get in touch with companies who are looking for new employees in your niche. They are ready to pay you when you publish their job offers.
The #1 requirement is to have a strong community or relevant traffic. For example, my Photoshop Tips blog got about $150 per month for publishing job offers from 3 different companies. It's a good way to monetize your blog but unfortunately this business model does not fit 90% of blogs. Otherwise, it's a great way to earn some extra money because most people don't use that technique.
If you wish to learn more about adding a "Job Board" section to your WordPress blog then click here.
8) Create a membership blog/site
Would you be interested in setting up your own paid course? Well, if you feel that you have something to give your blog readers that will solve their problems – go ahead! There are several WordPress plugins that can help you to set up a membership site with exclusive content only for paid members.
The price of your course can be anything you want. Usually people set their prices somewhere between $10 to $190 per month. If your course costs $100 per month and you have 10 subscribers then you will already make more than $1000 per month with your blog. As an example, Brian Dean from backlinko published an awesome blog promotion and SEO course for beginners and it has tons of subscribers. He is doing really well with this kind of strategy.
If you have any ideas about the topic or other ways to earn money through blogging, feel free to leave a comment below.