Last Updated on
Whereas some spell it as 'name server' others prefer to use 'nameserver'. You can use either as both terms refer to the same thing. But what is a nameserver? Well, think of a phonebook. If you were to give me a phone call, you will need to know my phone number.
More importantly, you'll want to search it in your phonebook or whatever other place before attempting to guess it. Same thing applies to domain names and the internet as a whole.
Disclosure
As an independent review site, we get compensated if you purchase through the referral links or coupon codes on this page – at no additional cost to you.
A name server receives your domain name and then translates it into an IP (internet protocol) address such as '5.12.32.78', which is like the phone number your computer needs to request for a web page. Name servers are part of a Domain Name System (DNS) which, to put it simply, is like a computer's phonebook (more on this later). Were it not for the DNS, we'd have to chock up our minds with an IP address of all the websites we intend to visit.
In short, a name server is a specific server tasked with the role of turning internet host names into internet addresses. Each domain has at least two name servers.
Here's what a nameserver is, and a step by step guide to how the entire process works:
You feed a domain name into the address bar on your web browser, for instance, webaddress.com
Your computer makes use of DNS to search the name servers for webaddress.com
ns1.webaddress.com and ns2.webaddress.com are retrieved as the nameservers for the domain.
Your computer requests the IP address from the nameservers
Once it's submitted, your computer sends a request to the IP address, including the exact page you want to reach.
The web server hosting 'www.webaddress.com' sends the requested page to your web browser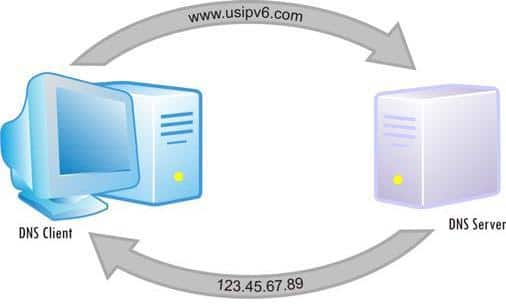 A domain name server (DNS) explained
Even with the little explanation above, you wouldn't have enough answers as to what is a domain name server. So we'll delve a little deeper to bring out the nitty gritties.
In a nutshell, a DNS is a system that translates word-based addresses, for instance, www.webaddress.com to a numerical IP addresses of the system or computer that should be found at that specific address. Keep in mind that all internet systems and computers use IP address to communicate.
Just as we saw in the steps above, the moment you feed a web address into your browser, your computer will urgently need to know what specific IP address it needs to contact and that's where the DNS servers come in to help.
Several organisations such as Internet Assigned Numbers Authority (IANA) and Internet Corporation for Assigned Names and Numbers (ICANN) are charged with the responsibility of maintaining the DNS.
Several situations could lead into you asking "what is my server name?" Of course this doesn't happen often and in fact you may never really want to know or start to mess with your nameservers unless the following takes place.
You register your domain name with a company that is not your web host. For instance you decide to host with HostGator (who actually give you the domain name for free at time of writing) but then choose to buy your domain from Namecheap. When that happens, you will be required to set nameservers for your specific domain to point to hostpapa who now house your web hosting account.
Each domain has at least two name servers. And domain registrars should offer you the ability to make changes to not less than 2 name server entries on your specific domain name. At the same time, every hosting company should offer you not less than 2 name servers to point to.
48 hours is the average time it takes for this to take effect but in most cases it usually takes 4-8 hours. Each DNS server has to let servers from around the world know about the change and that's why it takes that long.
Back to our question 'How do I find my server name?' Simple. Visit WHOIS lookups and look it up there.
If you wish to change your nameservers, you can do so from your website's control panel. To understand this better, you can watch this cPanel tutorial video that also shows you how to make DNS entries.
How to create private nameservers
Just to be clear, changing your nameservers is not the same as registering a private name server. You will never be able to change your website's DNS to private nameservers not unless you register your private nameservers with your specific domain registrar.
Dedicated server or VPS customers who look to having root access on their servers must have a custom name server. It's a non-negotiable requirement. And if you use shared web hosting, you will not be able to use private name servers.
Still remember our model website? Great. If you missed that, here it is www.webadress.com. So, assuming this is your domain name, your private name servers would appear as ns1.webaddress.com and ns2.webaddress.com. To those needing to know what is a server name, these two addresses we just mentioned are and keep in mind that name severs from your host will look different.
So how do you set one up? Simple.
Step 1: In addition to having the name servers, ensure you also have corresponding IP addresses. If you never recorded them, just dig through your emails until you reach the welcome email you received soon after making the purchase of your domain. If you can't find them, get in touch with your host or registrar to re-send them.
Step 2: Go ahead to register your name servers at your specific domain registrar. Bear in mind that the process is not the same for all registrars. You will have to find out how it's done with your specific registrar.
Step 3: If you seem to be having a challenge at it, just look around your domain account and mark anything to do with ' Create DNS' or 'Add DNS' or 'Register DNS'. If you don't run into a field requiring you to give the IP address, you are in the wrong place. So keep searching until you get it right.
Are private name servers really worth it? Well, in a number of ways I should add. Take a look.
Clients will have an easy time memorizing your nameservers if they look almost similar to your domain.
Having one certainly brands as a reseller which means that you do a number of good things under your domain name including rebranding your hosting.
It becomes easy to shift from one hosting provider to another without asking your clients to upgrade their name servers.
Your hosting customers will probably feel secure when they a similar domain both for your nameservers and website.
To sum up, our earlier question "What is a name server?" now has a home and what you just learned today is pretty much everything you will ever need to know about name servers. Need a reliable web host? Be sure to try out HostGator by hitting the button below.


Our #1 Choice For Hosting Blogs
62% Off Exclusive Offer Applied at Checkout