Last Updated on
For the creative members of our society, thinking of how to choose a domain name before they set up a blog is no big deal. They can dream up the perfect idea for a brand or business and make it look like child's play.
If you count yourself among this segment of the population, congratulations. If you don't, you may well have been racking your brain trying to buy a great domain name for your website.
Disclosure
As an independent review site, we get compensated if you purchase through the referral links or coupon codes on this page – at no additional cost to you.
There are methods for picking a domain name that can eliminate the hassle, though. This guide will walk you through how to choose your domain name when starting a blog the right way.
You've probably seen guides detailing the "X Rules on choosing a domain name", tons of sites have them. The specifics vary, but there are some common themes worth exploring.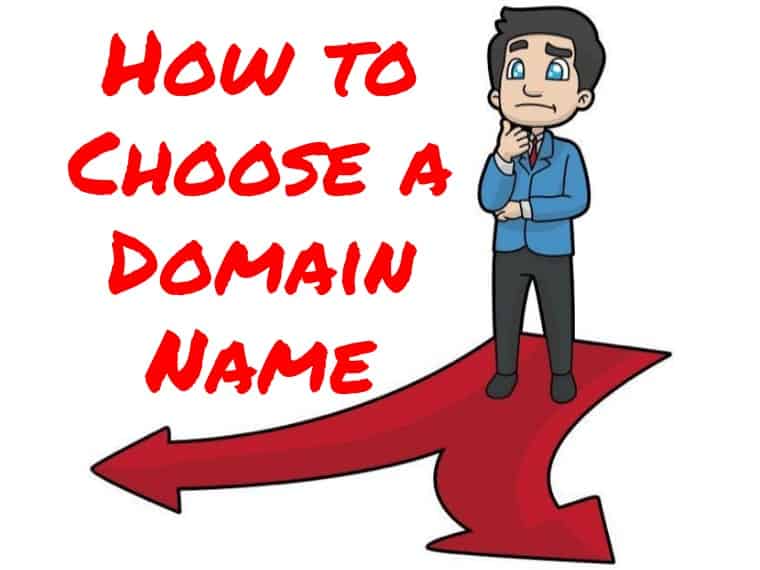 1. Choose a simple website name
This means that the domain should be short, easy-to-type, and have a clear pronunciation. Potential visitors could forget a complicated name. They will assuredly ruin a long one with multiple possible spellings. Keeping it short makes it memorable.
The caveat is that you shouldn't make it so short that it loses memorability. Balancing these factors is critical to devising a proper domain name.
You have to remember that there will be times when people will need to type your domain name via a web browser, even though most traffic comes from search these days. Who wants to even think about typing a 36-character domain name, hoping they don't make a mistake and have to start all over again?
Remember, every single letter must be correct, or your site won't come up—unless you bought all possible variations of the name, of course. However, it's next to impossible to predict every potential misspelling. It's better to just keep it simple.
2. Picking a domain name should be clever (but not too clever!)
When possible, make sure that your name conveys the essence of your site. A play on words is good because it makes the name memorable. Don't get fancy with it, though. Adding things like numbers and special characters make the name complicated.
Also, when people can say a word easily, it's less difficult to remember. There is a phenomenon known as processing fluency, in which people tend to relate more readily to things they can say without difficulty. If you choose a domain name you have to spell when you're trying to convey it in conversation, you're going to have problems. By the way, this can vary by region and country. Take cultural considerations into consideration when you're making your choice.
At least when we're talking about how to choose a domain name. In coming up with a domain name, your domain should reflect your business. You don't have to throw every keyword into the mix, however.
Read over Moz's domain name guide. They make a strong case for shying away from keywords altogether. More and more, search engines are shifting focus from keyword-targeted domains. They also look cheesy, like you're trying too hard to attract visitors.
It is more important to focus on building a name that will resonate. You want something that will create powerful brand recognition among visitors. Instead of using keywords, you can make an association between your brand and your business.
If your exact business name isn't available, you may have to get a bit creative. There are a couple of routes you can follow. Some marketing experts will tell you to get a ".com" top-level domain (TLD) at all costs. However, getting your actual name with a ".biz", or ".info" is a better move.
If that isn't possible either, go for something that describes what you do. Let's say you repair computers in Oakland. Go for OaklandComputerRepair.biz. In addition to describing your business, it says where you're located. This choice also contains keywords someone in Oakland might type into a search engine when they're looking for a computer repair service.
4. Extensions matter when choosing domain names
The first thing to bear in mind when choosing domain name extensions is that the suffix at the end of the domain name is going to factor into the process. Some schools of thought say you should favor ".com" name extensions. These, they reason, are the most recognizable and trusted. They will gain you more visitors and more respect.
Others feel that the competition for securing a good ".com" is too stiff. They also argue that making sure the top level domain "works" for your business is important. If you feel the same, you can try using one of the many other TLDs available.
For instance, you could use ".photography" if taking pictures is your focus. Alternatively, a musical act could end their domain with ".band" to drive the point home.
There are tons of similar, descriptive TLDs from which to choose. You can check out a list of what's available here.
5. Watch out for Copyright & Trademark infringement
You have to do your homework beforehand to ensure you're not stepping on someone else's toes.
This goes beyond avoiding names that are already out there. If your name is "similar enough" to confuse the average consumer, you could be on the hook. The legal penalties are sometimes harsh, so you want to avoid sued.
Entrepreneur, Legal Zoom, and Nolo have resources on avoiding trademark infringement. You can also check out Domain Name Rights to learn more about what is important in this respect.
Be ready to go through several ideas. Since you don't want to end up in court, you should prepare for several rounds of brainstorming. It's entirely possible that you'll dream up a great idea just to find that it's already taken. Don't despair, just keep going until you think up a better name.
Also, when there are a few common misspellings of the name, it's a good idea to purchase them. This will help your spelling-challenged customers find you. It will also prevent another company from capitalizing on misspellings you left vulnerable to commandeering.
Trends come and go, but keeping it real is eternal. Catchy phrases inhabiting the vernacular might be great today, but five years from now, when they've fallen out of favor (anybody else sick of the word "omni"?), they will make your business seem old and dated. With that said; if the phrase appeals specifically to your target audience go for it.
How to come up with a domain name

Once you feel like you understand the basic guidelines, you have to think about your business. As mentioned previously, the business will dictate the domain name you choose.
Let's say you build a WordPress site for the purpose of reviewing fancy alcohol. You may try something descriptive, like "Boozereporter.com." It makes no secret of what you do and is relatively easy to remember. It is a bit long, though?
You could try melding the two concepts together, like "Boozeport.com." It keeps "booze" in the title, but you've shortened it into a single word for memorability. Still, some might find it too "on-the-nose."
You could also try something that is more brand focused. Instead of a straightforward description, you can make an association with alcohol. Something like "Boozega," or "Boozelyst." They're each one word, and hint at what you do just enough for people to get the picture.
Got it narrowed it down? Great, keep reading!
How to pick a good domain name: brainstorming tips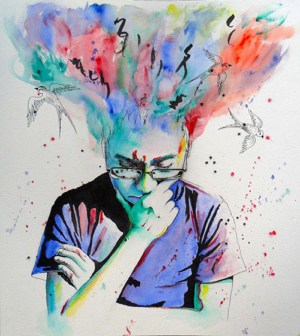 It's natural to hit a wall when choosing a domain name. There are plenty of tips from experts for getting the creative juices flowing, though. It often boils down to getting into a state of mind where you can focus without distraction.
You should set clear goals and guidelines, but allow some leeway when you get a good idea going. Whether you choose to think of names alone or in a group, maintaining focus will be vital to your efforts.
At the initial stage, don't worry about analyzing each name as you go. First, just get the names out and write them down. The more you have to choose from, the better.
Once you've generated a surplus of name ideas, you'll have to start trimming them down. Compare what you've come up with to the criteria we established earlier.
Is the name short enough? Is it catchy? Will people be able to remember it? It will take practice, but you should be able to evaluate these features until you decide on the one that works.
Sometimes, though, a situation will arise where you are at a complete loss for ideas. No amount of brainstorming sessions will fix this slump. At this point, it's time to break out the advanced tricks.
When in doubt use a name generator
These are online tools with the express purpose of helping come up with domain names. You type in keywords or phrases, the generator spits out a list of names.
Some see it as cutting corners. In truth, using a name generator is an excellent option when you want to kick start your creativity.
You don't even have to use the names the generator gives you. You could just scan them to get your mind thinking of the possibilities.
There are quite a few out there, let's look at the most popular options.
"Your Awesome Domain Name Is Waiting…" That's quite the tagline. Name Mesh allows you to input several keywords, separated by spaces. It then generates your possible names, breaking them into categories:
Common — Plain options with run-of-the-mill TLDs
New — Domain names with newer TLDs
Short — Combines your keywords with the TLDs
Extra — Options with obscure TLDs
Similar — Uses an algorithm to generate similar alternatives
SEO — Creates SEO specific domains
Fun — Focuses on brand creation
Mix — Mixes words into portmanteaus
Sticking with our earlier theme of a beverage review site, Name Mesh delivered a few gems:
Beerboozle
Webooze
Wineroro
No pithy tagline here, but Panabee does offer a similar domain generation premise. Enter keywords, get a domain name.
They don't break things out into categories like Name Mesh. They do, however, show you the tricks they used to arrive at each name. These include omitting, appending, and prepending different letters, and merging syllables.
When searching for names for your alcohol review site, we got some cool options:
Panabee also has a "related terms" feature that will swap one of your keywords with a similar word. This allows you to generate a wider range of options that may be close to your initial idea.
Other free domain name generators
If you're not getting anything good with Name Mesh or Panabee, there are other routes you can take. Domain Name Soup, or Lean Domain Search are just a couple of the other tools on the web. Their unique search options may help you come up with new ideas.
Choosing a domain name: conclusion
You might want to spend hours generating an original name on your own. You may opt to go straight for the domain name generator. No matter your choice the principles for how to choose a domain name remain the same.
You have to make sure that your domain is going to be one that inspires visitors to come back to your site. It should be memorable. It should represent your brand. It should hint at what you do, and it should be unique.
Make sure to give yourself plenty of options. Prepare to toss many of those to the side as you search for the right one. Look at what others are doing for inspiration, but stay on your toes to avoid legal issues.
Following these fundamentals or see some best practices here, you should find selecting a domain less stressful than you anticipated. Once you've considered domain name cost and found the perfect name, follow our guide below on to buying the domain name before someone else does!


Our #1 Choice For Hosting Blogs
62% Off Exclusive Offer Applied at Checkout