Last Updated on
Are you looking to sell your website or buy a website, but have no idea where to start? If so, this post is for you.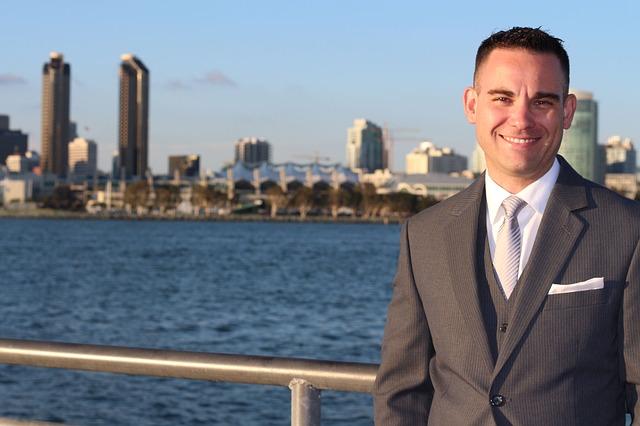 If you've been in the business of website creation for any length of time, chances are you've heard the term website broker before. These sites present an attractive opportunity for making money, provided you have the internet know-how to capitalize on your venture.
We know how daunting it could be trying to strike a legitimate deal for your online business owing to the numerous online fraud that exists. Fortunately, we're here to help with that by showing you how to find the best website brokers.
For starters, understand that we are not website brokers, we indirectly help you sell your site by suggesting credible platforms to visit for those with websites for sale. But before we do that, we take it upon ourselves to give you guidance on how to go about the whole process, from the start to the end.
So, let's dive into how broker sites work, the value they provide to investors and site owners alike, among other things.
What is a website broker?
A website brokerage is a site designed to help others buy and sell websites. The process works much like a home sale or auction.
Those with a site to sell can list it on one of these brokerages. Interested buyers bid for each site they want to purchase, driving the price up with each subsequent offer.
The brokerage site takes a cut of the action (10-15%) for setting everything up, and everyone walks away happy.
The process usually takes anywhere from a week to several months, and sellers can sometimes earn several thousand dollars at a time.
Why use a website broker?
The reason website auctions and brokers are so popular is because of the extra services and benefits that they provide. These are often beyond the scope of what many of those who are interested in buying/selling sites have access to on their own.
Brokers are specialists in the process, meaning they can handle much of the legwork for you. This includes:
A process by which the broker determines the value of a site and what it should sell for at auction. To determine value, brokers will look at factors like:
How much a site makes
How much traffic a site receives
Industry trends
Market position
Growth potential
Ease of operating business model
This involves marketing sites for sale. Brokers will present the site to a wide audience and display sites in an attractive manner. They might include information like:
The name of the site
How it is performing within the industry
Similar sites that do what you do
Instead of sellers having to keep track of every offer made on their site, the broker handles it for them. Depending on the type of site, a seller may get offers from:
Startup types trying to gain experience running a business
Entrepreneurs looking to thin the competition
Conglomerates that want to add the business to their collection
Brokers will also handle the paperwork and provide support for clients after a sale. This might cover:
Letters of intent
Escrow paperwork
Sales finalization
How to identify top website brokers
A broker can either be an individual or an agency; whichever type of seller you choose, you'll need to keep certain factors in mind to guide your decision.
Is the broker knowledgeable in this area?
You want to go for a broker who has the answers you seek to be able to understand what you're getting yourself into; avoid dealing with brokers who don't seem to be sure of what they're saying by giving vague or general responses.
Ensure that all information regarding the payable commission, their track record, their specific role in the whole process, among other things is disclosed to you by the broker before engaging them.
Do they have a legit platform and contact information?
Check to see that their contact information is genuine and that they are based on where they claim to be; if the platform is an entirely online one, ensure that it has a working communication channel.
If, for instance, you don't prefer working with people from certain geographical locations, their contact info can easily reveal their location to you.
Is this website broker part of a large community?
The size of the community might not be a fair metric for gauging the suitability of the new brokers, but to be safe, you want to go for a broker who commands or is part of a large community. Brokers from well-known communities such as the International Business Brokers Association are most likely genuine; also, credentials such as Certified Broker cast further credibility and competency to the person you wish to deal with.
While on this, you want to verify what they tell or show you when it comes to their knowledge and skills, as well as past deals, is real. See below for ideas on how to do this.
Is the website purchase broker reputable?
You'll need to check their online reviews and community forums not only for qualifications or skills but also for any red flags such as poor customer support, unprofessionalism such as inflating prices to benefit from both the client and the buyer, and related issues.
This is the part where you'll be getting first-hand information from those who have dealt with the broker; ensure that you invest a good amount of your time finding out about their business etiquette.
Do they have a decent website listing for sale?
Sadly, you can't leave things to chance by giving someone an open ticket of practicing their selling skills on our product. When handling client work, one is expected to deliver regardless of their skill or experience level.
Therefore, if the broker has a lower listing of websites for sale, it might mean that they do not have that much of a following and it might take a relatively long time to sell your site. To this end, try to engage a broker with a good number of listings; this tells you that more people trust them and it also indicates a high selling rate.
Deal with website brokers that keep listings anonymous
Imagine having to deal with employees who know that their website is being sold…
Of course, you owe it to them to tell them, but if they found out from a broker website, this might not play well with some of them.
Chances are, they will lose work morale or quit altogether without prior notice. The good thing is that most internet business brokers never want to "spoil the surprise", so to speak. They understand the harm of exposing the merchandise in advance to the whole world; this is why they only give out teaser information and what's relevant at that point before a more serious engagement with a potential buyer.
Even as you go on applying the tips above when selecting your online business broker, ensure that you use your personal judgment at all times.
If anything about a broker feels off, you probably want to back out of the deal when you still can as some of these brokers might trap you with questionable and binding agreements.
Next, let's look at some of the well-known industry brokers to help you narrow down your search.
Firstly, understand that not all websites with the banner, 'we sell your site' are to be trusted. Avoid platforms with shady terms and conditions such as remittance of upfront fees even before selling your website or those that require you to release very personal website information. So, if anything doesn't seem to add up, be sure to seek clarification prior to engaging the broker.
Who is the Best Website Broker?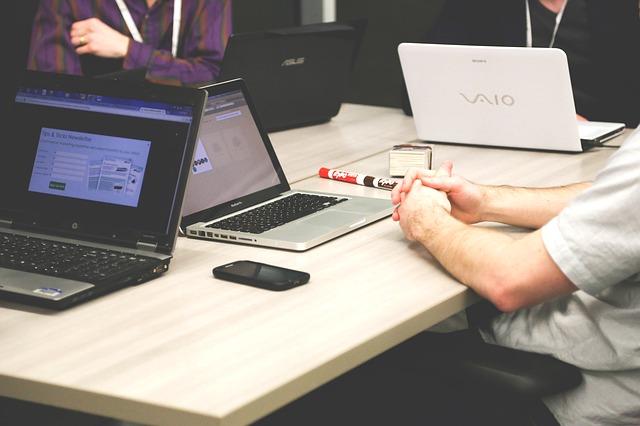 The questions of the best and which is right for you will depend largely on the size of your site. Of course, it will also depend on your target audience, the chargeable broker fee, among other things.
Before signing up on any brokerage, make sure all these factors have been taken into account. That said, below are our top picks website brokers.
Here are the best website brokers
Website brokers for small sites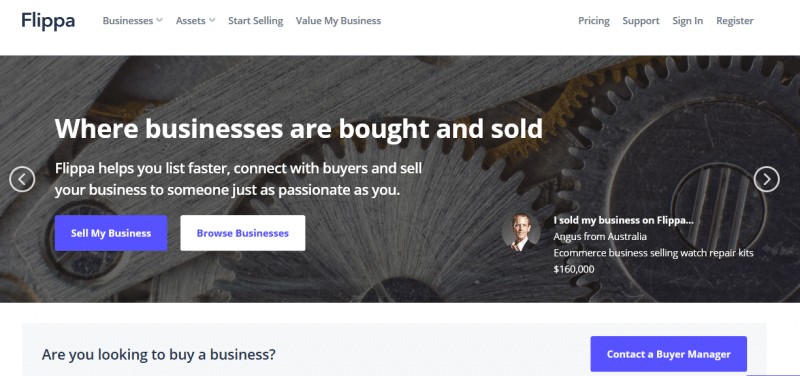 This is a great market place if you want to buy or sell a less substantial site. These are websites for "micro-businesses," generally valued under $50,000.
When it comes to the small website marketplace, Flippa is often recognized as one of the most prominent services out there.
They have a large number of websites listed in lower valuation ranges, from a few hundred to a few thousand dollars.
The Flippa blog has a repository of motivational stories from clients who found a measure of success with the platform.
There are more than a few cautionary tales strewn across the internet, however. Some warn users that Flippa can be a useful tool, but they will need to be judicious in their approach. Others accuse Flippa of, at best, ignoring fraud perpetrated on the marketplace.
As an online business broker, Flippa is still going strong, though, so savvy buyers and sellers may be able to use it to their advantage if they've done their homework first.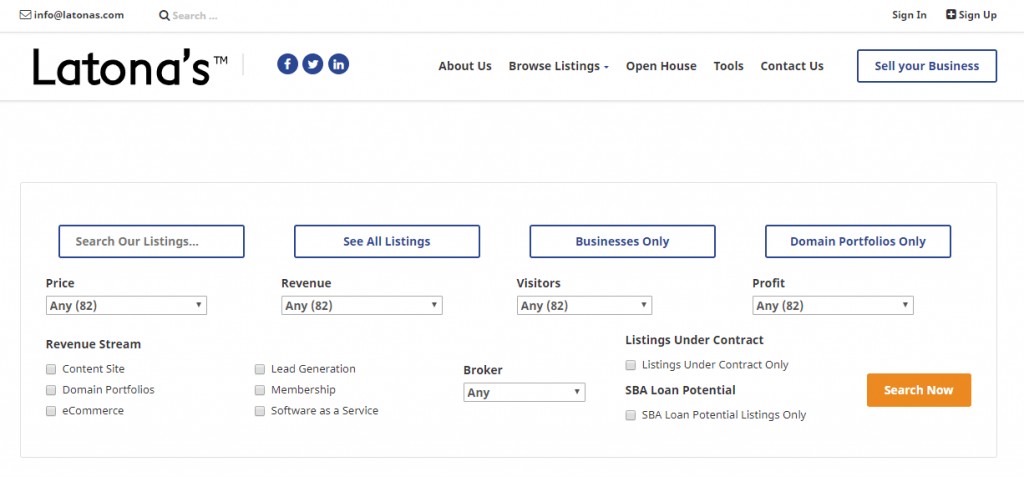 Latona's can pass as both a large and a small website brokerage; however, a quick peek at the website revealed that most of its listings are essentially below $100,000 in value.
Established in 2008, Latona's is one of the few brokerages that sells domain portfolios, among other internet-based assets.
The platform is quite popular in the brokerage space and is keen on matching investors with online income streams.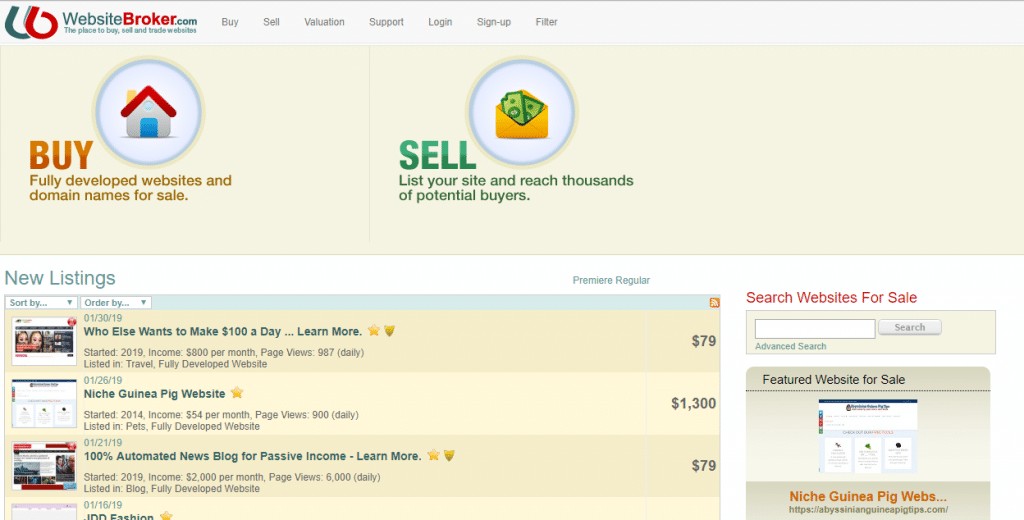 This brokerage was founded in 1997 by partners who were Californian attorneys. Website Broker brings together buyers and sellers of online businesses.
The platform identifies the many challenges that buyers go through to buy websites, including doing background checks and balances. For this reason, they decided to do the heavy lifting for them presenting them with only the final analysis for decision making. Similarly, sellers also find it safe to let the platform verify the credulity of the buyers to reduce any associated risks.
Website Brokers lists small and medium business being sold for $50,000 and below. Despite not being able to establish their revenue status, they are mostly likely making a decent revenue seeing as they have been around for more than two decades now.
Website brokers for large sites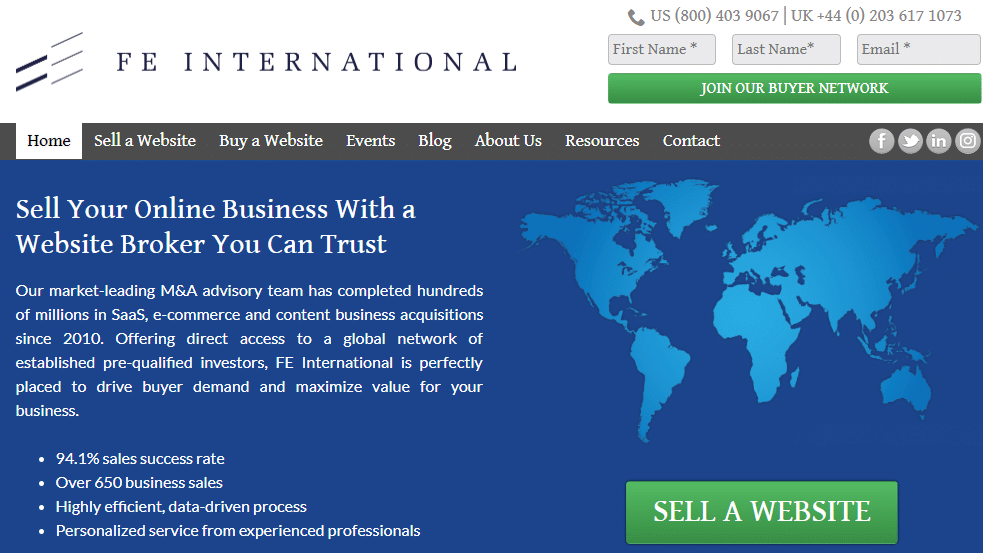 FE International is one of the largest brokerage platforms today and was founded in 2010 by Thomas Smale. Having been around for close to a decade now, they have secured more than $45 million in sales so far. They specialize in sites valued between $20,000 and $5 million.
They market themselves as a higher caliber broker: assisting clients with due diligence, providing abundant resources for their customers to rely on, and always making the most of negotiations.
Their "case studies" profile boasts of many allegedly triumphant sales. Their ranking and reviews with the Better Business Bureau seem to support their claims of being upfront and customer-focused enterprise.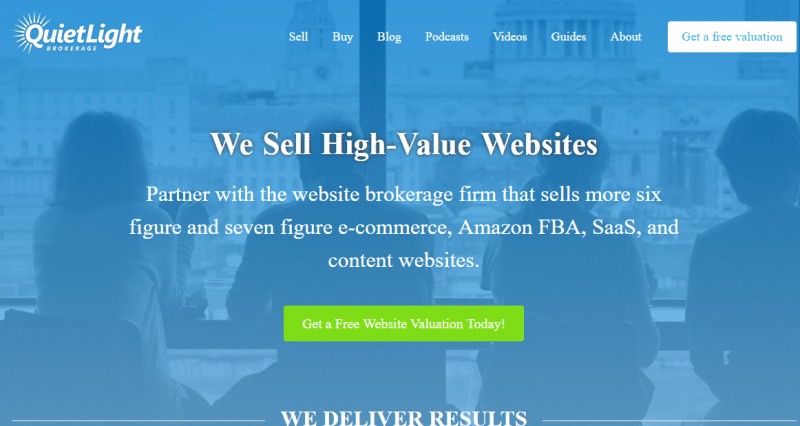 Quiet Light was founded in 2006 by Mark Daoust. To date, the platform has sold over 600 websites with a turnover of over $100 million. Being a relatively old platform, its founders boast of over a decade of experience.
As you would imagine, Quiet Light is a high-end brokerage mostly dealing in six-figure and above websites. That notwithstanding, they claim to be open to anyone intending to sell their site.
Just to show you how serious they are, they claim to close 85%+ deals brought to them by sellers. Also, one couldn't help but notice the presence of websites being valued at more than $10 million on the platform, further rubber stamping their place in the brokerage industry.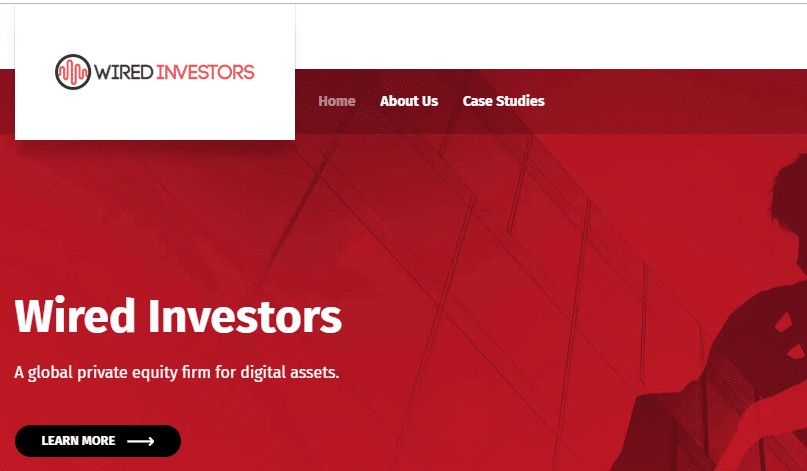 Wired Investors, headquartered in Toronto, Canada, provides high-end brokerage services for savvy internet investors. They offer access to perks and consultation services to smooth over negotiations and secure better deals. They also tout their lower-than-average brokerage fee and extensive post-sale services.
Wired is supported by some of the world's renowned internet investors such as Neil Patel, who currently plays the role of a general partner.
Other examples of mid-sized site brokers include Digital Exits, We Sell Your Site and Deal Flow. They position themselves in the "premium services" category, each with their specific target audience.
Frequently Asked Questions (FAQs)
What are the typical charges of a broker?
The typical charges of a website broker range between 10 – 15% of the value obtained from the sale. Most brokers work on a commission basis, so you shouldn't worry much about an upfront fee. However, this might vary depending on who you're dealing with.
How much do websites sell for?
Depending on a website, the range can be as low as $500 to as high as $15,000,000. However, the figures can go higher or lower depending on their revenue levels.
Tip: One of the best ways of gauging the value of a website is by using the 24-36x rule; for instance, the rule prescribes a selling price of between $24,000 – $36,000 for a website that generates revenue of $1,000 each month.
Can I build and sell a website straight away?
Yes, you can. You can follow the steps below to build and sell your website:
Identify a marketable niche
Register a domain and have it hosted
Identify a good content management system such as WordPress
Make your website, add and publish content on the website
Install an analytics tool (Google Analytics is recommended)
Create backlinks
Like a fine wine, allow it to mature before putting it up for sale
Depending on the quality of the content on the website, the backlinks, optimization, among other things, your website should start generating revenue within 6 to 8 months. Of course, this might take a longer or shorter period of time depending on your site; so you may not be able to build and sell your site right away. It is better to leave nothing to chance.
Finding the best website brokers: our conclusion
Like any other market in which commodities are bought and sold, the website trade provides significant potential value to those willing to take a risk. Maximizing success requires specialized skills, which is where broker sites come into play.
Brokers can link interested buyers and sellers. They can ease negotiations to increase the chances of a sale occurring and also handle much of the minutiae that could potentially slow a deal. They simplify the website selling process and make things more accessible for all parties involved.
Consider the size of your site (or the site you're looking to purchase) and its potential value before selecting a service to use. Finding the right broker for your goals will optimize the amount of money you stand to earn, whether you intend to buy or sell a site.
So, as a website seller, next time you come across a platform with the words "website broker", you now know exactly what to and what not to do.


Our #1 Choice For Hosting Blogs
62% Off Exclusive Offer Applied at Checkout