Last Updated on
What's in a name? A lot, especially if you're discussing domain names for your website.
Your choice of domain name can have a huge impact on your success online. You want a name which is memorable, easy-to-find and which won't be confused with a different business.
Disclosure
As an independent review site, we get compensated if you purchase through the referral links or coupon codes on this page – at no additional cost to you.
Finding the best domain registrars is key and domain registrar reviews like this one will help you out a lot. You need to find a domain registration company which offers dependability, useful features, reliable customer service and a low price.
Not sure which of the domain registration companies to choose? Here's a complete guide on what to look for as well as five domain registrar reviews you'll want to read.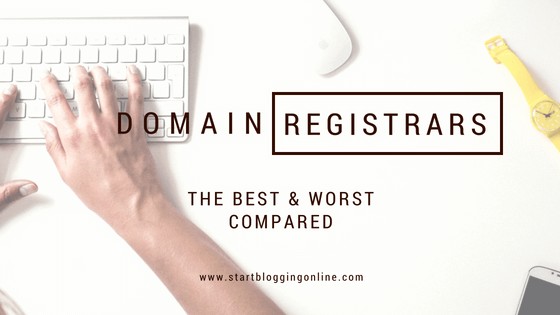 To put it simply, domain registrars or domain providers (domain registration companies) manage and assigns internet domain names. They can be a non-profit organization or a commercial enterprise. Both must be accredited by a generic top-level domain registry (gTLD) or a country code top-level domain registry (ccTLD).
The Domain Name System (DNS) is a world-spanning network of web services. Each website on the DNS can be accessed by one of two ways: either by a domain name or an IP address. Since IP addresses are a long sequence of numbers, obviously the vast majority of internet users prefer to use domain names.
Interested in learning more? Check out this video on DNS:
The importance of your domain name
Your domain name is your identity online. Note that you'll probably want more than one domain. Many companies purchase their name across a variety of extensions with the best domain extensions being .com, .org, .net (unless you need a country specific extension). Customers can find you online easier this way.
If you're an individual or part of a small business, you'll likely want to purchase your domain through a commercial domain registrar. They'll offer services and features designed for your needs.
Best domain registrar comparison
Domain name providers: features to consider
There are a lot of domain registrars available. How do you know which company is the best one for your needs? When considering a domain registrar, look for the following:​
Customer Service – Do they have a knowledgeable staff which can provide individual support? How fast can you expect a response?
Price – How do they compare to the competition? After their introductory offer expires, what prices are you actually going to pay over the long term?
Ease of Use – How much technical know-how do you need? Is the domain manager page clean and easy to navigate?
Features – Some registrars offer a variety of features beyond simple domain name registration. What features are offered and will they actually be useful for your specific needs?
Top 5 best domain registrar reviews
NameSilo coupon code: startblog
Looking for a domain registrar with a clear pricing policy? NameSilo has no hidden fees, transfer charges, minimum order or other price tinkering. The entire service is refreshingly free from up-sells and add-ons.
They offer a variety of features which other registrars normally don't offer for free. Some popular free features include:
Domain Forwarding
Portfolio Management
DNS Management Tools
Email Forwarding
Registry Lock
Although we think these guys are the best domain registrar, navigation on the site can be a little confusing. The content arrangement is also a bit cluttered. But if you can overlook these aesthetic issues, NameSilo has a lot to offer and the cost of domain names is very fair.
Founded in 1988, 1&1 is one of the oldest and best domain name registrars around. They have a huge advertising presence which really only rivals GoDaddy. Does their longevity and size translate to great service?
Only somewhat. If you want the basics, 1&1 is a fine choice. They offer reliable hosting, security and pretty much everything else you need to keep your website up and running.
Introductory prices are just ninety-nine cents a month for the first year. Then prices increase to levels you'll find similar to GoDaddy and other major registrars.
Personally, I'm not too thrilled about pricing plans which offer a super low rate for a short period of time only to increase the rate once you're dependent on the service.
However, 1&1 is a little different. Their initial discount lasts for a year. Plus, their regular rates are right in line with industry standards. Your specific non-discounted rates will depend on the exact features you want.
One major downside of 1&1 is their customer service. There are a lot of complaints online about their lack of accessibility and helpfulness. Personally, I've never had a problem with 1&1's customer service. But this is an issue you should be aware of.
If you're looking for the absolute lowest price you can get for the longest period of time, you'll probably like 1&1. As domain providers go, they get low marks on customer service. If you think you'll need a lot of personalized help, 1&1 might not be the best choice.


Our #1 Choice For Hosting Blogs
62% Off Exclusive Offer Applied at Checkout
If you've even seen the Super Bowl, you've probably heard of GoDaddy. They're famous for their off-beat, often risqué Super Bowl commercials. But are they really one of the top domain registrars, or is all simply flashy marketing?
For the most part, yes. GoDaddy offers are one of the best domain registrars for security and reliability. They operate their own data centers in Europe, Asia and the U.S. They also offer a host of virus and spam protection.
Their customer support is another key feature. You can reach live support 24/7 via phone. If there's ever a problem, you don't have to sit around waiting for an email response.
But GoDaddy does have some drawbacks. Their pricing structure can get pretty confusing. Their initial offer is great. Your first month can cost as little as ninety-nine cents! After that trial offer is over, however, you'll need to make sure you're not signing up for high-priced services you don't want.
Overall, GoDaddy is a reliable and secure site – just be careful before committing to any long-term subscription plans!
Alright, so they don't have the cleverest company name. But Name.com does offer reliable, straight-forward service. They also offer straight-forward pricing. You won't be bombarded with upsells here.
They offer quick domain name transfers. If you're currently using a different registrar but want to switch to Name.com, you can do so without having to wait for the EPP code to transfer.
Overall, they offer reliable service and friendly, accessible support staff. Name.com doesn't offer a ton of bells and whistles. But they don't make any obvious mistakes, either. They're steady, dependable and fairly priced.
Never heard of Gandi? That's understandable. They spend almost nothing on advertising. Their business relies almost entirely on word-of-mouth.
Plus, they're not exactly the most family friendly internet company. Their motto is "no bulls***." While this might seem a bit unprofessional, I actually find the sentiment refreshing.
They're absolutely committed to open, honest communication with their customers. They don't hide their prices or harass you with a bunch of upsells.
Every domain from Gandi includes two free hosted pages for your site, a free blog and one year of SSL certification, email services and other features.
They manage over 1.8 million domain names across over 190 countries. All while committing to protecting the privacy of their customers. While they don't spend a lot of time marketing themselves, their commitment to straight-forward and honest business practices has earned them a devoted following.
Our conclusion on the top domain registrars
Visitors to your website will never know or care who is hosting your domain. But they'll certainly notice if your site is often down or otherwise inaccessible!
The registrars listed above are all reputable, reliable and offer accessible customer support. They all have high domain registrar ratings.
Which registrar is best suited for your needs depends on where your priorities are. For instance, if you're looking for the lowest possible price, you might not get many free features. Your best bet is to understand exactly what you need in a domain registrar before you start shopping around.
Finding the right domain registrar will help your business grow and thrive. Plus, a reliable registrar will provide you with peace of mind for years to come.