Last Updated on
The spambots are out to get you.
There's a number of ways these little monsters can hurt your online presence. One typical approach is to flood websites with spam links to boost their master's PR. Sometimes they'll try to sell a product or service, or sometimes they'll try to redirect your followers to another site where they'll pull something even more sinister.
Disclosure
As an independent review site, we get compensated if you purchase through the referral links or coupon codes on this page – at no additional cost to you.
Whatever the motive, leaving spammers unchecked can really damage your reputation in a number of ways, including:
A decrease in your site's rankings on the SERPs.
The possibility of getting blacklisted.
A decrease in page load times due to an increase in bot traffic.
A spambot can gather personal user information for malicious purposes.
The bad bots work round the clock. They'll never stop for food, water or a paycheck. To beat them, you're going to need the best WordPress spam plugin to stop spammers before they can do some serious damage.
With that said, there's a lot of different options available. Below, you'll find a list of the best free and paid WordPress anti-spam plugins available today.
Here are the best anti spam plugins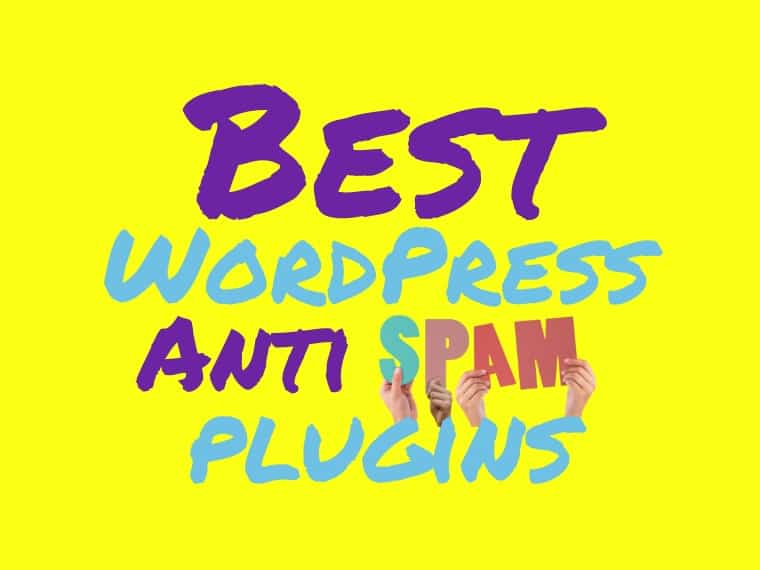 The Akismet WordPress plugin is extremely popular with over 5,000,000 active installations today. This cloud-based plugin works by checking incoming comments and contact form submissions against Akismet's massive global database of spam. This approach negates the risk of automatically publishing unwanted, malicious content before it can do any damage to your website. Getting started with Akismet is a fairly simple process. After signing up with a free or paid plan, you'll need to activate the plugin with the supplied API key. That's all there is to it. Other notable features include the following:
Excellent compatibility when used with other popular plugins, including Jetpack and Contact Form 7.
Status history – a feature that lets you review a log of every comment that was cleared or flagged by the Akismet anti-spam plugin.
Statistics, including a feature that lets you see how many spam comments were approved for each user.
Automatically display URLs in the comment body instead of hiding them behind text (negates the risks of misleading or malicious links).
Excellent support from Automattic.
Having said all that, is Akismet free? The answer is yes, but only for personal and non-profit use. For commercial usage, you'll need to get one of their paid plans (starts at $5/month).
2. Anti-Spam by CleanTalk
Anti-Spam by CleanTalk is another widely recommended product with over 400,000 active users. It carefully screens comments and bots pretending to be human through a battery of validation tests within CleanTalk's cloud-based server.
Content that doesn't pass validations are redirected to the spam queue where they can be reviewed by moderators to ensure legitimacy.
Another cool thing it does is it automatically censors inappropriate language. Moreover, CleanTalk anti-spam has developed a mobile app you can use to receive real-time notifications regarding relevant moderation activity.
Comparable to Akismet, this product has more features to offer:
Easy to use, with its initial setup duration over in 5 to 10 minutes.
It's a complete solution that acts like a WordPress spam filter for comments, contact forms, registration pages and other vulnerable areas.
Real-time email validation, so you can prevent bots pretending to be human from signing up.
Analytics, so you can review the moderation activities as you please.
Excellent customer support, with agents aiming to answer all concerns within 12 hours.
Free 7 day trial, so you can try and decide if it's the right one for you.
This product is a paid subscription with pricing plans starting for as low as $8/year.
Anti-Spam Bee is another popular option with 500,000+ active installs today. It's free and has decent support via its official forum at WordPress.org. It's widely regarded as an excellent free alternative to Akismet as it filters spam without having to send personal user information to a third party.
You can control how this product works by ticking the boxes corresponding to the functions you want activated. For example, you can program it to trust comments coming from users with gravatars.
It lets you do other things:
Blocks spam and trackbacks.
Blocks comments coming from specific countries.
Gets notifications for spam-related activities via email.
Compatible with many frequently used WordPress plugins (e.g. Jetpack and WooCommerce)
Automatically clears spam folders after a set period of time.
4. Cerber Security and Anti-Spam
Cerber Security and Anti-Spam features an anti-spam engine that provides protection against spam in comment sections, registration forms, WooCommerce checkout and pretty much all forms on your website.
Its WordPress spam blocker function isn't difficult to use. Its user-friendly interface lets you select which forms you want the WP anti-spam feature turned on for. You can even add an extra (annoying) layer of protection with reCAPTCHA, and select which forms you want it activated for.
Other spam-related features it offers include:
Choose how Cerber automatically deals with detected spam.
Whitelists and blacklists for improved spam moderation.
Set country-based rules.
Compatible with popular form plugins such as Contact Form 7 and Ninja Forms.
Free version can be used on an unlimited number of websites
Cerber Security & Anti-Spam offers more than just protection against unwanted spam. For additional security against malware and other threats, you can get a premium plan for as low as $29 quarterly.


Our #1 Choice For Hosting Blogs
62% Off Exclusive Offer Applied at Checkout
Wordfence is an all-in-one solution that includes spam protection amongst its different security functions. It has over 3 million active installations with regular software support from its developers. You can be confident the plugin will be useable for years to come.
It handles spam the same way any reliable anti-spam system works. This includes blocking comments containing URLs on a domain blacklist and holding anonymous comments for moderation.
Wordfence has many other security features. This one's great for those who don't have a security scanner or a firewall for additional protection against malware and other potential malicious threats.
The free version of this product can still get free support via their support forum at WordPress.org. The paid version comes with additional features/benefits and is available for as low as $99/year.
Spam Destroyer is easy to install and activate for continuous protection against spam. It was engineered to protect your website's comment section while being as unobtrusive as possible to both the user and webmaster.
Spam Destroyer keeps your site safe against unwanted spam by using two common yet effective spam-blocking techniques. First one is a cookie that's created using javascript, and second is a hidden input field verified by javascript.
In order for bots to put their filth on your WordPress website, they'll have to be able to process both cookies and javascript first.
The Spam Destroyer is a free anti-spam plugin for WordPress and receives regular software updates.
Sucuri is another complete security package that offers more than a generic WP spamshield.
Sucuri specializes in getting rid of SEO spam before it gets a chance to harm your website's reputation or getting blacklisted. Its approach to removing spam involves an analysis of your website environment right after it connects via an FTP or SSH connection.
After cleanup, their technicians will provide you with a copy of their findings (if any). Sucuri then submits a review to third-party blacklists. They'll even submit requests with relevant blacklist engines so their bots can re-crawl your site.
Sucuri offers other security features for protecting and hardening your website against malicious attacks and bad bots. The most affordable plan starts at $199/year.
WPBruiser is another anti-spam plugin WordPress users can enjoy for free. Formerly known as GoodBye Captcha, this product relies on algorithms to effectively detect spam and bot activities without the use of CAPTCHA. Moreover, it performs analysis and cleanup without the need for sending personal user data to third-parties for threat analysis.
This plugin keeps bad bots in check by preventing them from signing up to begin with. It's also able to automatically block specified IP addresses and even protect against Brute Force Attacks.
WPBruiser has over 30,000 active users and receives regular updates from its developers, making it a great choice for new webmasters who only need the basics.
Spam Master is the result of its creators' need to protect their website against constant spam registrations and bot comments. It's a lightweight plugin that only loads what it needs to protect your site against attacks directed to your registration pages, logins and comments.
It claims its real-time spam database is amongst the 5 best in the world. It's a database that continues to learn and grow to provide fellow Spam Masters the level of protection they need.
Other notable features include:
Firewall technology that gives more protection than a normal WP-spamshield.
Can protect against brute force attacks and DDOS attacks.
reCAPTCHA option available for registration forms, logins and comment sections.
Threat Alert Levels that let you know if your website is being targeted and how bad the threat is.
The plugin itself is free to download, but they do charge 9 Euros (about $10) per year for the user license.
10. Anti-Spam by CreativeMotion
Anti-Spam by CreativeMotion has over 200,000 active installations and recent software updates, which tells us that it's a product that (hopefully) won't disappear from the repository anytime soon.
The plugin is a great choice for beginners. It only takes a minute to install and can be used right away with its default settings in place (no API key required).
Some other things worth mentioning:
Anti-Spam relies on algorithms and its global database to save you from the trouble of publishing spam on your website.
Doesn't require your users to take a CAPTCHA test before publishing comments (school is hard enough).
User email and IP address is accessible by CreativeMotion (some users may take issue to this).
Free for personal and commercial use.
The free version should work for the needs of most users (like people who are new to blogging). For those who want additional features for backup (e.g. better customer support and registration for spam protection), the pro version starts at $9.99/year for a license for 3 domains.
Looking for an Akismet alternative? Consider these!
Akismet vs Antispam Bee: while the former has better spam detection with its ever-growing spam database, the latter has the advantage of not sending personal user information to a third-party server for analysis.
Both are GDPR compliant, but the fact that some users aren't comfortable with having some of their personal information used (even if Akismet only uses enough info to run its core functions) still remains. Anti-Spam Bee is able to detect spam using a local database. This means user info never gets sent to a third-party.
Akismet vs Wordfence: Wordfence is another alternative to Akismet. Not only does it protect your site against spam, but it also offers a range of security features that protect your site against malicious attacks and other threats at deeper levels. Wordfence would be a good choice for webmasters who are vulnerable to threats beyond comment spammers.
WordPress anti-spam plugin key takeaways
There are different ways these products protect you against unwanted spam.
In order to protect against spam, some plugins need to send personal user information to third-party servers.
Most of the collected personal information is deleted within 2-14 weeks.
Akismet is the most popular option but does collect personal user data to provide protection for your websites.\
Plugins like Wordfence and Sucuri offer additional security features and website hardening.
Anti-Spam Bee is a great free Akismet alternative that doesn't need personal user information to operate.
WordPress spam plugins FAQ


Our #1 Choice For Hosting Blogs
62% Off Exclusive Offer Applied at Checkout