Last Updated on
There may be a problem if your website is only available in the English language. You could be missing out on the opportunity to reach a much larger audience (and making more product sales). While statistics show that English is the most widely used language on the Internet, 75% of all browsers are actually non-English users.
Making your website bilingual or even multilingual is easily achieved with the help of a good WordPress translation plugin.
Disclosure
As an independent review site, we get compensated if you purchase through the referral links or coupon codes on this page – at no additional cost to you.
There's quite a few decent paid and free options that'll help you get started with marketing to non-English users. During the decision process, you'll want to consider a few things, including:
How the plugin allows you to go about the translation process (automatically, manually or both).
The compatibility of the plugin (some plugins can conflict with your existing plugins and themes).
Whether your translated content will be ranked by search engines or not.
The costs translating your website (hiring translators for more accurate translations will be added to your overhead).
The fact that automatic translations won't be 100% reliable.
With all that said, save yourself some time by considering the following options. These are without a doubt some of the best ones available today.
Here's a handy comparison chart showing the best translation plugins for WordPress:
| Plugin Name | Best Feature | Price | Buy Now |
| --- | --- | --- | --- |
| | | | |
| Google Website Translator | | | |
| | Has optional addons to extend plugin's functionality | Free (offers premium addons) | |
| | | | |
| | Cheapest subscription fee amongst paid options | $29 upfront and then $21/year after | |
| | Best for managing a team of translators | | |
| | Uses a different approach to translating your site's content | | |
| | Uses Microsoft Translator tool | | |
| | Works like a good WordPress Google translation plugin should (also has 15-day free trial) | | |
| | Best free translation plugin | | |
| Multilanguage by BestWebSoft | Offers a paid life-time license | $31/year or $320 for a lifetime license | |
| | Decent choice if you like something free but potentially unreliable | | |
Here are the best WordPress translation plugins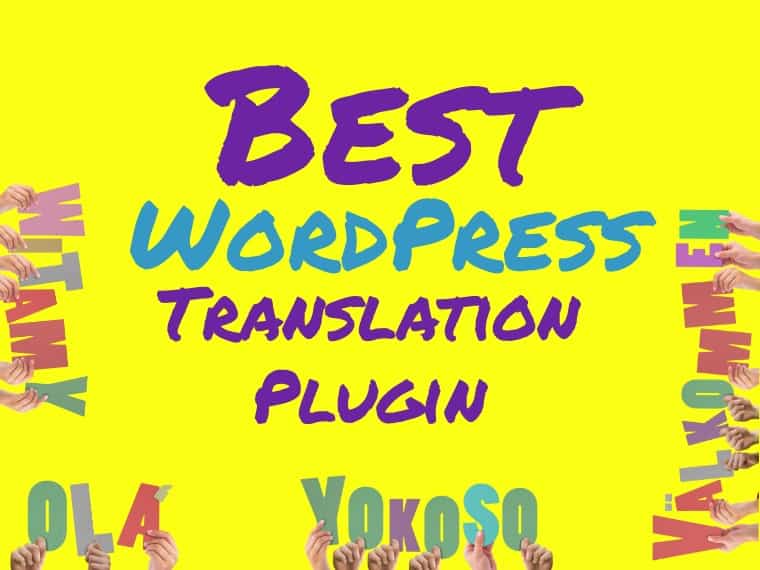 There's a whole out there to choose from, but these are among the best free and paid WordPress translation plugins available today:
Weglot
Google Website Translator by Prisna
WPGlobus
TranslatePress
WPML
Polylang
MultilingualPress
Lingotek
GTranslate
Loco Translate
Multilanguage by BestWebSoft
WP Multilang
1. Weglot (best WordPress translation plugin overall)
Weglot is arguably the best WordPress translation plugin available today. It was created by the Weglot Translate Team back in 2015 and has received favorable reviews ever since.
Upon activation, it'll leverage automatic machine translation to create a multilingual website in minutes without the need for code.
While the basic configurations are set via the WordPress dashboard, the actual translations are managed via Weglot's cloud-based dashboard. Here, you get access to a visual editor that'll show you a live preview of your site. It'll let you select the text you want to translate simply by clicking on it.
You also get access to translations lists. One column will display the original text and the other will display the translated text.
Another notable feature is integrated with the cloud-based dashboard. It allows you to outsource the translation work to professional translators for more accurate and reliable translation results.
Can be installed within 5 minutes.
Compatible with all CMS and website technologies.
Automatically detects and translates your site's content.
Supports team collaboration (have all your translators working directly via Weglot).
100+ language translations available.
Integration with Yoast SEO to help translate SEO titles and descriptions.
User-friendly.
Integration with Yoast SEO.
Supports both automatic and manual translations.
Connects you to professional translators via the dashboard.
Weglot has different subscription plans available with the cheapest starting at $9.90/month. If you like this product, we can get you 15% off with this coupon: STARTBLOG1520.


Our #1 Choice For Hosting Blogs
62% Off Exclusive Offer Applied at Checkout
2. Google Website Translator by Prisna (most simple translation plugin)
Google Website Translator by Prisna is a free product that allows you to create a multilingual site without having to become a super nerd. It's based on the Google Translate tool and handles the translation process automatically.
Setup is easy. Upon activation, all you need to do is specify your native language and the languages you want your content translated to. You then place the language selector as a widget in your sidebar. Alternatively, you can embed the selector within your pages and posts.
After placement of the selector, your visitors will be able to choose their language preference by clicking on their country's flag or from a drop-down list.
Google Website Translator by Prisna features
User-friendly interface that integrates with your dashboard.
Lightweight design that doesn't use or load unnecessary javascript and CSS files.
Offers all options the original Google Translate offers (other plugins utilizing this tool put restrictions).
Supports over 100 languages.
Google Website Translator by Prisna pros and cons
Translates content automatically.
Uses minimal server resources, which is good for SEO.
Free.
3. WPGlobus (has optional addons to extend plugin's functionality)
WPGlobus is quite a popular plugin with over 20,000 downloads at WP's repository. It's a free plugin that'll provide you with enough of the essentials to get started.
The free version allows you to manually translate your pages, posts, categories, tags, menus and widgets into the language(s) of your choice.
It's also compatible with Yoast SEO and All-in-One SEO, so you can use the multilingual functions offered by these plugins.
With this product, your users will be able to select their preferred language at the front-end of your website. You can decide to create this language switcher as a drop-down menu or a customizable widget.
Add language options as country flags and/or the actual names of each language.
Get free addons for enhanced functionality such as setting a featured image for each language.
Get premium addons that'll add multilingual features for WooCommerce-based sites and more.
Free customer support available via official support forum.
Email support available for paid users.
Decent free version available.
Allows you to add the extensions you need so it doesn't impact your site's performance.
4. TranslatePress (most user-friendly plugin)
TranslatePress offers a very user-friendly approach for creating a website the world can truly understand. It has over 80,000 active users and supports over 220 languages.
It's a tool that gives you control over the entire translation process. What makes it unique is that it allows you to translate your pages and posts from the frontend of your website.
You get to see the changes real time.
Automatic translations can be done via Google Translate and DeepL. It also allows you to handle the translations manually or hire a professional to get the job done.
You can also assign dedicated translator roles to any users of your site. This feature can limit their access to the backend for security purposes.
User-friendly interface.
Can generate SEO-friendly URLs for all languages.
No compatibility issues with other themes and plugins (according to their official website).
Customizable language switcher.
Automatically redirect users to their language preference based on their IP address.
TranslatePress pros and cons
Has all the features you need to create a multilingual site.
Makes it possible to handle a team of translators.
User-friendly translation approach with frontend translations.
TranslatePress' most affordable product currently starts at $89/year.
5. WPML (most "compatible" WordPress translator plugin)
WPML is the oldest and most trusted WordPress translator plugin today. It's used to translate posts, pages, custom types and basically any written text on your website.
It has excellent compatibility with any plugin or theme that uses the WordPress API. It even takes a step further by working with popular developers to ensure on-going compatibility as plugins/themes continue to receive updates.
Right out the box, it has over 40 languages. It also has a language editor that'll enable you to add your own language variants.
Like other good paid products on this list, WPML offers both automatic and manual text translations. It'll also connect you to professional human translators if you need it.
User-friendly interface.
Handles all multilingual SEO and works well with popular SEO plugins.
Customer support 6 days a week and 19 hours a day. Available in 9 different languages.
Offers 3 premium plans tailored for varying user needs.
Regular updates to ensure continuous compatibility.
Excellent customer support.
The most affordable plan requires an upfront payment of $29. A $21 account renewal fee will be charged annually.
6. Polylang (best for managing team of translators)
Polylang is very popular with over 500,000 active installations and near-perfect reviews at the WordPress repository. Like the other good WordPress translate plugins here, it'll enable you to translate any type of written content on your website.
It's a product that leverages WordPress' core functionality (instead of shortcodes) to operate, thereby reducing the load it places on your servers.
Its developers, WP SYNTEX, have designed it to integrate with your WordPress dashboard, so you can create a multilingual site without the need for logging into another cloud-based dashboard.
A standout feature is its user-friendly translation management system. It'll allow you to manage a team of translators (should you decide to go down this route) and oversee their work every step of the way.
Enables you to translate automatically or manually.
Write pages and posts as per usual, then define the language for each.
Use as many languages as you want.
Includes a language switcher that you can develop as a widget or navigation menu.
Compatible with most cache and SEO plugins.
Customer support (for paid version).
Wide array of features.
Offers a free version (with limited features).
Polylang has different plans starting at $112 per year.
7. MultilingualPress (most unique approach to creating a multilingual site)
MultilingualPress' approach to translating content is different from most WordPress multilingual plugins. Basically, it'll enable you to connect multiple websites wherein each is written in the language of your choice.
When visitors get to your site, they'll be able to select their preferred language via a language switcher. Upon selection, they'll be redirected to the site with the preferred language.
Because of the way it interconnects multiple websites, simply deactivating the plugin won't affect any of the translated versions. Despite this approach, MultilingualPress still enables you to work on or edit all translated versions from one screen.
MultilingualPress features
Powered by PHP7 for faster performance and lower memory consumption.
Use only the features you need to further enhance performance.
Translations trasher – when you delete a post, you can program it to automatically delete all corresponding translations.
Provides over 700 languages by default.
Generates SEO-friendly URLs.
Automatic Hreflang tags.
MultilingualPress pros and cons
Loaded with features.
Lightweight product that works efficiently (great for SEO).
MultilingualPress plans start at $199/year.
Lingotek is one of the most popular WordPress language plugins with over 30,000 active installations today. It's a free cloud-based translation management system that works in conjunction with the Polylang plugin.
This product offers 3 different ways to get your content translated. The first method involves automatic machine translation (free for up to 100,000 characters) using the Microsoft Translator tool.
Second, we have community translation, which involves hiring your own employees or getting community members to do the work for you.
The most effective (but most expensive) way is to hire one of Lingotek's professional translators. While this will cost you more, it's also the most reliable way to get your content translated correctly.
Customizable language switcher can be added via navigation menu or as a widget.
Translate any type of written content.
Use as many languages as you need.
Support for RTL language scripts.
Progress bar, which shows you how far translators have gotten in terms of completing the translation project.
plugin name pros and cons
Provides access to a growing network of over 5,000 professional translators.
User-friendly.
Free.
GTranslate was first launched in 2008 and has garnered 200,000+ downloads at the WordPress repository. The free version allows you to automatically translate your website using Google Translate. While it's easy to set up and use, it lacks the option to manually translate your site.
The paid version is a better choice as it enables you to manually translate your pages and posts yourself (or by hiring a professional). Getting the paid option also enables you to create SEO-friendly content for each of your translations.
Paying for this WordPress language plugin also makes it possible to get your translated content indexed (the free version doesn't).
This product uses a language switcher. Users will need to select their preferred language for this WordPress multilingual plugin to translate your site accordingly.
100+ languages available.
Language hosting – allows you to create a separate domain for each language.
Translate any type of content, including your URLs.
Usage statistics, which lets you view translation traffic from your dashboard.
Automatic software updates that don't require you to "click yes" for it to get installed.
Has a free version.
Offers a 15-day free trial for paid versions.
SEO-friendly.
GTranslate offers different subscription options starting as low as $79/year.
10. Loco Translate (best free translation plugin)
Loco Translate was developed by Tim Whitlock and has over 1,000,000 active users according to the WordPress repository. It's regularly updated and has received impressive reviews.
This free WordPress multiple language plugin allows you to translate your themes and plugins to your target language. Upon installation, it integrates nicely with your WordPress dashboard.
With its in-dashboard PO editor, you get to view original text (otherwise called strings) in one column and translate it into the target language in another column.
It should be noted that Loco Translate doesn't offer full content management like the other plugins on this list. But if your objective is to "localize" or translate your website to just one language, then it's still a good option.
Manually translate written content with simple 2-column interface.
Integrations with automatic translation APIs.
Provides support for Portable Object (PO) features (e.g. comments).
Customer support via official forum at WordPress repository.
Loco Translate pros and cons
Provides built-in translation editor within WordPress dashboard.
Allows you to create and update language files directly in your plugin or theme.
Free.
11. Multilanguage by BestWebSoft
Multilanguage by BestWebSoft is not as popular but has a free option with 8,000+ active installations and great reviews. It allows you to manually translate pages, posts and other written content on your website.
Upon activation, it'll give you support for 80+ languages along with the option to add more. Like other products on this list, it'll let your users better understand your content with the help of a language switcher.
This switcher can be placed in a navigation menu or in widgets. There are a language switcher customization layouts to choose from as well, including a drop-down list with language names and icons.
Multilanguage by BestWebSoft features
Compatible with WordPress' classic and block editors
Easy to set up and use (no need for code).
Display translation availability in your pages and posts.
Detailed documentation and user videos.
Automatically translate content based on the visitor's IP address.
Multilanguage by BestWebSoft Pros and Cons
Has a pretty decent free version.
Paid version is comparatively more affordable.
Mutlilanguage by BestWebSoft has different paid plans starting at $31/year. You can get a lifetime license for one website for $320.
WP Multilang is 100% free and let's you translate pages, posts, taxonomies, menus and more. It was developed by Valentyn Riaboshtan and has received 10,000+ downloads since.
While the plugin hasn't been updated in 7 months, there appears to be active customer support via their official support at the WordPress repository.
The compatibility of this product is a standout feature worth mentioning. Its developer created a list of which plugins it can work with, and these include popular plugins such as WooCommerce, Yoast, MailChimp, BuddyPress and Contact Form 7.
Translator roles (with limited admin permissions) available.
Can work with multisite installations.
Usage instructions available at the download page.
WP Multilang Pros and Cons
Free.
Active customer support at the official forum (last reply to a user concern was just a week ago).
Best WordPress membership plugin: key takeaways
The best translation plugin overall is Weglot.
The best free plugin is Loco Translate.
Automatic translations aren't as reliable as manually doing it with the help of a professional.
If you need translations for a WooCommerce-based site, WPGlobus is a decent option.
Compatibility is important to consider when selecting a site (WPML is good with ensuring ongoing compatibility).
WordPress language plugin FAQs