Last Updated on
Not all membership plugins are created equal. The best ones are packed with features that'll let you do everything from creating the actual system and managing your members.
Other features to look out for include the following:
Disclosure
As an independent review site, we get compensated if you purchase through the referral links or coupon codes on this page – at no additional cost to you.
Content dripping for gradually releasing new content to your subscribers.
Third-party integrations to email marketing software such as MailChimp.
Integrations to the payment portals that you'll use to receive subscription payments.
Expertly written code so it's compatible with your existing themes and plugins.
And much more.
As running a membership site with potentially thousands of members is resource intensive, it'd be a good idea to get a reliable web host that can handle the incoming traffic.
Bluehost, Siteground and Hostgator are pretty WordPress hosting solutions that won't get you into debt.
Having said that, below is a chart that summarizes what the best membership plugins are ideally used for and how much they'll cost you.
Be sure to keep reading after the chart as we'll take a closer look at the features, pros and cons of each product.
| Plugin Name | Biggest Strength | Price | Buy Now |
| --- | --- | --- | --- |
| | | | |
| | | | |
| | Best for WooCommerce sites | | |
| | Best for monetizing your membership system | | |
| | Its free version is the best | | |
| | Includes WordPress CMS tutorial videos | | |
| | Most affordable paid option | | |
| | Best for creating and selling online courses | | |
| | Wide array of third-party software integrations | | |
| | Integrates with 200+ payment portals | | |
| | | $29 regular license $199 extended license | |
Here are the best WordPress membership plugins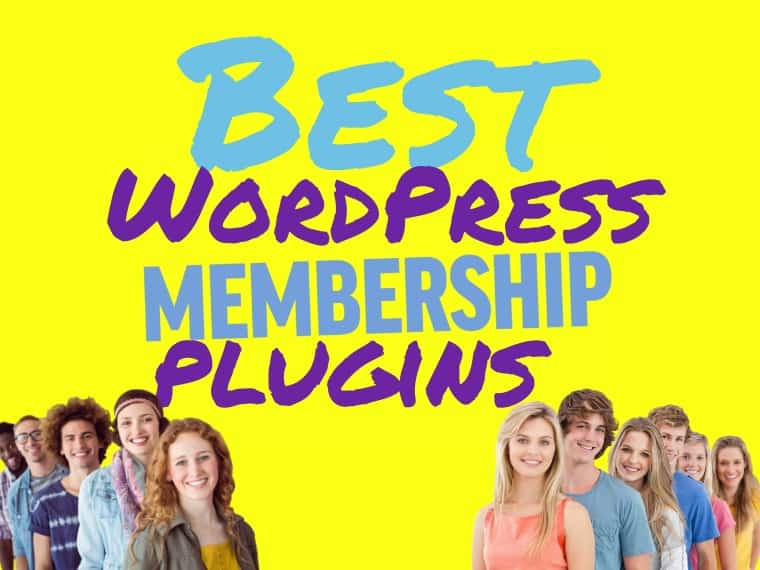 These are the best WordPress membership plugins currently available on the market. Keep in mind that the actual best one for you would depend on your actual needs. Do keep in mind that the price, features and compatibility of each plugin will vary.
MemberPress
Restrict Content Pro
WooCommerce Memberships
MemberMouse
S2Member
WishList Member
ARMember
LearnDash
Paid Memberships Pro
aMember Pro
Ultimate Membership Pro


Our #1 Choice For Hosting Blogs
62% Off Exclusive Offer Applied at Checkout
1. MemberPress (best WordPress membership plugin overall)
MemberPress is the best WordPress membership plugin on this list. It enables you to create a professional-looking membership system that integrates seamlessly with your website.
Upon installation it adds a number of user-friendly widgets to your WordPress dashboard. These widgets enable you to start building all that's needed to create your membership site. This includes building an unlimited number of subscription levels without the need for complicated coding.
MemberPress integrations & features
This product offers a lot of options for controlling user access to specific content based on the user's subscription type.
Content dripping is also a neat feature. It'll allow you to gradually release content to members over a specified period of time. Definitely a must-have in any membership-based website.
It has cleanly written code that gives it excellent compatibility with WordPress and other essential third-party products like MailChimp and bbPress.
It supports payment portals such as PayPal and Stripe and makes the task of integrating both easy. There's also an option to give registered members administrative control over their membership accounts.
In other words, they'll be able to do everything from purchasing their subscription to cancelling their membership altogether.
Other features:
Affiliate Royale Plugin is included for creating an affiliate program for your products.
Easily create pricing tables and coupons for all your products.
Integration with popular forum plugins so you can create and moderate your own forum.
Customization options including elegant pre-built templates.
Detailed reports that include only things you need to know (like which products are selling the most).
One of the easiest products to use: simply install, then add products and payment portals.
Online user manual that shows important stuff like how to use this product and when/how cookies are used.
MemberPress pros and cons
Compatible with most themes and plugins.
User-friendly interface.
Excellent customer support.
MemberPress currently has plans starting at $149/year.
2. Restrict Content Pro (most simple membership plugin)
Restrict Content Pro is the most simple membership plugin on the list, but don't let that fool you into thinking it can't create a profitable member's only community.
As a matter of fact, it's been reviewed by reputable businesses like WPBeginner and Kinsta and have a place in their best membership plugin lists.
Restrict Content Pro can be used to generate discount codes. It also has quite a few built-in integrations with major payment gateways such as PayPal, Stripe and Authorize.net.
This lightweight plugin also works well with Easy Digital Downloads. This is a plus if you're already using (or intend to use) it for selling digital content.
Like other products, you can create an unlimited number of subscription packages for your members to choose from. This includes free, trial and premium packages. You'll also get to restrict access to content based on membership types and roles.
Restrict Content Pro integrations & features
Easy installation and user-friendly interface.
Data export for creating CSVs of all members and every payment made.
Detailed reports for monitoring your membership site's performance.
Integration with forum plugins such as bbPress.
Email marketing integrations for Mailchimp, Convertkit, Aweber and more.
Enable your users to self-register and manage their accounts (saves you from the hassle of handling the administrative work yourself).
Extensive documentation so you'll get a better idea on how to use it.
Customer support (they reply via email) if the documentation isn't clear enough or if something goes wrong.
Restrict Content Pro pros and cons
Has clean coding written by a reputable developer.
Excellent integration with WordPress user interface.
Developer-friendly product.
Restrict Content Pro is currently offering plans starting at $99/year.
3. WooCommerce Memberships (best WooCommerce membership plugin)
WooCommerce integrations & features
WooCommerce Memberships allows you to create a membership system that has excellent integration with your WooCommerce store. It'll allow you to reserve access to content or products for registered or paying members.
This product offers multiple ways for you to make more money with your WooCommerce-based store. You could sell it as a standalone product wherein customers can only buy your merchandise if they're members.
Or, you could set it up in a way that gives members exclusive expedited shipping (thereby incentivizing visitors to sign up as members).
One of the biggest downsides of this product is it'll only take one-time payments. In order to accept recurring payments, you'll need to purchase WooCommerce Subscriptions for an extra $199/year.
Other features:
Drip content gradually vs giving them access to everything all at once.
Easy member account management for both admin and users.
Export member info to email marketing tools.
Numerous payment gateway options (as you can use any WooCommerce gateway).
Access to the WooCommerce extension repository.
WooCommerce Memberships pros and cons
Serves as an excellent membership system to WooCommerce-based websites.
Access to WooCommerce extensions.
WooCommerce Memberships can be purchased for $199/year.


Our #1 Choice For Hosting Blogs
62% Off Exclusive Offer Applied at Checkout
4. MemberMouse (best WordPress paid membership plugin)
MemberMouse is the best WordPress paid membership plugin on this list. It's a feature-packed plugin that allows you to sell memberships and products without the need for advanced coding skills. It's a great product that allows you to control which type of members get access to certain pages and posts on your site.
This plugin is arguably the best for (gently) squeezing money out of your customers. You won't come across as overly assertive while doing so as you'll just be presenting the upsells. It'll be up to them to choose the ones they want.
You can customize your checkout page with 1-click upsells, which makes it easier for your customers to get "add-ons" and increase their total bill.
Installation for this product will only take 2 minutes. It also has a simple yet attractive user interface, which makes it ideal for first-time users.
MemberMouse integrations & features
Push notifications for significant events such as when a product is sold or when rebilling a member fails.
Content dripping for gradually releasing content to your beloved paying users.
Detailed reporting that includes data such as total number of members, average retention duration and product sales.
Input 8 payment gateways, including PayPal and Stripe.
Integration with 4 email marketing services including MailChimp.
Pricing A/B split testing so you can see which pricing strategies bring in the most money.
Compatible with any affiliate network.
Content widget for displaying announcements or upcoming content for members.
Automatic overdue payment handling wherien 3 failed billing attempts prompt a restriction to member's access rights.
SmartTags that allows you to dynamically display content, member attributes, offers and more with the help of shortcodes.
MemberMouse pros and cons
Offers a ton of features.
Developers can modify its core functionality.
Excellent customer support.
Pricing plans start at $19.95/month for hosting up to 1,000 members. The bill goes up as you recruit more members.
5. S2Member (best free WordPress membership plugin)
S2Member holds the title for the best free WordPress membership plugin. Starting off with its unpaid version would be a good idea for helping you determine if it's the right one for you before making the decision to upgrade to the more feature-packed paid version.
This product will allow you to create a variety of membership levels with their own corresponding access to content rights. You can completely restrict free users' access to content to encourage visitors to sign up.
This product integrates the must-have services that a good membership site should have. It supports forum plugins like bbPress and email marketing services such as Aweber.
S2Member also supports coupon codes and integration with major payment portals (PayPal, Stripe and Authorize.net).
S2Member integrations & features
Keep your members tuned in with its user-friendly drip content feature.
Allow both free and paying users to register.
Take on an unlimited number of members.
Customize transactional emails (e.g. signup confirmation email received by new members).
Email-based support and extensive documentation.
No yearly subscription fees.
A free version is available and should work well for those getting started.
S2Member has a paid version and is available for as low as $89.
WishList Member is one of the best membership plugins for WordPress. This product allows you to transform any WordPress site into the membership business you need easily and quickly.
Like the other products here, it'll allow you to create and manage member subscriptions without having to be tech savvy. It also makes it comparatively easier to control what types of members can access specific content.
There's also a neat "sneak peek" feature that lets you show non-members a portion of a post or page. This is a great strategy for baiting the cheapos to part with their money.
Wishlist Member integrations & features
Create free, trial and paid memberships for your visitors.
Integrates with many payment portals including PayPal, Stripe and Infusionsoft.
Accept one-time and recurring payments.
Protect content from non-members with a single click.
Integrates with popular email service providers such as GetResponse and iContact.
Integrates with other third-party service providers like LearnDash, GoToWebinar, iDev Affiliate and more.
Automatically drip content and even upgrade membership levels after a set period of time.
Intuitive dashboard that shows total members, active members, membership levels and more.
Purchase comes with extras such as step-by-step new user tutorials and a video-training course for using the WordPress content management system.
Customer support.
Wishlist Member pros and cons
Extensive content and membership control and tracking features.
Free training modules included with plans.
Over 100,000 active users (good indicator that it's a great product).
Payment plans for WishList Member starts at $147/year.
7. ARMember (most affordable paid option)
ARMember is an affordable yet efficient membership system for your website. What makes this a good choice is its easy-to-use setup wizard, which simplifies the creation of different membership plans.
This product also has the unique option to sell membership plans as actual products via WooCommerce. This brings the added benefit of access to WooCommerce's wide array of payment portals.
With ARMember you get to create an unlimited number of membership levels and set what benefits or access rights are associated with each level. It'll even allow your customers to avail multiple memberships simultaneously (something that other plugins here can't do).
It also comes with a built-in advanced form builder that lets you build basic forms for your website. You can create an unlimited number of somewhat stylish-looking forms with the help of a drag and drop field builder, preset themes and other customization options.
ARMember integrations & features
Create and manage a membership system without advanced technical knowledge.
Create different billing options for users (e.g. monthly or quarterly).
Keep your members engaged with the help of content dripping.
Customize member profiles with premade templates and other customization features.
Supports 8 different email optin integrations.
Give your members special discounts using the coupon generator.
Integration with other third-party service providers such as ARPrice, bbPress and BuddyPress.
Other free and paid add-ons such as ActiveCampaign and ARMember Affiliate are available through their website.
It even has a few security features as well:
Brute force login protection to prevent spam bots from breaking into the backend of your site.
Automatically lock shared accounts (don't let the penny-pinchers game your system).
Ban specified IPs and URLs.
And more.
Feature-rich product.
User-friendly interface.
Base product is affordable.
Added security features.
No annual subscription fees.
ARMember is currently selling for $49.
8. LearnDash - best for creating and selling online courses
LearnDash is a learning management system (LMS) plugin that allows you to create and sell courses online. It made it on this list since there are many webmasters who use their membership sites mainly to sell their digital courses.
It has a powerful drag and drop builder, which makes it easy to put together engaging courses without the need for advanced technical knowledge. You can also use it to control user access to specific content based on membership type.
You can also drip feed content to your students as they progress to the classes they're taking. Or you can release content based on a time schedule. The choice is yours.
This product is very popular and used by Fortune 500 companies everywhere. It has excellent integration with over 300+ payment portals (including PayPal and Stripe) and popular email marketing software (like MailChimp and Aweber).
LearnDash integrations & features
Create an unlimited number of courses, quizzes, certificates and more.
Monitor and manage student profiles.
Allow students to access and manage their own profiles.
Create a limited-access forum for specific courses.
Integration with many third-party plugins such as bbPress, WooCommerce and SamCart.
Charge students one-time or recurring fees
Responsive design so your courses look good across different mobile devices.
Excellent customer support.
Hundreds of payment gateway integrations.
Advanced LMS functions.
Excellent choice for anyone looking to create and sell courses online.
LearnDash has different yearly subscription plans starting at $159/year.
*On a side note, we're currently using this plugin to create and develop a free blogging course that'll be released soon. 🙂
9. Paid Memberships Pro - has a wide array of integrations
Paid Memberships Pro is another product that enables you to monetize your site with a highly-functional membership site. It'll allow you to create unlimited membership levels and offer flexible pricing options.
It has a free version that's actually pretty decent in terms of functionality. This one will give you access to 19 free addons, including Aweber, WooCommerce, bbPress and MailChimp.
On top of that, the free version gives you access to 6 popular payment portals, including PayPal and Stripe. The paid version is a bit pricey but gives you access to 65 addons (e.g. integrations with Slack and WP Affiliate Platform) and customer service via support tickets.
Paid Memberships Pro integrations & features
Restrict non-member access to specified content.
Gradually release content via content dripping.
Members can manage their own accounts (upgrade/downgrade/cancel subscriptions).
Install addons/updates with a click.
Create private communities using a forum plugin like bbPress.
Pro version:
Over 65 addons available at their official website.
Unlimited support tickets.
1-Click addon installs/updates.
30-day free trial for paid versions.
Much more.
Paid Memberships Pro pros and cons
Has a functional free version with decent addons.
Premium version gives access to $3,000+ worth of addons.
Cheapest paid version gives license to use in 5 websites.
aMember Pro offers the essentials for creating a functional WordPress membership site. It's important to note that this product isn't native to WordPress.
While this could potentially cause compatibility issues, the product does offer a free and a 30-day money back guarantee. This presents a wonderful opportunity to give it a go and install something else if it doesn't work out.
Nevertheless, aMember Pro has integrations with email autoresponders, CMS, forums and other programs that should ideally create the type of website you need.
Moreover, this product isn't an online service. It's basically a PHP script you download and install on your own server.
aMember Pro integrations & features
Create unlimited membership levels.
Accept one-time and subscription memberships fees via 200+ payment portals.
Integration with popular email marketing services such as Aweber
Create and run your own affiliate program.
Built-in helpdesk.
Coupon generator for encouraging customers to spend more than they would otherwise.
Content dripping so you can set when content is made available to members.
6 different languages for the backend and frontend of your website.
Free customer support for the first 6 months.
aMember Pro pros and cons
Affordable (compared to the other plugins on this list).
No recurring fees.
30-day risk free trial available.
aMember Pro is currently available for a one-time payment of $149.36
11. Ultimate Membership Pro
Ultimate Membership Pro is another decent option for monetizing your website's content while minimizing your overhead. It has over 22,695 downloads (as of today) and excellent reviews at CodeCanyon.net.
This product gives you the essentials. This includes creating unlimited membership levels and preventing non-members from accessing specific or all content.
A standout feature is the fact that it allows users to login via 7 social media platforms such as Facebook, Instagram and Linkedin. It also comes with 5 predefined social media button layouts.
Moreover, it has security login protection to help prevent the all-too-common brute force attacks.
Ultimate Membership Pro integrations & features
Integration with 11 payment gateways, including PayPal and Stripe.
Allows you to accept one-time and recurring payments.
Set up free trials to help convince visitors to pay for an actual subscription.
Dashboard statistics that show important information like user activity and current subscription status.
Sell subscriptions via the WooCommerce platform.
Integration with 10 different email marketing platforms including MailPoet and iContact.
Drip content to slowly release new stuff to your paying members.
6 months free customer support.
35 addons including BuddyPress and Cheat Off.
Ultimate Membership Pro pros and cons
Lots of features, integrations and addons.
$29 regular license and $199 for an extended license
Best WordPress membership plugin: key takeaways
You'll need to consider the type of membership site you want to build when deciding which plugin to use.
Consider each product's integrations if you intend to use it with different third-party services.
Availing a free trial (if possible) is a great way to test the product's compatibility before making a purchase.
LearnDash is the best choice for creating and selling online courses.
MemberPress is the finest option overall for building a membership site.
S2Member has a decent free version that'll help you get started.
ARMember is the most affordable paid option and won't charge you any recurring fees.
WordPress membership site FAQs