Last Updated on
WordPress was released 17 years ago; since then it became the most popular CMS for building websites. A good deal of that popularity stems from a combination of a plugin architecture and a template system. Templates make it easy for people to create websites, while plugins give those websites flexibility.
Choosing WordPress for your website is an easy choice to make, and usually a good one. You can use WordPress for free, but the free plan lacks lots of features. In addition to the lack of features, the free plan comes with WordPress.com ads most website owners want to avoid.
Disclosure
As an independent review site, we get compensated if you purchase through the referral links or coupon codes on this page – at no additional cost to you.
This brings us to some tougher questions. WordPress personal or premium? WordPress Business or eCommerce? Which WordPress plan should you choose?
The pricing for WordPress plans are as follows:
Personal: $4 per month (paid yearly)
Premium: $8 per month (paid yearly)
Business: $25 per month (paid yearly)
eCommerce: $45 per month (paid yearly)
WordPress pricing comparison table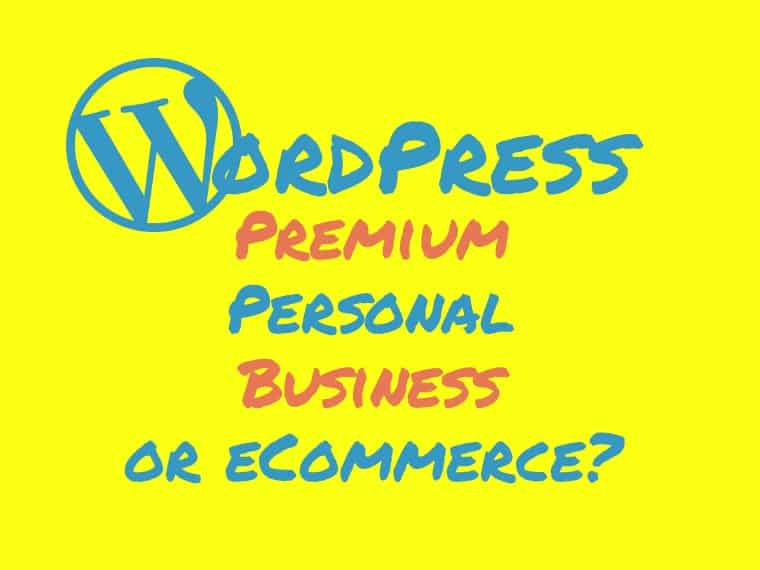 WordPress Personal Plan Price: $4/mo

WordPress Premium Plan Price: $8/mo

WordPress Business Plan Price: $25/mo

WordPress eCommerce Price: $45/mo

6 GB storage
Jetpack essential features
Pre-installed SSL certificate
Free domain for one year
Email & basic live chat support
Remove WordPress.com ads
Free WordPress themes
Recurring payments

In addition to all features from WordPress Personal Plan, you get:

13 GB storage
Unlimited premium themes
Advanced design customization
Simple payments
WordAds
Advanced social media
VideoPress Support
Google Analytics integration

In addition to all features from WordPress Premium Plan, you get:

200 GB storage
Priority 24/7 live chat support
SEO Tools
Personalized help
Install plugins
Upload themes
Remove WordPress.com branding
Automated backup & one-click restore
SFTP and database access

In addition to all features from WordPress Business Plan, you get:

Payment processing in 60+ countries
Integrations with top shipping carriers
Unlimited products and services
eCommerce marketing tools
Premium customizable starter themes
WordPress Personal plan review
WordPress Personal plan doesn't come with many features, so there isn't much to talk about in our WordPress personal plan review. The plan comes with only the most basic WordPress functionality. You will get Jetpack Essential features. Those include protection from spam, access to records of all activity on your website, and automated social media sharing.
Other than that, you get a pre-installed SSL certificate, free domain for one year, some free themes, and access to WordPress customer support.
However, the main reason you will have to upgrade from WordPress Free plan to WordPress Personal plan because the plan removes WodPress.com Ads from your website. For only $4 per month, WordPress Personal plan is a good deal for anyone who wants to create a small website with basic functionality.
WordPress Premium plan review
WordPress Premium plan is a plan designed for people who want to get most out of WordPress design tools but don't need huge storage and SEO tools (more on those in WordPress business plan review).
The plan comes with access to all WordPress premium templates and advanced design customization. The latter lets you customize themes with extended color schemes and background designs. The most important thing is that you get complete control over website CSS.
WordPress Premium hosting is a plan that lets you monetize your website. You can add a PayPal button on your website that lets you easily sell stuff. You can also add WordAds to your website if you want to earn money from advertisements.
A combination of the Google Analytics integration and the Advanced Social Media feature can help you understand your visitors better and make the most out of that information. The Advanced Social Media isn't really that advanced. It just lets you schedule your social media posts and preview them before posting, but it is still a nice feature to have.
WordPress Premium plan has a great proportion of price and features it comes with. In my opinion, it is the best buy WordPress plan.


Our #1 Choice For Hosting Blogs
62% Off Exclusive Offer Applied at Checkout
WordPress Personal vs Premium plan
Both WordPress Personal and WordPress Premium plans have a certain appeal to them. The WordPress Personal vs Premium choice boils down to the type of website you need. If you are creating a website for a closed group of people, you should settle with WordPress Personal. For any other kind of website, you will want to upgrade to WordPress Premium.
Integration of Google Analytics and additional customization are tools you will need for attracting a bigger audience to your website. In the WordPress premium plan review, I mentioned that you will get access to WordAds and the PayPal button. This means that if you want to sell anything on your website you will have to upgrade at least to the Premium plan. It comes at double the price of WordPress Personal, but the features it comes with are worth the difference.
The difference will be apparent on the front end of your website, as well as on the backend. A dazzling website you can create with advanced design customization and VideoPress support wouldn't be possible with the WordPress Personal plan. When comparing WordPress premium vs personal, I would recommend almost anyone to go for premium.
WordPress Business plan review
WordPress Business plan comes with everything that is included in previous plans but comes with a huge increase in storage space you will have available – 200 GB. Other than that, you will get access to 24/7 priority live chat support, SEO tools, and some cool business-class features.
The first feature that catches the eye among business class features is the possibility to install plugins. This option makes a huge difference in functionality you can add to your website. You also get SFTP and database access, so you can upload custom themes and plugins directly to your website and manage your database.
If you mess up your website while playing with all this added functionality, you will be able to restore the website to a previous version with one click.
WordPress Premium vs Business plan
The WordPress premium vs business choice comes to the amount of customization you want to have. WordPress Business plan brings upgrades to the functionality of your website proportional to the design customization brought by the WordPress Premium hosting plan.
WordPress Premium simply can't compare to what you can do with access to plugins, SFTP, and the database. That being said, if you don't intend to use any of those, you should stick to WordPress Premium. Although you will miss out on SEO tools and automated backups, the price difference is significant.
In conclusion, the WordPress business vs premium choice comes down to one thing. If, in addition to dazzling looks, you want a powerful website, WordPress Business will add the Beast to the Beauty created with WordPress Premium.
WordPress eCommerce plan review
You wouldn't create a brick and mortar store with just a cashier. You would want show-windows, a variety of shelves for different products, shopping carts, a warehouse, etc. In the same way, you don't want to create an online store with just a PayPal buy button. That is where the WordPress eCommerce plan comes in.
With the WordPress eCommerce plan, you get to add an unlimited amount of products and services to your store. You can then use email and social integrations to create an excellent marketing campaign to bring in customers.
Once they decide to buy some of your products, you can accept payments from all around the world with built-in payment processing from providers like Stripe and PayPal. If your products are physical and you need to ship them, you can see live rates from leading shipping carriers.
The WordPress eCommerce plan comes with all the essential tools you need to create an online store. You can upgrade those with plugins to make up for any missing functionality. The conclusion of the WordPress eCommerce plan review is: if you are going to create an online store, you will need a WordPress eCommerce plan.
WordPress eCommerce transaction fees
WordPress itself doesn't charge any transaction fees. Your transaction fees will depend on the specific payment processor you decide to use. Some of the examples are PayPal and Stripe. Transaction fees with those payment processors will also depend on various factors. The two most common ones are the country/region and whether the payment is domestic or international.
WordPress Business vs eCommerce plan
The choice between these two is a no-brainer. If you want all the features of WordPress, but don't want to create an online store, you should stick to WordPress Business. If you want an online store, you should choose the eCommerce plan.
Yes, you can sell stuff with the PayPal buy button with the Business plan, but the tools you get with the eCommerce plan will easily make up for the difference in price by helping you generate more revenue.
The only other difference between the two plans is in Premium the customizable starter themes you get, but by themselves, they are not worth the price difference. So, when making a WordPress Business vs eCommerce plan choice, the only question you should ask yourself is, "Will I need an online store?"
WordPress vs other platforms & competitors
WordPress is great for building websites, but it is not the best in everything and for everyone. If you don't think WordPress is a good option for you, there are other platforms out there. Here is a table you can use as a reference to compare the pricing of WordPress with other platforms you could use:
| Company | Plan 1 | Plan 2 | Plan 3 | Plan 4 | Official site |
| --- | --- | --- | --- | --- | --- |
| | | | | | |
| | | | | | |
| | | | | | |
| | | | | | |
| | | | | $299.29 (Advanced Shopify) | |
| | | | | | |
| | | | | | |
| | | | | | |
| | | | | $? (Custom pricing available) | |
| | | | | | |
| | $22.74 (PrestaShop Ready) | | | | |
| | $0 (Free but has transaction fees) | $0 (Free but has transaction fees) | $0 (Free but has transaction fees) | $0 (Free but has transaction fees) | |
WordPress student discount price
WordPress has a 50% student discount that is available to full-time students in the United States. The discount is easy to claim by registering with Student Beans to verify that you are a student.
If you are a student outside of the United States, or if you are not a full-time student, unfortunately, you won't be able to use this discount.
WordPress nonprofit discount
WordPress offers no discount for nonprofits. However, some of the plugins you might want to use with your WordPress website offer discounts for non-profit organizations. You should check the availability of discounts for each plugin you decide to install.
WordPress eCommerce vs Business vs Premium vs Personal: the key takeaways
You can use WordPress for free, but it will come with WordPress.com ads
WordPress Premium is the best buy WordPress plan
WordPress Personal is good for simple websites that just want to remove WordPress.com ads
WordPress eCommerce is necessary for online stores
WordPress Business has all the tools you will need unless you want to create an online store
eCommerce functionality is the only important factor in the WordPress eCommerce vs business choice


Our #1 Choice For Hosting Blogs
62% Off Exclusive Offer Applied at Checkout