Last Updated on
Okay, you're starting to think you could handle this blogging thing. You've got a lot of great ideas for your blog, and you're ready to buy yourself a domain name for your blog, but there's something holding you back…
You don't yet know what the difference is between web hosting vs domain registration. This seems like such a basic question that you don't want to ask someone and have them think you're dumb, but the Internet isn't your area of expertise!
Disclosure
As an independent review site, we get compensated if you purchase through the referral links or coupon codes on this page – at no additional cost to you.
That's where I come in to save the day. Not knowing how domain name registration works doesn't make you dumb. Everyone has to start somewhere, and everyone had to ask that question when they first started looking into the Internet. It's your turn to learn now!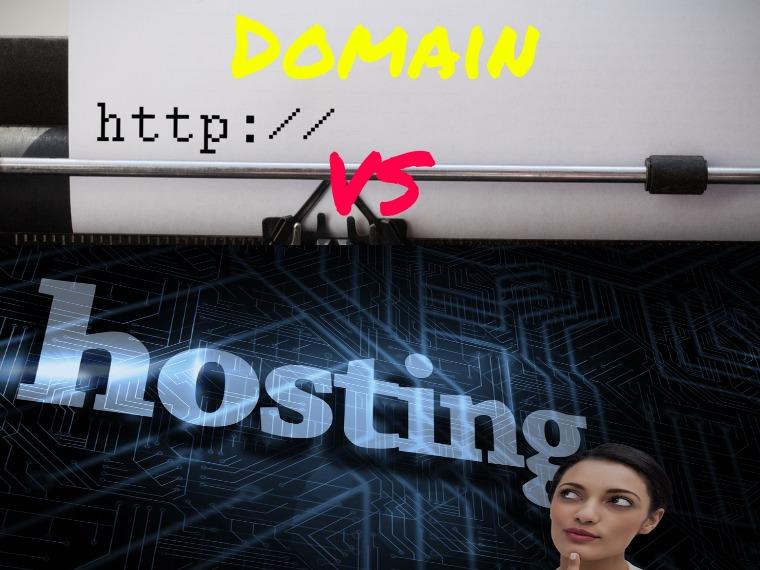 The difference when it comes to buying a web hosting vs a domain name is straightforward. Web hosting is the storage location where you will keep all your website content and the domain name is just the address (the browser's URL) to access those files.
Most of the time, beginners get confused with the definitions of both these terms, and they don't know their primary purpose. They always come together as a package to publish a website, even though they are entirely different things. Just to get a clearer idea of what is the difference of a domain versus web hosting, you should try to imagine the process as a house, where the main building is the web server where all the files are stored, and the address is your domain's name.
Before you can start working on your new website, your first step should be choosing a name and registering it with a domain registrar company. Just like the previous example with the house, first, you need to buy the property, then build your house (server files). Most domain registrars offer domains for a minimum period of 1 year, and you have to renew before it expires.
On the other hand, web hosting is responsible for connecting your URL address with the files on your server. Most companies offer both services as a package, but you can buy them separately from different companies if you want.
Let's go into details about both services to better understand the what the differences between domain names and web hosting are.
A domain name is an address where Internet users can access your website. The domain name is the primary computer identification on the Internet. In other words, computers use IP addresses, which are different numbers separated with dots. However, it is hard for humans to remember strings of numbers, which is where the domain name comes to save the day. Domain names are used for identifying entities on the Internet without using the IP addresses.
A name can be created by a combination of letters and numbers with different domain name extensions, such as .com, .org, .net, and more.
Every domain name is unique, and there are no two or more of the same domain names available on the Internet. It is necessary to register your domain first in order to use it, and when you buy your domain name, it is essential to note that it is not permanently yours. You must renew it at a minimum rate of one year in most cases.
Web hosting is where you will store all your files on your live website. As we mentioned before, an excellent way to think about it is if the web hosting is the actual house where you keep all your furniture (files) that the address (domain name) points to.
All computers communicate with IP addresses, and when some user types your domain name into their browser, it gets translated into the IP address of the computer that hosts your site. Once they access your domain name, the server where you have all your website files sends those files back to the users' browser.
When it comes to choosing your provider, many different hosting companies specialize in storing and serving websites. You have to pay attention to the hosting plan you would choose just because they all have different specifications, and you must find the one that will suit your needs.
Domain host vs web host: Are they the same?
When we compare a domain host vs web host, it is crucial to understand that they are two different things. Even though they are connected and must work together in order to display a website, they perform various procedures.
To have a better understanding of the difference between domain and hosting, think of a domain name as your phone number and a website as your phone. You can change your phone (website) any time and still connect it to the same phone number (domain name) or the other way around.
A domain host provides an online address displayed as a domain name, e.g., www.yourdomain.com, where visitors can access it. As we mentioned earlier, each domain name is unique, so this means that you must register your domain before you can use it. There are many different domain registers to choose from, and they all provide similar services.
A web host is a server space specifically for storing files from your website. All the text, images, and files will be stored and displayed to users once they access your site through your domain name.
The domain host and web host are directly connected to one another and cannot work separately.
If I buy a domain name, do I need hosting?
Once you buy your domain name, it is necessary to choose a hosting provider. Owning a domain name is useless on its own if you want to build a website. You will have to close the circle by buying a hosting (server space) in order to store all the necessary files that are required for adequately displaying your website.
If we go back to the previous example with the house as the hosting server and the domain as the address, you will understand that you cannot do anything if you only have the address (domain name). That is the main difference when it comes to domain vs web hosting. There are many different hosting plans available, and they all have different specifications and performance.
Choosing the right hosting provider should be your top priority since it will have the most significant implications on your website.
Since the cybercrime is continuously rising, it is crucial to choose the best hosting provider in order to avoid security problems and data breaches on your website. However, security is just the start of the many issues that can occur by choosing the wrong host for your website.
There are a few key points to look out for when you are choosing your hosts, such as server performance, price, customer service, tech specifications/limitations, usability (interface), etc.
Obviously, there is no perfect choice when it comes to choosing your host, and you have to select the option that will suit your specific needs after weighing the pros and cons.
Domain hosting vs web hosting differences
If you want to create and publish your website, first of all, you'll need your domain name (Internet address) and web hosting to display your website to users. The difference between domain hosting and web hosting is very straightforward.
Once you start your website-building journey, you will need to find your domain name registrar. In most cases, domain name registrars also offer web hosting, so you can get both things from the same provider if you like.
There are many different domain name combinations, and you have to find the one that is available and suits your needs. Once you buy your domain name, you own it for at least 1 year, and there is nothing much that you can do with it since it is only an online address.
When it comes to web hosting, it is an entirely different story. Once you buy your hosting, you are basically renting out computer (server) space for you to store your website files. To display those files, you need a specific address (domain name).
That is the big difference between domain hosting vs web hosting. With the web hosting, you design, edit, and upload content for your website, and with the domain, you just channel that information directly to users who are trying to access it (via your URL).
Web hosting vs domain registration
As we mentioned earlier, each domain name is unique and has to pass the process of registration before you can use it. Domain registration is how you buy your domain name, which will represent your website. The URL at the top of the page is the domain name that people will type in their web browsers in order to access your site.
Another term for domain registration is purchasing or buying the domain. It does not make any difference since they all do the same thing.
You must purchase your domain from a domain registrar or a company authorized to register domain names for you. Basically, they will buy the domain names and resell them to you. When you are purchasing your domain name, you need to present some relevant information about yourself, and it is essential to know that that information will be public for everyone unless your domain registrar has the option to hide it for you.
It is also important to note that you cannot buy a domain name permanently. It has to be renewed after the period of ownership ends. After you purchase your domain name, you don't get much else, which means that if you'd like a personal email or website, you need to have a host connected to your domain using nameservers.
On the other hand, web hosting is a different process than domain registration. Depending on the type of host you want to get, there are different specifications you need to pay attention to. It doesn't matter if you choose different companies for your domain registration and web hosting, because you can easily connect them using nameservers provided by your hosting provider.
Choosing a hosting plan is based on your needs. Most new website owners decide to go for shared hosting, which is one server shared between different websites at once. This means that your website performance will be affected by other sites, but it is the obvious option, especially when you do not have a lot of traffic to your website.
There are also different and more expensive options like a Virtual Private Server (VPS), a dedicated server, cloud hosting, and more. All of the hosting providers offer their services for a monthly fee depending on the type of host you choose and the price will drop if you choose a longer initial term.
The required steps for the process to go smoothly when it comes to domain vs hosting registration are different, but it is necessary to finish them the right way in order to establish the required connection.
Should I get the domain and hosting from the same place?
You can purchase each from different places in order to get a better deal, and many argue (rightfully) that getting a domain name and web hosting separately is best, but it may better to keep domain registration and hosting together for people who are new to this all. For starters, it is a much simpler option, and you can avoid the hassle of managing different accounts, which will save time.
Separate companies can also make things more difficult for domain name server (DNS) connection and renewal, and you have to follow guides to complete the process without any trouble. Another benefit of getting and keeping your domain and hosting from the same place is to build customer loyalty as many of the hosting providers offer free domain registration or SSL certificates upon registration or renewal.
Advantages of keeping them separate:
Better pricing
Better deals
Flexibility
Disadvantages of keeping them separate:
More complex tasks to follow
More expensive for short-term contracts
Possibility of running into problems with the different companies
However, there is no issue for separating your domain name from your hosting provider. You will have the chance to get a better deal on a domain or hosting and participate in Monopoly restriction where one company becomes so powerful that it starts to abuse the rights of the people.
Advantages of keeping them together:
Simple and easy to track everything
Loyalty rewards, discounts, and specials
No extra configuration needed
Better support for all things from one company
Disadvantages of keeping them together:
Harder to transfer everything to the new company if not satisfied
Renewal plans will become more expensive
Either option is good, and it is really up to you. If you don't mind managing different accounts, you can go for separate domain and hosting, and if you like to keep things simple, you should buy them from the same company.
Where do I get a domain or hosting?
The process for choosing the right company for your domain and hosting services sometimes can be overwhelming. They offer different services, making it harder to know which option is better value for money. Choosing a reliable and well-established domain provider and hosting are very important for the future of your website, which is why you need to do a lot of research before you make a decision.
However, some well-established companies offer exceptional services that will satisfy your needs.
If you like to purchase your domain and host from the same company, HostGator is a good way to go. They offer a variety of features that will satisfy your needs, a great support team that is available 24/7, and competitive prices. To register your domain and host on HostGator, you can use the coupon code "startblog", which will give you a free domain name and a special price on the hosting services.
They also have a related article on what a domain vs website vs hosting is that you should check out.
GreenGeeks is also a contender if you decide to buy your domain and host together, because they are reliable, offer great features, a good support system, and coupon deals so you can manage all things without breaking a sweat. On top of this, they are trying to save the planet with green hosting if that's a concern for you.
However, if you want to get your domain and hosting separate, you should go with NameCheap as your domain registrar and HostGator or GreenGeeks for your hosting services. This way, you will get the best value for money for your hosting and great tools for managing your domains at NameCheap.
Difference between domain and hosting: conclusion
The simplest metaphor for this relationship is that your domain name is your street address and your web host the ground it is build on. People use your address to come visit your house, and the actual website is the decorating and furniture that you've put inside your house.
To send your website live, you need to register your domain, and once this is done, find a web host. They will allow you to access their servers to store your website and email so that others can browse to your site and visit.
If you're new to websites, I would recommend finding a domain and hosting package, preferably one that has a free domain thrown into the deal. We have a special deal with HostGator that provides just this for our readers at the button below.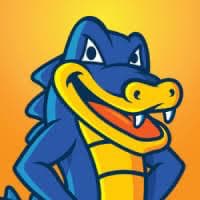 Our #1 web hosting pick:
Get top rated hosting for as little as
$2.64 per Month