Last Updated on
Planning to learn how to host a website?
Congratulations!
Disclosure
As an independent review site, we get compensated if you purchase through the referral links or coupon codes on this page – at no additional cost to you.
We have scouted around for all the details you need to make this a success, and by the time you reach the end of this article, you will have gathered everything you need to know about how to create a website, even if you feel like a freshman at this.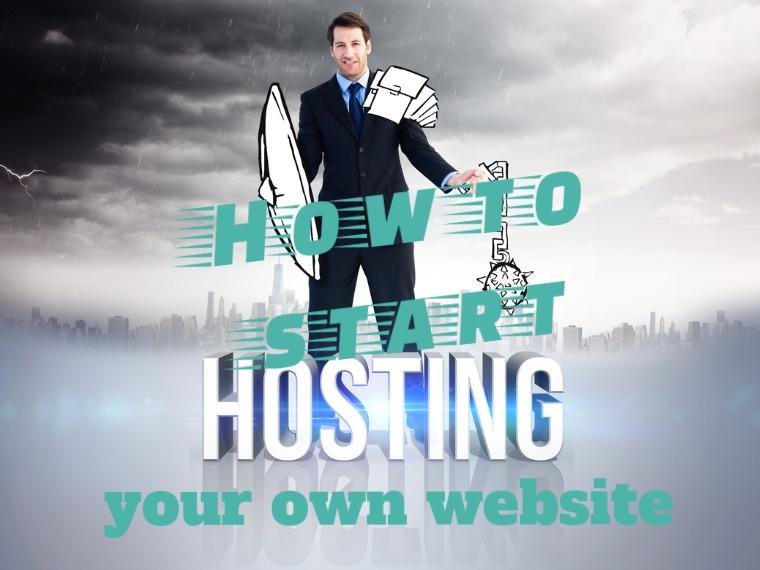 It's a fact many of us want to know how to host a website from home so sit back, grab some popcorn, and let me teach you how to host your own website.
Here's a brief guide on what to expect:
Understanding web hosting
The different types of web hosting
Choosing the right web host
Understanding what a domain name is
Choosing the right domain name for your website
Registering a domain name
How much does it cost to host a website?
Conclusion
Understanding how to host a website
Ever heard of the web? Think of it as a vast unending piece of land. Your website will need a home and it's on this land that you have to find it a home. So web hosting basically refers to a place where all website owners store their websites. Your essential files, from documents to videos to images will all be kept in a web host.
Web hosts are the companies that rent out their servers/computers for use by people like you who need space to store your website. Besides, they offer internet connectivity so as to enable other computers to access what you have on your website.
More often than not, you will run into the term web hosting which could be interpreted to mean either the hosting company or the server hosting your website. So don't let that throw you into a confusion. You will also come across another term 'data center' in your communications with your web hosts. To put it simply, that's just a facility where the servers are stored.
Learn more about data centers by watching the video below. It takes you through a tour of the hosting.com data center in Denver.
5 ways to host your website
Web hosting services are categorized into plans. So when you start to hunt for a plan to get your website set up, it's easy to be overwhelmed by the long list of all available options.
Not all of them are good for you, so rather than looking up to a marketer to tell you what's right for you, it's best if you understand the details under each hosting option. Here's a short list of the hosting options we are going to cover briefly.
Of all the available forms of hosting, Shared hosting is currently the most common. On top of that, it's the least expensive of all. Under shared hosting, various web hosting clients have to share everything from the same computer. All the hosting accounts are kept in the same drive run by the same CPU. Same web server also delivers all the services.
In short, all the websites under the shared hosting accounts compete for the same resources which, more often than not, are scarce. So having a popular or huge site put under this hosting might not go well with you.
Downsides:
2. Dedicated server hosting
A dedicated server hosting comes with a lot of great features. First off, with such a plan, you get full control over the whole server, which means you can modify the operating system, adjust the configuration settings, change the language interpreters and so much more. Of course this comes at a higher cost.
If you look to setting up an enterprise management system, then this the plan that lets you have the control and ability to run that. Since the server is all yours, this means that overall performance is going to be excellent. Your website will also be more secure.
The only major downside to this form of hosting is that it's expensive.
3. VPS hosting (Virtual Private Server)
Just as the name puts it, the server is simply a virtual machine. It's not physical, unlike the two we've looked at. What's good though is that this plan lets you have complete control of things, just as it is with a dedicated server. So if you look to coming up with custom applications or other related businesses, VPS is a great option.
Even though all these virtual machines share server resources, in a VPS environment, they are much few as opposed to a shared hosting environment. Your portion is pretty huge which means that the bandwidth and computing power are pretty much sizeable. Security is also guaranteed. Even though you might share the same IP address, presence of a virtualization layer gives you immunity against issues emanating from other sites.
Cloud based hosting is the kind of hosting you need if you expect to hit, on average, tens of thousands of visitors a day and sometimes an unpredictable amount of visitors that goes beyond that. All the other hosting forms we've looked at actually have a set limit. All of them come with limitations, from the memory size it can use to storage limits and even the maximum amount of each can handle.
But with cloud hosting, your website will be able to take high traffic or unexpected traffic spikes. The hosting companies attempt to balance resource usage based on the available computer power. Soon as the usage goes up, maybe because one site has recorded a surge in traffic, the systems responds accordingly but limits itself to what the entire system can handle.
What's good about this form of hosting is that one pays for what they really use. So if you can't afford expensive web hosting, this is the best option for you.
One downside to this form of hosting is that most of them lack root access. Root access is what you will require if you wish to change server settings or add some software.
So in learning how to host your own website, you need to have all these knowledge about hosting plans at the edge of your mind.
Choosing the right web host
You are not yet done on making choices. Now that you know what to expect, the next task is to look out for a great web hosting company. A quick search on the search engines will bring a long list, each luring you with sweet offers and promising heaven. Interestingly, each one of them insists on offering unlimited resources, access to friendly and knowledgeable support staff, 99.9% uptime, name it, but it's a huge mistake to trust them right away.
So we've rolled up a few important things that will assist you to reach a correct decision. Take a look.
Price is a big deal to many of us but should it be the ultimate factor in deciding who to host your website with?
Absolutely not!
More often than not, the cheaply priced hosting packages don't pack much. Many of them lack the key features that can assist you to set up your website fast and with ease. So rather than basing your decision on price alone, take it a little further and scrutinize the features each host offers under each package then compare the rates to reach a decision.
Granted, you expect your website to be on top of things but that doesn't mean it's going to be 100% fine all the time. Sometimes you will run into technical hitches like email issues or the site going down. At this point, you will need quick technical help to solve the problem. So look around at what the web hosting company's customers say about their support staff.
Do they speak your language? Do they offer 24/7 technical support? Find answers to all these questions.
Don't just take their word for it. Look at the reviews from their customers to see if anyone has raised an issue against their uptime guarantee. What about their reputation in regards to uptime?
Also, inquire to find out if they have multiple backup locations for their servers as this usually helps in ensuring 99.9% uptime. The last thing you wish to see is your site not being visible to visitors.
You may reach a point and decide, well, now that I know how to host my own website, it's time to shift gears and see what it feels like to host with these other companies. So before you choose your web host, read their terms of service and understand what their requirements are when one decides to move their domain name to another host.
Backup is so important when you own a website. Anything could happen and you might end up losing all your data. Alternatively, you might decide to delete it only to realize later that you deleted important files and you need them as soon as possible.
Some web hosts offer adequate backup services such as automatic backups, it could be daily or hourly. So watch out what the company offers in relation to this.
Not all web hosting companies will let you have access to your website anytime and anywhere. Some even put a limit on what you can access. Well, these are the companies you should avoid. Ensure the web host you choose can let you access the server and make changes whether it's in your email, server settings, name it.
Some web hosts have spaces where they specialize best and have a huge following. Most common spaces include blogging, small business, growing business, and e-commerce.
A quick search on the web should show you what most of the host's customers are. Having a host who understands the needs of your industry is a great addition to the success of your website.
Here's where you need to be so attentive. What else does the hosting company offer besides just hosting your website?
Look out for email accounts, email forwarding features, regular data backups, free domain policy, name it. If you find that they offer all these things mostly at no charge, then don't hesitate to register for their services.
So go right ahead and pick a web host that meets all these requirements.
Understanding what a domain name is
Something else so important you will need besides a hosting account is a domain name. Your website will need identity and that's what we refer to as a domain name. Examples of domains include facebook.com, google.com, twitter.com or gmail.com.
Bear in mind that this domain will also make a section of your customized email address, for instance, sam@example.com. When you have the right domain, you give your website a high chance to be successful. A bad domain can have far-reaching effects, worse being that it could stifle the growth of your business in the case of professional/business websites.
Choosing the right domain name for your website
Choosing a domain name is a one-time decision. Whatever you choose is what you are going to live with for the time you will be using the website. It's actually not any different to choosing a company name. You need to put in a lot of effort, thoughts, and every other thing you need to arrive at a good decision.
Below we've simplified what needs to be done just to be on the correct path of finding your ideal domain.
How the human mind works is a question of hard science and unending debates but what many of us know is that it hates long and complicated things. It's more receptive to simple things which is why you should make sure your domain name is simple and short.
Keywords are so friendly to search engines and that's why you should think of placing them somewhere in that domain name. But don't do it directly because recent google algorithms seem to work against that.
Tweak them a little bit, throw in an additional letter. That will do the trick, and your website will likely be friendly to search engines.
Keep away from funny characters
Funny characters include things such as hyphens, numbers, and other unusual punctuation marks. If someone asks you the name of your website and you tell them verbally "two five three hot dot com", when they get down to searching it, they won't know whether you meant 253hot.com or twofivethreehot.com. So to avoid this kind of confusion, stick to what's simple and straight.
Statistics estimate the current number of websites in the world to be well over 1 billion. Think about that then think of all those billions of domain names. How do you make yours stand out? Well, indulge your friends, family, and other parties and seek their suggestion. Make the name not only memorable but also catchy and appealing.
If you run a business and you want your specific location or audience to be known, consider including that in your name. You can make it appear as roofrepairtexas.com or carhiretexas.com.
Pick an appropriate extension
There are so many extensions you can opt to use from .com, .net, .org, .biz to .me, .info, .co and many others. Each one of them holds different weight in relation to different significant factors so ensure you pick wisely. The best advice would be, choose a .com extension because that's what's popular, reputable and able to fit different situations.
Tools such as instant domain search or PC names can help you search to find out if a particular domain name is available.
Registering a domain name
Next you need to buy a domain name now that you've finally found something suitable.
Some web hosts will let you register one for free as you purchase a hosting account from them. Most of the commercial web hosts do this. Others will opt to do it on your behalf if you wish, but for this, you will have to pay the registrar fees still.
If you choose to buy from a domain registrar, you will have to foot the cost. After that, you will have all the rights to that domain name for the amount of time you will have paid for it. It's always advisable that you register your domain directly with the registrar as that will list you as the owner.
In the past, there have been cases where people complained that the web host they left to register a domain on their behalf listed themselves as the owners. You don't wish that to happen to you.
Depending on the company you choose, you might pay anywhere between $10-$15 per year for the typical .com domains. Some of the well-known sites where you can purchase your domain from include:
Alternatively, you can go buy an already registered domain, commonly known as an aftermarket domain.
An aftermarket domain is one that someone already registered or perhaps failed to renew. Some cost up to tens of millions of dollars. The average price ranges between $3000- $9000. Prices for these domains mostly rely on the keywords and the age of the domain name.
Some of the well-known aftermarket domain markets include:
What does it cost to host your website?
Just knowing how to host a website isn't enough. You also need to know what it costs to do so. When it comes to hosting, you have a variety of options to choose from you can even host websites for free, but it's not a good idea). Remember them? Each plan attracts a different rate and so it's up to the individual or business to figure out what suits them.
Shared hosting is probably the most affordable of all. If you look to setting up a simple blog or a professional website for your small business, then this is the ideal plan for you. You can pay as low as $50/year for shared hosting.
But when your blog or business starts to branch out you will need to move to a different hosting, probably a dedicated server hosting or a VPS hosting. Expect to fork out at least $29.99 per month for VPS hosting and a minimum of $99.99/ month for dedicated server hosting. Dedicated server hosting has to be the most expensive of all hosting forms.
Design: You will certainly want your website to have an imposing look and for that, you will have to invest in a great design. You can get a pre-made theme, most of which are free. But if you decide to buy, you can pay anything between $0- $100. Custom themes tend to be a little more expensive ($500-$3000). You might also need professional images or graphics, which can cost you between $15- $20, but you can also pick up free images for websites that are of good quality if you know where to look.
Content: Content is king, they say. If you decide to come up with it, good for you. However, should you decide to hire a writer, expect to pay a few dollars for that. Rates vary from writer to writer. You can also hire an agency to that for you, but make sure that whoever you hire is knowledgeable about how to write website content for SEO and humans.
If at the start of this article you knew zilch on how to host a website, right now should be that moment you want to pat yourself on the back.
If you wish, you can go through this again and again just to get a deeper understanding of what each area means, from understanding web hosts, learning the different types of web hosting and how to select the right one to knowing what a domain is, how to choose the right one and going ahead to register it.
Having also known how much it costs to set up a website, ensure you plan for well for it. Align your needs to your budget so as not to end up spending more than is necessary. Lastly, remember to put in more effort in digging up all the information you need to know about a company or an item. Read more reviews by real people and what users in forums have to say about specific elements of web hosting.
HostGator, for instance, has garnered remarkable reviews and high ratings from satisfied users all over the web. For your web hosting needs, be sure to try them out.