Last Updated on
As a small business owner, you know the ins and outs of your business. But do you also have your social media guidelines in place? Social media is vital for every small business. Search engines use social media as a page ranking factor. Potential customers look to social media to
establish trust, learn current information and more
. Your business needs social media. But are you the right person to manage your social media profiles? In most cases, probably not. Here's why:
The Benefits of Social Media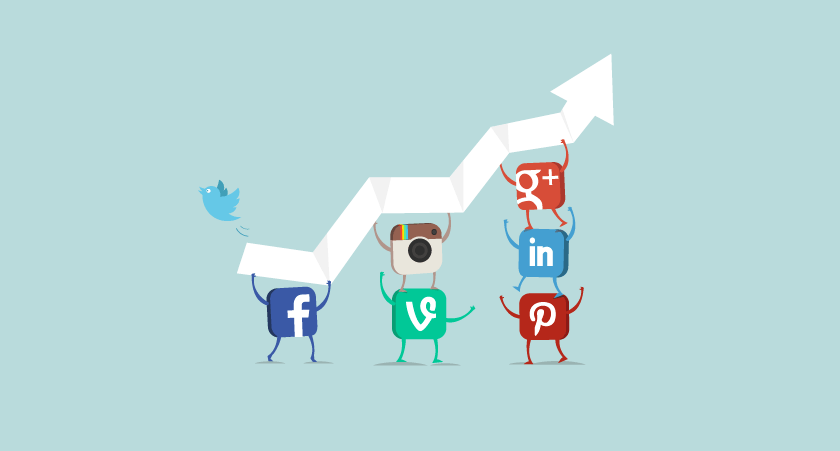 A study by Hubspot revealed
80% of internet marketers used social media as part of their overall marketing strategy
. Another study, by
Social Media Examiner
, showed that 97% of all businesses had a social media account. But simply creating a page isn't enough. Your social media efforts need to work towards a goal. Most businesses will have two main goals for social media:
Increase your site's position in the search results
Increase trust and engagement among your customers (and potential customers)
A study by Texas Tech University shows that frequent social media posting has a direct correlation to how trustable people find your brand. More posts equal greater trust. Additionally, each post increases the chances of new customers becoming aware of your business. Posts lead to brand awareness and site visits. Obviously, the more people who know of your brand and visit your site, the more likely you'll have an increase in sales. Ideally, you'll want to publish new content to your social media platforms every day.
What Social Media Platforms Should You Use?
According to Small Biz Trends, these are
the top 6 most popular social media sites
:
LinkedIn caters primarily to business professionals. If you offer a B2B product or service, you'll definitely want a LinkedIn page.
Pinterest caters heavily to women. If your target customers are women, especially if you sell a product which photographs well, then you'll want a Pinterest page.
What Should You Post on Social Media?
For the most part, you should avoid direct ads. Typically, people don't respond well to any type of "hard sell" on social media. You'll want to use social media to create brand and product awareness. This makes social media an important part of a longer conversion funnel. The majority of content posted on your social media page won't even be about your products or services directly. Instead, you'll post current and interesting items related to your industry. Of course, you'll still post about your brand. This can be info on new products, special sales, and other items more directly related to your business. Personally, I use the "7 and 3" rule. For every 10 posts, I make seven of them related to general news about my industry while the other three are directly about my brand. Keep in mind, this is just a guideline to help you get started – not a hard-and-fast rule to follow at all times.
The Necessary Hassles of Social Media
So, you have to ask yourself: Are you up to the task of managing your social media profiles? Will you be able to post often – ideally every day? Do you know what social media platforms your potential customers are using the most? Do you know what content your followers are most interested in? Here's a quick video about the 5 Types of Posts that Get High Responses on Social Media: It's perfectly okay if you don't quite know how to make social media work for your brand. Too many business owners try to do social media on their own and don't get the great results they deserve.
What is a Social Media Management Company?
This is a business completely dedicated to social media. They handle basically everything including:
Identifying the best platforms for your brand
Creating your "voice" and style for your social media presence
Creating and curating your social media content
Posting your content and interacting with your followers
This is a full-time job. You're going to get better results hiring a professional to handle all this stuff. But how do you know which company is the best fit for your brand? Personally, I've found great success with $99Social. Here's why:
$99Social for Your Social Media
This company
handles all of your social media needs. For $99 a month, they'll post new content to your Facebook and Twitter pages every day. That's every single day, 365 days a year, including all holidays. You can add other social media platforms for additional fees. Many social media management companies charge much more than $99 a month. So $99Social is really aiming to be one of the lowest priced management companies around. Plus, they also offer a 14-day money-back guarantee. There are no long-term contracts, either. You pay monthly and can cancel at any time.
The Power of Social Media Optimization
Social media posts should be optimized just like regular content on your website. $99Social will optimize each post to help increase your search engine results position. Social media optimization includes:
Posting at the times of day when your audience is most likely to be online
Formatting the posts to appeal to your customers (blog posts, videos, images or something else)
Making your posts easy for your followers to share
Conclusion
An effective social media campaign requires at least 10 hours a week. This is time which is better spent on running your business. With $99 Social, you're really paying less than $2.50 an hour for a complete social media package including daily posts and full social media optimization. Signing up for $99 Social will increase the bottom line for practically any business. A professional social media campaign will increase your search result ranking, brand awareness and ultimately your sales. Now that you understand the importance of social media, you'll want to hire
$99 Social
in order to get the best possible benefits for your small business!


Our #1 Choice For Hosting Blogs
62% Off Exclusive Offer Applied at Checkout
Disclosure
As an independent review site, we get compensated if you purchase through the referral links or coupon codes on this page – at no additional cost to you.