Last Updated on
Anyone who starts a new blog or online business has a whole bunch of ideas and things on their to-do list, finding a free terms and conditions generator is just one of these things, and this article is here to help you with that. We all want to succeed and try to learn as much as possible about marketing, social media, SEO and a whole bunch of other "requirements" that will get us there.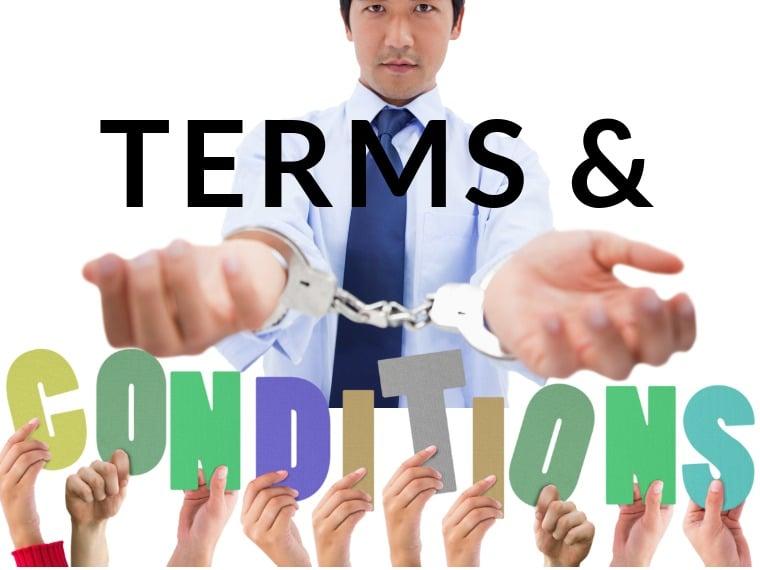 What most people don't realize though is that the legal side of running a business is just as important. What will happen if certain things don't go as planned and you, as a business owner, have to take action? To avoid surprising your clients when you delete someone's comment on your blog or cannot deliver the service they paid for – you have to have a properly written terms and conditions agreement available. In fact, any website that offers some kind of services should have it. Regardless of whether it's eCommerce, SaaS or a blog, it is essential to let people know there are certain rules and terms set in place that outline how you run your operation and how different situations will be handled. The problem is for most startups, spending an arm and a leg on a lawyer to draft their terms and conditions is probably not an option Afterall, your resources should be focused on development, marketing and other aspects of running a business, not on writing legal documents. To make this task easier and less painful, you can take advantage of a terms and conditions generator. After going through their questionnaire, they will provide a complete agreement and save you time and money so you could focus on things that matter to you. Now who wouldn't like that? Let's have a look at these 3 services and see which one of them fits the bill of being the best free terms and conditions generator.
3 Free Terms and Conditions Generator Sites
WebsitePolicies.com
WebsitePolicies
makes it easy to generate terms and conditions as well as other necessary legal policies for mobile apps and websites. You can set everything up in three easy steps: choose whether you need a policy for your website or an app, go through the questionnaire and finally view the generated policy tailored to your specific needs and purposes. Simple, right? They offer basic and premium policies. Basic policies are completely free and are perfectly suitable for a personal use. By personal use they mean anything at all as long as you're not making money with it. Premium policies offer additional disclosures that cover payment processing and other commercial related activities. While you do need to pay for premium policies, their pricing is more than liberal and is unlikely to break your bank. What's great is that they offer additional discounts if you bundle your terms and conditions with other policies, since at a bare minimum you'll also need a privacy policy.
Pros:
Lots of customizable disclosures for any kind of business, app or website. Helpful hints along the way for some of the legal type questions.
Basic policies are completely free and they don't overly restrict them to a very limited number of options forcing you to pay for more. They're perfectly suitable for most bloggers and non-commercial websites.
Option to either copy generate policy to your site or host it with them for free. The benefit of choosing to host your policies with them is automatic updates. There is also no limit on views.
Fast and efficient support via chat or email. Unlike some of the other services out there, their answers are specific and helpful and aren't pre-scripted sentences from trained monkeys staff.
Cons:
Some people prefer getting support over the phone so if you're one of them, unfortunately they don't offer it. Considering what you get and their pricing though, it's hard to judge them on that.
TermsFeed.com
TermsFeed
is another one of the few terms and conditions generators that you can use for free. The process is similar to the service above – you answer a few questions about your business and website and they provide you with a tailored agreement. There's also an option to create other policies if needed. The questionnaire seems to be rather limited though and doesn't ask enough information to be able to create a truly custom-made policy. So, you'll likely be getting a rather generic policy that doesn't cover everything. Unfortunately, that their free policy option is even more limited. To get the full suite of disclosures, prepare to pony up more money as they charge you for each question separately, sort of a-la-carte service. On the brighter side, the service is exceedingly simple to use and wouldn't make you second-guess how to answer questions in the questionnaire and they offer policies for apps as well.
Pros:
Very simple for anyone to use with pretty much no room for mistake when answering questions. Basic policies are completely free though overly restricted. Still, will be suitable for a very basic blog or website.
Generated policies can be copied to your site so you don't depend on the service to host them and don't need to link to them.
Their blog has a lot of useful information in case you want to learn some more about the legal side of running an online business.
Cons:
Limited number of questions to be able to have a truly custom-made policy.
Free policies are overly restrictive and paid policies cost a lot once you start checking off those disclosures.
No automatic updates or option to host your policies with them.
No phone or live chat support, all questions are handled via email.
Termly.io
Termly
is also player on the market offering legal documents for apps and websites with a very familiar process in the usual question/answer type of form. Their questionnaire is quite extensive but there are some questions that are either not really necessary or will be difficult to answer as the person may simply not have a preference yet or rather not answer them at all. The biggest downside is that you can generate only one free policy which you won't even be able to copy to your site (you have to link to it). Anything beyond that will require a recurring payment. Yep, you have to keep paying every month for something you'll likely use only once. While they offer a 50% discount for pre-paid annual plans, their cheapest option will set you back $120/year! Having to pay for something on a monthly or yearly basis that you would usually need to create only once is rather strange.
Pros:
Lots of options in the questionnaire to create a policy based on your needs and how you operate your app or website.
Very pleasing design and user interface throughout with helpful hints along the way.
Basic policy is free although with some heavy restrictions.
Automatic updates for your hosted policies.
Email, live chat and phone support are all available.
Cons:
Only one free policy can be created per account, you have to pay to create more policies.
Unlike with other services, policies cannot be copied to your website regardless if they're free or paid. You have the option to embed the policy using their code but it makes you dependable on their site being online (if it's not then your policy won't be accessible at all).
Recurring fees for additional policies which will quickly add up and keep draining your budget.
Are There Any Other Free T&C Generators Worth looking at?
There are a few other free terms and conditions generators available but they're not really worth looking at. They're no different than copying someone else's terms and conditions agreement or using a template which is not something you should be doing to begin with as it can even make things worse. So, take some time out of your day to create terms and conditions and other legal documents now to ensure the legal side of your online presence is covered. This will save you the headache and financial impact unexpected events can cause you.


Our #1 Choice For Hosting Blogs
62% Off Exclusive Offer Applied at Checkout
Disclosure
As an independent review site, we get compensated if you purchase through the referral links or coupon codes on this page – at no additional cost to you.