Last Updated on
WordPress is a user-friendly CMS that provides users to create content with ease, and by default, it offers two ways to create content:
Using pages and…
Using posts
If you are a newbie to WordPress, you may find it confusing to understand the difference between WordPress pages vs posts. The basics are that a page and post are both used to create content on WordPress, but… The difference between a WordPress page vs post is that a page is static and contains your core information such as Home page, About Us page, Contact page, and so on while a post includes information specific to your site's niche with published dates in chronological order, an author name (usually) and other real-time information.
WordPress pages vs posts explanation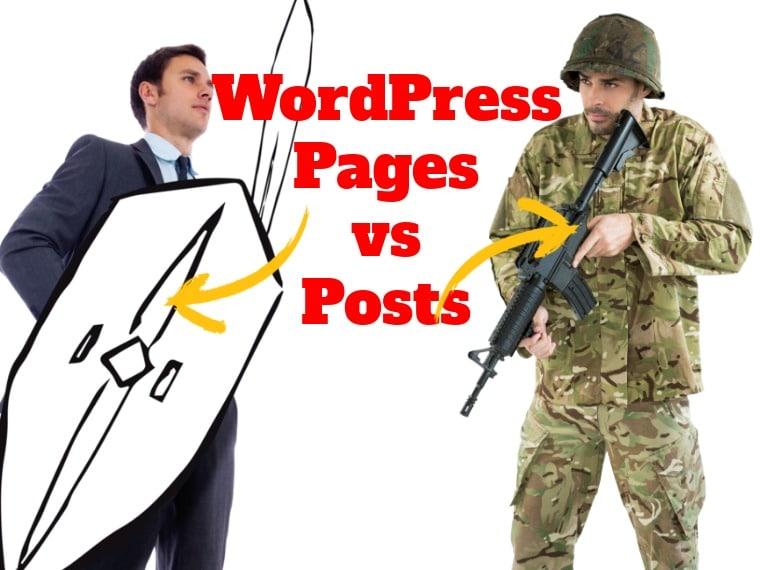 The main difference to think of when thinking about WordPress pages vs posts is that a page usually contains documentation about your site (think about, contact, etc) while a WordPress post will contain your regular updates (blog posts). Related reading:
What is a WordPress page?
To go deeper into WordPress pages (posts to follow), they are a specific type of content where you can add information for your static pages. Static pages are usually created once and they are not date-sensitive. They usually remain untouched for extended periods. A WordPress page has the following features that differ from a post:
WordPress Pages store static, site-specific informational content
There is no category or tag for a page
WordPress pages are used to create the home page of a website
There is no proof of an author with a page
You can create a menu, sub-menu, or drop-down menu using pages from the menu option
WordPress pages can be displayed on the main navigation
When would you use a page instead of a post?
Well, as we already know that a WordPress page is static, we can use it to display static data. For example, if you create an "About us" page for your website, you can update at any time without showing a change of date and time. If for example, you have 10 team members and they are on your about us page and after a year, you have to replace two of them with new members. Now, should you update the about us page to convey "about us 2019" or "about us 2021"? No, right? With the WordPress page, you can just update the page with your new content without showing any date and time reference. Now, the question is when do you publish a page on your WordPress site? Let's see the following list to understand when it may require you to create and publish page:
You want to show content that is rarely updated.
The content will tell the story of you or your company.
You want to show information about your company that is relevant even after an extended period.
Some good examples of using WordPress pages on your website:
About, Contact forms, Services, Privacy Policy, and Home page are great examples of WordPress page
You may show your work history or portfolios using WordPress pages
You may also create group pages using Parent-child relation (aka hierarchical relation). For example https://yourwebsite(dot)com/services/digital-marketing
How to create a WordPress page
To create a new page, you just need to click on
Pages
from your WordPress dashboard and click on 
Add New
. You can also see all of your pages from
All Pages
.

As a WordPress page is static, it doesn't allow you to add your name as the author. Pages are also not shareable (there is no social sharing option). However, if you want, you can enable comments for your pages. The comments are not set by default. You can also use Parent-child relations to arrange your pages into a hierarchy. You can create child pages under the parent page using the
Page Attributes
on the right of the page screen.

What is a post?
WordPress Posts contain the blog content and are (usually) displayed in reverse chronological order. By default, your WordPress homepage is set to
Post
to display your blog content. With the post, you can add categories, tags, and featured images. To understand more on page vs post WordPress settings and features, take a look at the following list to see what a WordPress post does that differs from the WordPress page:
You can use different categories and subcategories to organize your posts.
You can see the published date of the post and the author's name which are automatically categorized.
You can enable RSS feeds for your post.
You can enable Social Share buttons on your post using plugins.
You can add tags (I don't generally recommend this).
When would you use a post instead of a page?
Well, if you are not posting news and articles on your website, or you have just a business website to showcase your products and/or services, you may not need posts so much. Here are examples to know when you may need WordPress posts to publish your content instead of pages:
You want to have a personal blog where you can share your stories or articles on different topics such as your travel experience, fitness, social works, sharing tips to be successful and so on. You can choose a niche and start a blog to share your knowledge and experience
Your events, conferences, and meeting news should be published as posts because they are time-sensitive
Your press release should be a Post as it is also time-sensitive
Above all, if you want to share regular content on any niche, a WordPress post is the best way!
How to publish a WordPress post
To create a WordPress post, you just need to click on
Add New
under 
Posts
. You can even add, edit or modify categories and tags by clicking on 
Categories
and 
Tags
.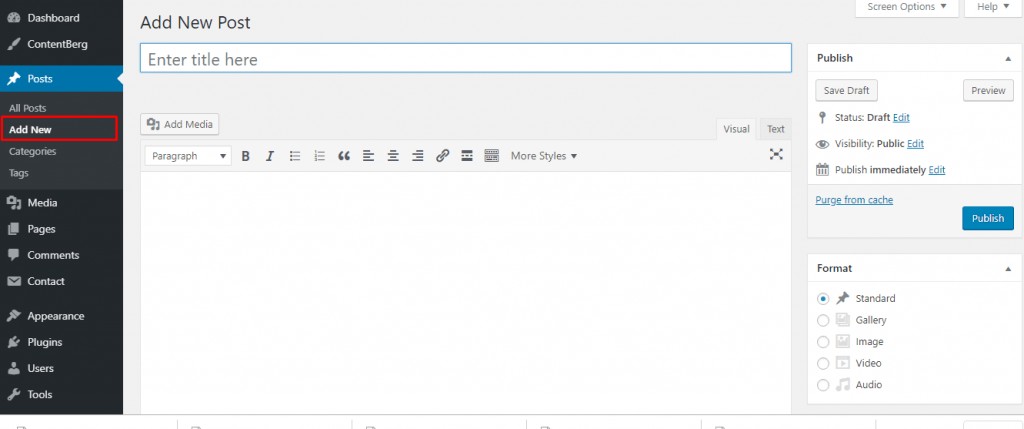 However, you will usually just add your posts to existing categories which you created at an earlier time from the post edit screen. It is one of the main benefits of using posts over pages.

Since WordPress version 3.1, you can publish your post using different Post Formats. By default, it is set to
Standard
. However, you can select your content type from the different
Post Formats:
Standard
Gallery
Image
Video
Audio
WordPress posts also allow you to use tags to find the published contents easily. You can add as many tags as you want to make your content searchable. Tags are not something I would recommend as you can quickly make a mess of your site unless you have a huge overarching, and meticulous plan.
After successfully created your first post, you will see the published date along with the name of the author (highlighted below), but in most themes, you can choose to hide this "meta-data":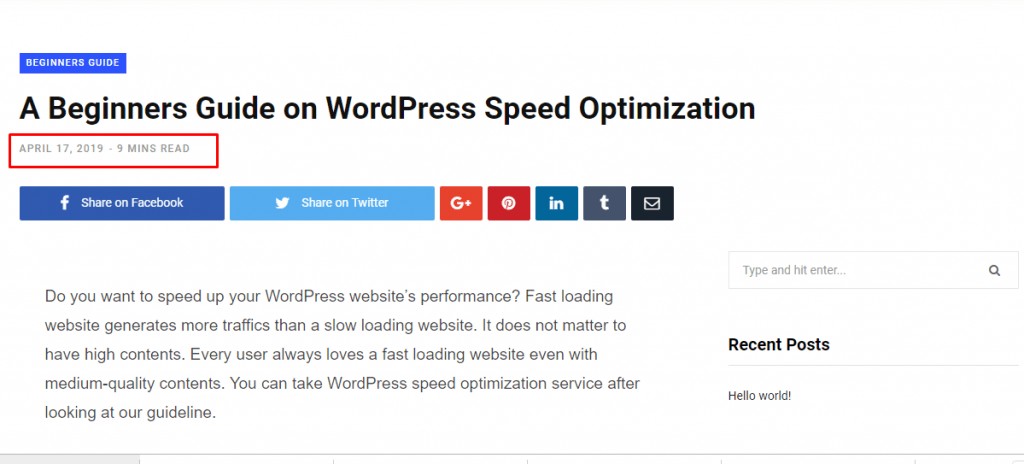 WordPress posts vs pages (key differences)
I hope you already understand the main concept of using WordPress pages vs posts. To summarize the content, let's recap everything by seeing the key differences of the page vs post WordPress saga:
WordPress Posts show the date with day, month, and year. But pages do not show the published date.
WordPress pages can be set under a parent page. But you cannot set a post under other posts.
There are categories in the post where you can not set categories of the page.
WordPress posts can show the author's name right after the title of the post, but the page cannot show the name of the author.
RSS Feed is supported by the post, not the page
Every post has an excerpt where a page does not have an excerpt
You can set Sticky Post where there is no option to set a sticky page
Posts cannot be used as a static homepage like a page
With a page, you can set a custom URL where you can only change the type of permalink on the post
I hope that my article clears up your questions on the difference between WordPress posts and pages. If you are wondering which other pages you absolutely need on your site, take a look at our
website pages list
which will clear up that question for you. As usual, if found this helpful, please use the share buttons or if you have questions, drop me a line in the comments.


Our #1 Choice For Hosting Blogs
Disclosure
As an independent review site, we get compensated if you purchase through the referral links or coupon codes on this page – at no additional cost to you.
62% Off Exclusive Offer Applied at Checkout