Last Updated on
Do you think that all web hosting is identical in nature? Even if you did, you could probably infer from the fact that I'm asking the question that they aren't. Sure, the end goal is the same in all instances, to "host" the files that make up a website, making them accessible to visitors.
The particulars, however, vary with different types of web hosting. There are separate operating systems, there are multiple hardware setups, and different types of web hosting services will offer a range of plans, each finely tuned to fit a specific kind of customer.
Disclosure
As an independent review site, we get compensated if you purchase through the referral links or coupon codes on this page – at no additional cost to you.
Nailing these all down can be difficult at the onset if you don't have a guide, and, yes, you guessed it—this post is going to lead you through several web hosting options so you can get a better grasp on how they vary and which is right for your web hosting needs.
So, without further delay, let's dive into the type of web hosting you'll commonly see when searching the net.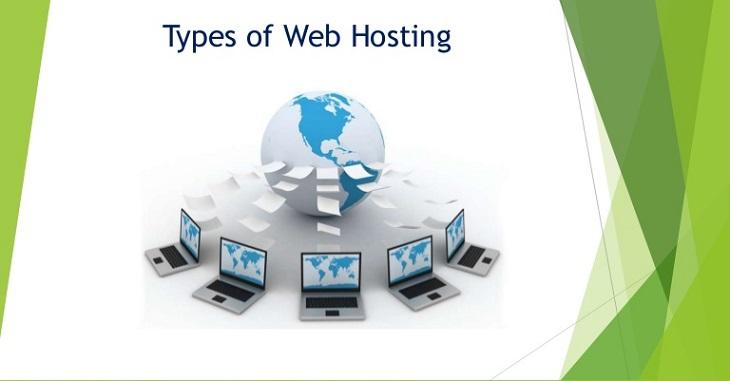 We'll start with the option you'll see almost all lower-tier (and some top-tier) hosting services provide—shared hosting. Shared hosting refers to a setup where multiple sites are all hosted together on the same server (hence the "shared" label).
For some, this is actually a pretty agreeable setup. The fact that resources are split among several customers helps keep costs low. It also allows users to keep personal maintenance and upkeep to a minimum. In many cases, that is handled almost entirely by the hosting service. This is a particularly attractive choice for beginners, who may have limited experience with managing a server and aren't ready to go all-in with a more powerful (and more expensive) option.
The downside, though, is that sharing resources can hamper performance. No matter what kind of shared plan you get (yes, even ones that tout "unlimited" and "unmetered" resources) a particularly high influx of traffic can disrupt every site hosted on that server. That's because, you guessed it, all the sites pull from the same CPU, RAM, etc. Here's a quick explainer on "unlimited" bandwidth:
That's not the only drawback either. Since the server is shared among clients, and largely managed by the hosting company, you don't have the access necessary to fine-tune various settings they way you would with your own server.
Perhaps not a big deal for small sites and newbies (the primary consumers for shared hosting), but for bigger business sites, the reduced power and functionality simply won't do.
Examples of quality shared hosting include A2Hosting, whose shared plans start at $3.92. They include SSD storage (increasing page load speeds), and, to some degree, will scale your resources to match your site traffic.
They offer both Linux and Windows servers and include a good deal of "high performance" extras that experienced web developers love. Still, they aren't a service exclusively for pros and offer advanced customer support for all of their web hosting types.
2. Virtual private server (VPS)
The next step up the ladder in terms of hosting power. A Virtual Private Server, or VPS, simulates multiple individual servers partitioned on one main server.
Instead of sharing a pool of resources, each site is allocated a certain amount to use. The VPS mitigates some (though not all) of the resource drain issues that come with using purely shared hosting.
With a VPS, you get what is known as "root access." This means that you have the administrative power over your server partition. You can add and delete files at your discretion, install programs, or uninstall the ones you feel you don't need.
This offers greater freedom, but also greater risk, as you could unintentionally remove critical files if you aren't certain of what you are doing with your server.
The cost for a VPS is higher than the cost for shared hosting, but not as expensive as running a true dedicated server. Users wanting to go the VPS route should also know that they'll require the skills of a more advanced user to manage their server's properties (unless, of course, they are paying the hosting company to handle server management as well).
When searching for VPS hosting, you'll want to look at details like setup fees, CPU power, how much dedicated RAM you'll be getting, your storage space and monthly bandwidth, and what type of control interface you'll be using to manage your server.
In many cases, this will be the tried-and-true cPanel. It's the industry standard, and most people find it easy enough to use and more than functional enough. Some hosts, however, employ a custom solution for their platform.
DreamHost is one such example. They've been maintaining their own "homegrown dashboard" for hosting management since 1997. They are also a heavily respected name when it comes to VPS hosting.
Their powerful, Linux-based servers include solid state drives for extra speed, built-in security, and a whole host of extra features that include unlimited domains and scalable RAM.
Dedicated Hosting is when you rent out the entire server for yourself and your site. As you can imagine, this provides the highest level of resources to host high-traffic sites, but the benefits go even further than that.
There's an unparalleled level of freedom that comes with a dedicated server. You aren't sharing the server in any capacity, so you can, essentially, do what you will with it. If you need a very specific set up to run your site correctly, it's well within your reach with a dedicated host.
Because of their high performance and resource allocation, dedicated servers are well known for their speed and uptime. This is an important factor for all webpages, but particularly important for business sites, as any downtime experienced translates to a loss of customers and revenue.
Generally speaking, uptime with dedicated servers averages above 99.94%. High levels of traffic won't choke a site up, and you'll be able to support a large volume of visitors with little to no issue.
Having a dedicated server means you can deploy the highest-level security features, and fine-tune security settings to fit your needs. You won't be vulnerable to the activities of other websites, as they aren't occupying your server space.
If you need support, almost all web hosts offer assistance through their customer and technical service departments. Many will also manage your server's details as an add-on service, removing some of the need for advanced technical knowledge.
If you're particularly skilled, though, you can set up your own server in-house, gaining the benefits of this powerful setup without the need for negotiating with a third-party.
The only real downside with a dedicated setup, should you go the hosting company route, is the fact that you'll have to pay a significant fee. Dedicated servers aren't cheap, but for serious businesses, they are worth the investment.
One example of a fine dedicated hosting company is LiquidWeb. They're well known for specializing in fully managed dedicated servers that are quick and reliable. Some customers might be taken aback by the cost (they start at $199/month), but that is the price you'll pay for quality.
Types of web hosting: conclusion
There you have it, the three main web hosting types. There are other varieties out there, but it's important to note that these are less common, and most business and personal needs are covered by some form of shared, VPS, or dedicated hosting.
The variety you choose will depend on the size of your operation. If you're just starting out with a single site, shared hosting is usually the way to go. When you're expanding and need to increase your freedom somewhat, VPS offers a good balance. For multiple, high-traffic business sites, you're probably going to want to explore dedicated options.


Our #1 Choice For Hosting Blogs
62% Off Exclusive Offer Applied at Checkout