Last Updated on
Knowing which affiliate marketing program to join can be tricky when you don't have all the information in one place.
That's why I've written this Wealthy Affiliate vs Affilorama review — a go-to to compare their core features. Looking to register and join the premium membership but don't know which is better value for money? I've got you.
Disclosure
As an independent review site, we get compensated if you purchase through the referral links or coupon codes on this page – at no additional cost to you.
Price isn't everything, which is why I've focused on the quality and depth of training, which, as a beginner especially, is where your focus should be.
Let's get into it!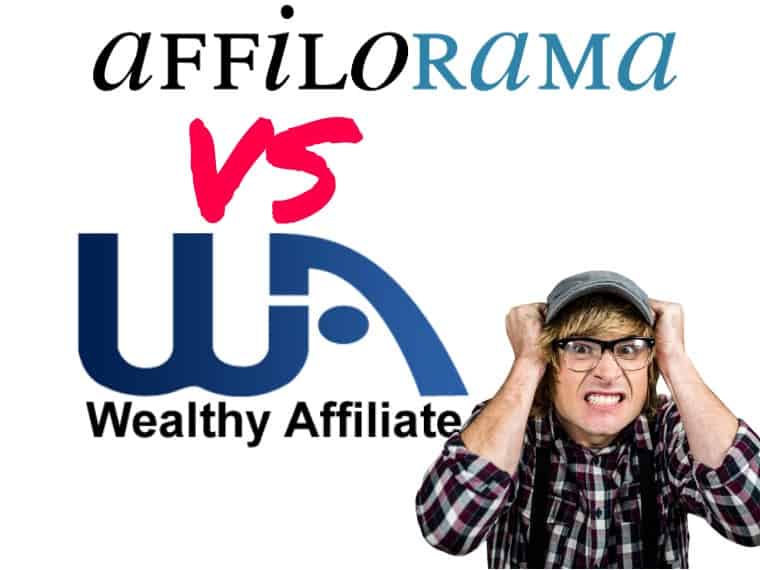 Getting started with Wealthy Affiliate is completely free, which is a good way to get you warmed to how the site works with a free training course — more on this coming up! It's sold as a 7-day free trial but you can access it for longer.
As per the usual sales technique, you'll see a countdown that psychologically makes you feel like you have a limited amount of time to get a bargain for the premium membership. This isn't the case, and I know for a fact that you can grab the first month for $19, even after the 7 days runs out.
The pricing for Wealthy Affiliate is:
Free for 7 days
1st month — $19
Monthly — $49
after the first month
6-monthly — $234
Annually — $359
If you're committed to getting your internet marketing sites(s) off the ground, it makes more financial sense to go for the annual membership. You'll save $229 by doing this.
It's also really easy to upgrade, and that price gets you everything on the WA site, with the exception being the Jaaxy keyword tool, for which you get access to the Jaaxy Lite software for free. If you've read my Wealthy Affiliate review, you'll know my thoughts on how much they like Jaaxy!
There are no upsells with Wealthy Affiliate, which relates to my inner karma.


Our #1 Choice For Hosting Blogs
62% Off Exclusive Offer Applied at Checkout
Here's the screenshot I promised — I wish Affilorama would decide how long I have left to upgrade… 5 hours or 3 days?

Also, this was the immediate upsell on registration, saying it's usually $37, but I get the first two pages for free…

… and at the bottom of the wall of this very same sales pitch, saying that I could get it for $19: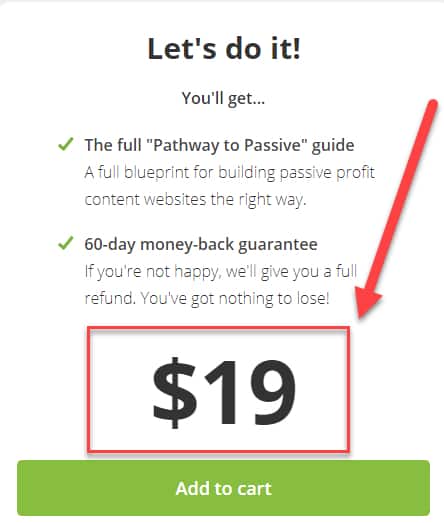 Wealthy Affiliate vs Affilorama free training
With Wealthy Affiliate, you get access to the first module in both of its training programs:
Online Entrepreneur Certification
Affiliate Bootcamp
The first lesson in the Online Entrepreneur Certification warms you into your WA profile and through some of the basics of internet marketing:
How to set up your profile
The basics of making money online
Searching for a niche
How to build your niche site
Setting up your site
Creating content, SEO and keywords
The lessons are laid out well and there are tasks for you to complete as you go through the training. While the training is very basic, it's a good day way to get a feeling for what Wealthy Affiliate can offer.
It's a similar situation with the first phase of the Affiliate Bootcamp training. This is your first steps in how to promote the Wealthy Affiliate affiliate program, through training on:
How to generate traffic
Making money through the WA program
Social media and branding
Content creation
There's a clear focus from WA to push it's affiliate program more than anything, which is a theme continuing into its premium training. There's also nothing ground-breaking in the free training; nothing you can't get across the internet, at least.
Affilorama vs Wealthy Affiliate premium training
Once you've registered for your premium membership program, you immediately gain access to the other affiliate marketing training modules, both for setting up your own niche website and to promote Wealthy Affiliate.
If you've read my Wealthy Affiliate review already, you'll know that I found WA's training to be confusing in places and most definitely outdated.
It's also clearly trying to push you to promote the Wealthy Affiliate affiliate program and to interact heavily with the community. While the Wealthy Affiliate community is an incredibly helpful resource, there are a lot of posts covering the same topics, and it does feel a wee bit spammy.
Being a part of the community is definitely an incentive, and although some of the training needs an update, the WA team does host regular webinars and seems to actively keep some of the training current.
Wealthy Affiliate v Affilorama affiliate programs
The Wealthy Affiliate affiliate commission rates vary if you're a free member or a premium and which payment plan the affiliate signs up with. The premium member commissions are double that of a free member's:
$19 offer — Commission: $4 or $8
$49/month — Commission: $11.25 or $23.50/month
$234/6-month — Commission: $54 or $108 every 6 months
$359/year — Commission: $87.50 or $175 per year
I really like that WA allows free members to earn a commission. This is great if you already know how to affiliate market correctly and don't need the training. However, if you expect to get lots of traffic and conversions, it's worth signing up as a premium member.
You can also earn additional affiliate revenue through promoting its recommended keyword and SEO analysis tool, Jaaxy. It's not the best out there, but could be an easy sell if you were that way inclined.
Wealthy Affiliate vs Affilorama which is better?
For the Wealthy Affiliate vs Affilorama debate, Wealthy Affiliate is better. Although Affilorama's free training is more extensive, Wealthy Affiliate's premium membership gives you much more value without the heavy upselling of Affilorama.
If you have to choose between the two, pick Wealthy Affiliate.
Affilorama or Wealthy Affiliate: key takeaways
Given the choice of affilorama vs wealthy affiliate, I wouldn't choose either. Both have outdated training with some lacking areas.
With WA, it's the heavy push for its own affiliate program rather than more detailed support in choosing your own niche and developing from there.
With Affilorama, the heavy upsells, confusing products and incredibly poor advice on content creation shut the door for me. Perhaps you might be able to look beyond the poor marketing technique, but I couldn't.
Instead, I've found that Authority Hacker is much more worthwhile for newbies who want the complete package. The training is modern and they stamp themselves as authorities in the affiliate marketing world.
Wealthy Affiliate and Affilorama FAQs