Want to know how to move (transfer) your blog from WordPress.com to WordPress.org? In this post, I'm going to give you the exact step-by-step instructions on how to do that.
I assume that you already have a decent amount of posts and/or followers on your WordPress.com (free) blog
and therefore you want to move your blog/site to a personal domain, right? WordPress.com is a common way to get to know the blogging life and habit but after some time a lot of users feel the limitations. The design options are poor, few monetization opportunities and missing plugins make it hard to take the blog to the next level.
I've also got a lot of similar questions to my email box and that's why I decided to put all this information into one blog post for everyone to read. The process itself is quite easy, simply follow these 3 simple steps below:
So, let's start…
Step 1) Set up a self-hosted WordPress blog
Before you can start moving your blog, you need to have a domain and a hosting provider. My personal suggestion goes to HostGator Hosting – from there you are able to get both (hosting and domain) and it's quite cheap and reliable as well. If you want to see the step by step instructions for that, head over to my homepage. In case you've already bought a domain and hosting from somewhere else, you can feel free to skip this step.
If you are in a doubt or still hesitating about moving to a self-hosted version of WordPress, I suggest you to read this article: Why WordPress.org is better than WordPress.com
Step 2) Data migration from WordPress.com
Once you have a domain and hosting you start migrating your blog.
Login to your WordPress.com dashboard and click on the "Tools" from the left sidebar menu. In the first step we will create a file that allows you to transfer the content, pictures, comments and everything that is important.
From the "Tools" menu you'll have to find the Export function. It should look like the screenshot below: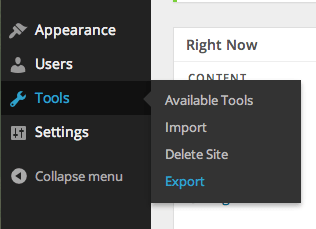 Next you'll see the different options for the migration. I strongly suggest using the free version and following this tutorial. The "Guided Transfer" is not worth it and there is no need to waste your money unless you really don't have time to do that.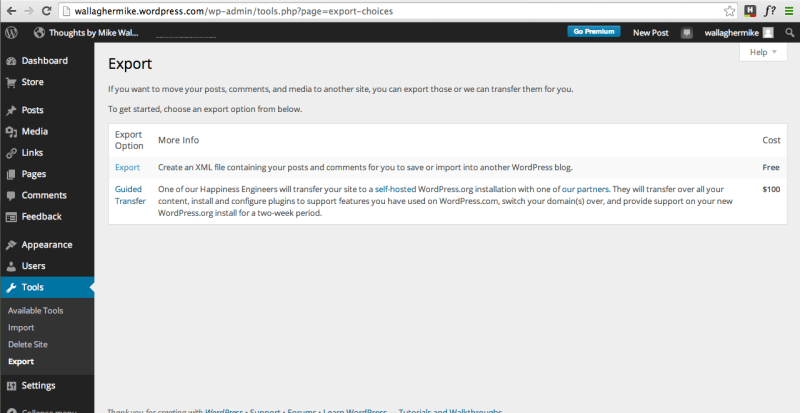 Next up you'll have to decide which content you want to transfer. There's actually not much to think, just choose  "All content" and this will transfer the files, posts, pages, comments, categories etc. Click "Download export file" and the system will create a XML file automatically. Just make sure you remember where you save it, we'll need that in a second.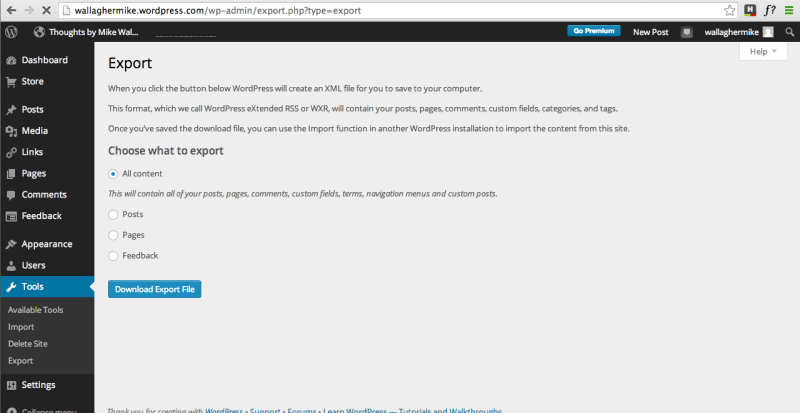 Save the .XML file to your computer and continue to the next step.
Step 3) Import content to the new self-hosted blog
In Step 1 you set up a self-hosted blog, now it's time move the data from your previous blog to your self-hosted blog. Login to your self-hosted blog's dashboard via mydomainname.com/wp-admin and pick "Tools" from the sidebar. The next action we need to take is "Import".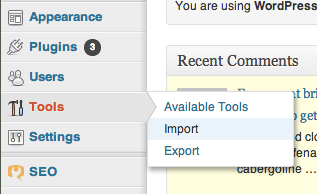 Now you'll see a list of different blogging platforms from where data can be imported. Pick WordPress from the bottom and we're again one step closer to the self-hosted blog.
In the next step, you'll have to choose the file that we made and downloaded in Step 2. (the .xml file)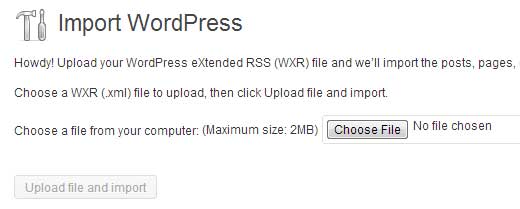 It should take a minute or two and the blog should be migrated.
Step 4: Final steps
There are still two important things that you still need to do. Firstly, there will still be people who try to access your blog through the old WordPress.com address (yourblog.WordPress.com). For that, you can make a new post that says you've moved. Another option is to buy the Site Redirect that sends every visitor to your new blog (to your new domain).
Secondly, make sure you update the hyperlinks in older posts that link to your other posts. After that you're a happy blogger with a self-hosted blog. You can start exploring plugins/new themes and taking your blog to the next level.